The Truth About TikTok's Obsession With Lizzo And Chris Evans Having A Baby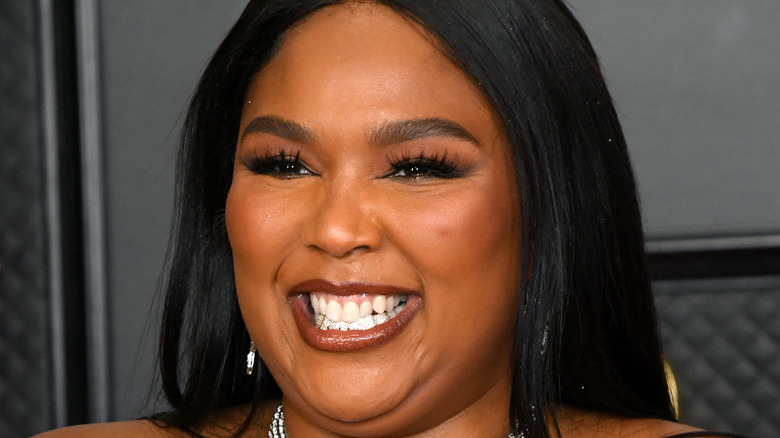 Kevin Mazur/Getty Images
Chris Evans and Lizzo are having the best time teasing fans with the fake romance that they've created, and fans are loving it just as much as they are. The flirtations all started when Lizzo slid into Evans' DMs after having a little too much to drink, which she took to TikTok to tell her followers all about. "The reason I'm upset about this one is because I know I'm not going to be able to marry him," Lizzo said in the video. "And honestly, it hurts me to the core. Because, damn papa, he a rare breed. No comparing," she said, referencing lyrics by Doja Cats' "Streets" (via Buzzfeed). But Captain America certainly didn't leave the "Truth Hurts" singer hanging, with a reply to the flirtation that read, "No shame in a drunk DM. God knows I've done worse on this app lol." Since then, the internet seems to have collectively decided that Evans and Lizzo will inevitably be married someday (via Twitter).
Well, just when you thought things couldn't get any steamier, the two proceeded to lean into the charade by starting rumors that they will be having a baby together. But their act was so convincing that it's got fans starting to wonder: is Lizzo actually pregnant?
Is Lizzo actually pregnant?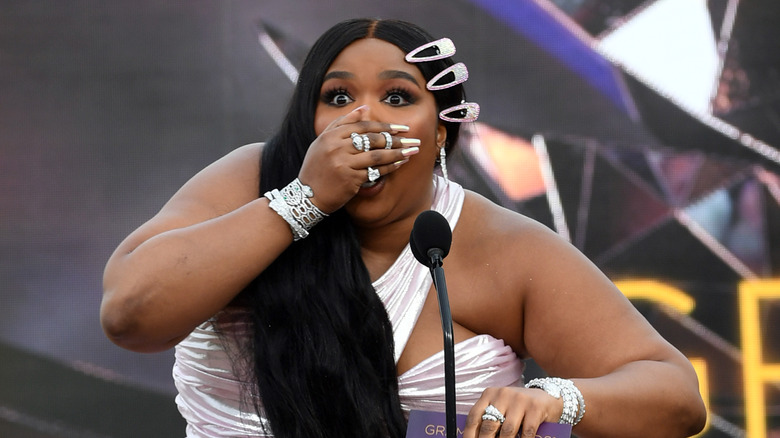 Kevin Winter/Getty Images
Sorry to burst your bubble, but no. Lizzo is not actually pregnant with Chris Evans' child. But that doesn't mean the fictional relationship and subsequent child aren't a ton of fun to imagine, and fans appear to be just as obsessed with the idea as Lizzo is.
The fake narrative all began when Lizzo took to TikTok to share that she is "pregnant" with none other than Captain America's baby. "This is something that I've been really trying to keep personal and private just between me and the father of my child," she joked in the video. "But since we're airing out all the rumors today, I've been sucking in. We're going to have a little America," (via CNN). 
In classic Evans style, he totally understood the assignment and went along with the charade, responding, "Hi! Just heard about our little bundle of joy," he wrote, adding a laughing emoji. "My mother will be so happy lol. (Just promise me no gender reveal parties lol)." Taking the joke even further, Lizzo then went on to ask her fans what they should name the future baby. "OMG YALL — HE SAW THE BABY BUMP! WE DID IT!," she joked. "NOW YALL GOTTA NAME LIL MERICA!!!!! WHAT YALL BOUTA NAME MY BABY?!"
Here's how Lizzo responded to the rumors on TikTok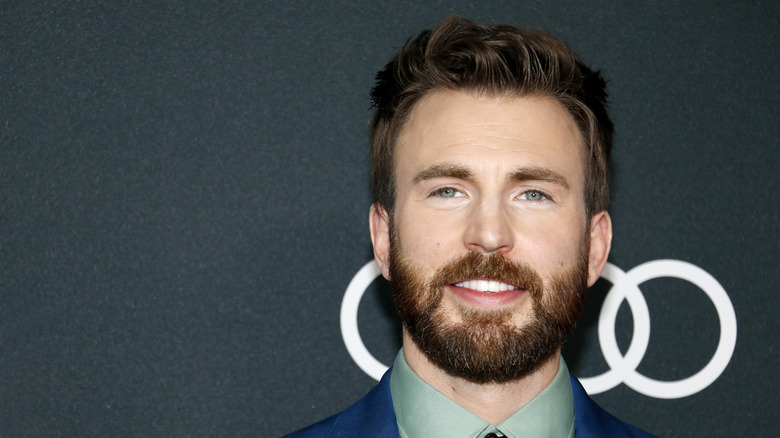 Tinseltown/Shutterstock
It might have all started as a joke, but now fans are totally invested in the idea of Lizzo and Chris Evans actually being parents together. On August 24, 2021, a TikTok user took to the social media platform to hypothesize what Evans and Lizzo's child would look like through creating a digital drawing of both of their most prominent features ​​and merging them together. 
"Lizzo and Chris Evans kid," the creator, @maryscartoons, explained in the video's tag. Well, the creator must have been completely surprised when Lizzo, herself, dueted the video and responded to it, saying, "WAIT A DAMN MIN," appearing to be impressed with what her and Evans' baby would look like. In the video, she also stands up and extends out her belly, holding it as if she were pregnant.
While she might not be officially confirming any of the rumors, Lizzo is certainly not working to deny them — which is why fans have been seriously considered that Lizzo could actually be pregnant. One user on Twitter asked, "why is no one talking about lizzo being pregnant..?" Another tweeted, "YALL IS LIZZO PREGNANT ??? HER TIKTOK ???" Only time will tell what the truth is.