Britney Spears Gushes Over Boyfriend Sam Asghari With An Unusual Compliment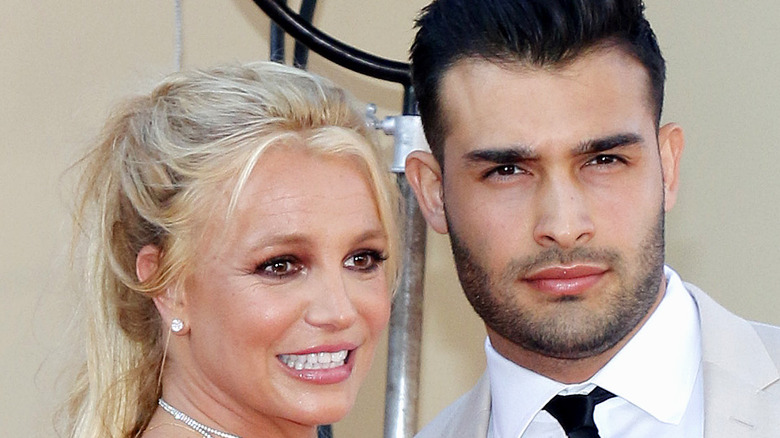 Tinseltown/Shutterstock
Over the last year, Britney Spears' fans have watched as the singer has fought to have the conservatorship she's been under since 2008 lifted. The "Baby One More Time" singer appeared in court, giving evidence against her father, among other people. Metro reported that the conservatorship has had an impact on her relationship and Britney Spears has gushed over her boyfriend Sam Asghari adding an unusual compliment.
Cosmopolitan reported that Asghari met Spears on the set of the music video for "Slumber Party." The model and fitness enthusiast has been dating the musical icon since 2016 and has supported Spears over the last year as she's made moves to completely lift the conservatorship she's been under.
All eyes turned on Spears on June 23 as she addressed the court. Variety reported that she said, "This conservatorship is doing me way more harm than good." She said that due to rulings in the conservatorship she wasn't allowed to be driven around by her boyfriend and she'd been forced to keep an IUD in her body preventing her from having children with Asghari.
Speaking about the situation, Asghari told People, "I have always wanted nothing but the best for my better half, and will continue to support her following her dreams and creating the future she wants and deserves."
Britney Spears said her boyfriend talents in front of the camera and in the kitchen
Since the court case over her conservatorship got underway, Metro has reported that Britney Spears has been celebrating by posting more regularly on her social media and giving fans a glimpse into her life.
In a post on August 25, she paid tribute to her boyfriend, Sam Asghari. "Not only has this cute a**hole been with me through the hardest years of my life but he happens to be an extremely good cook," she wrote in the caption of an Instagram post. "Fast and Furious franchise, don't miss out on your next star." An action star with a talent for cooking? He sounds like a winner.
Fans are loving this new opportunity to interact with Spears more online. One wrote under her image with Asghari, "I truly truly hope he's a good one because Britney looks so happy next to him." Another gave them the accolade of "Prom King and Queen." And another wrote, "You two are so adorable!" Fans are loving the couple's content so much that they've given them the name Samney.
This is far from the first time that the couple has shared their appreciation for one another online. On his Instagram, Asghari uploaded a clip of them goofing off for the camera, writing in the caption, "When you care about what others say or do, you're losing! The only thing that matters to us is us.....and food so now we're really winning."