Inside Kanye West And Chris Brown's Relationship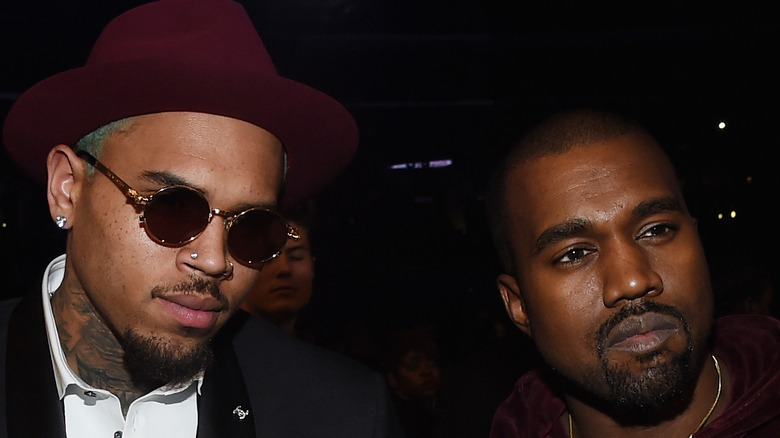 Larry Busacca/Getty Images
Kanye West's highly anticipated tenth studio album, "Donda," has finally been unleashed upon the world and, in keeping with everything else the iconic rapper does these days, its arrival hasn't been without controversy. As BBC reports, West claimed the label went over his head and released the record without his consent. The shocking revelation came shortly after "Donda" became available to stream on Sunday. West, who's petitioned to legally change his name to Ye, also claimed Universal prohibited him from including a song featuring DaBaby and Marilyn Manson, entitled "Jail 2," on the album.
Both artists have attracted similar controversy to West in recent months — DaBaby for his homophobic comments and friendship with Tory Lanez, who's being investigated for allegedly shooting Megan Thee Stallion in the foot according to Vulture, and Manson following rampant accusations of both sexual and physical abuse — and both were involved in a major promotional event for "Donda," much to social media's utter disgust. However, although West had at least two beleaguered male artists willing to go to bat for him, one person he definitely can't count on for support right now is his long-time frenemy Chris Brown.
Chris Brown had some choice words for Kanye West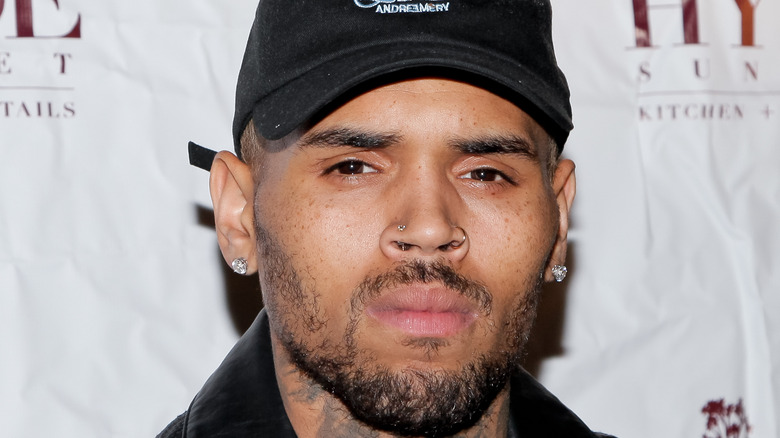 Tibrina Hobson/Getty Images
DaBaby and Marilyn Manson may have been unceremoniously dumped from Kanye West's latest offering, "Donda," but there's reason to believe somebody else was cut at the last minute too. According to Radar Online, Chris Brown shared an Instagram Story which read simply "Kanye A Whole Hoe," apparently after realizing the track he had recorded with the rapper had also been cut from the record. Brown was reportedly rumored to feature on "Donda" over the past few weeks, with the singer posting "Dat Yeezy and Breez" alongside the eyeball emoji back in July, which was right around the time West was putting the finishing touches on his album and working with several big-name collaborators.
Fellow rapper Soulja Boy was also peeved to find himself cut from "Donda," especially as West was allegedly pursuing him for weeks to participate. Soulja Boy shared several screengrabs of their text messages on Twitter, writing, "Tell homie don't hit my phone no more." He added, "Idk how to feel, Kanye sent me that song ['Remote Control'] and I don't hear my verse on it... hmm f*** that n****." West previously described him as a "genius" in a text and professed a strong desire for Soulja Boy to feature on the album, to which the delighted rapper enthusiastically responded in the affirmative. Jay-Z, The Weeknd, Lil Baby, Pusha T, and Baby Keem all appear on "Donda" but it looks like Brown and Soulja Boy are out of luck.