Simone Biles' Boyfriend Gets Bad News About This NFL Season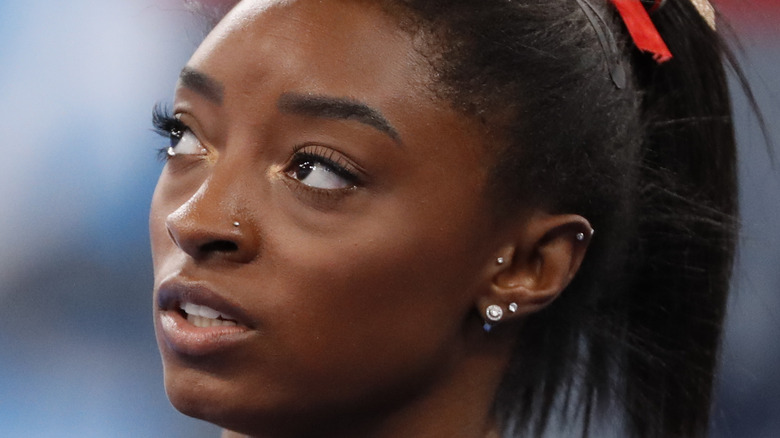 A.RICARDO/Shutterstock
Simone Biles might be the gymnastics GOAT, but this summer her spotlight was almost stolen by dutiful boyfriend Jonathan Owens. As Page Six reported at the time, when Biles made her shock decision to drop out of the Tokyo Olympics over concerns about her mental health, the NFL player took to social media to express his support, reassuring the gymnast, "Imma ride with you through whatever baby," on Instagram alongside several photos of the happy couple together. He added, "Your strength and courage is unmatched and you inspire me more and more everyday SB." Owens also reiterated that Biles is a champion in his eyes, and promised to love her no matter what.
The talented athletes have been dating since summer 2020 and fans can't get enough of their sweet and hugely supportive relationship. They went Instagram official in August 2020, with Biles celebrating their one-year anniversary with a quip about how she's the best thing that's ever happened to Owens. The NFL star claimed he didn't even know who Biles was when they initially met, but Owens has spent the past year enthusiastically playing the supportive boyfriend as she ascends higher and higher. However, it'll soon be Biles's turn to support him, as the football player has just received some bad news.
Jonathan Owens is looking at a very different season
According to TMZ, the Houston Texans initially cut Simone Biles's boyfriend, Jonathan Owens, from their line-up, which threatened to disrupt the couple's loved-up Texan life together. They're frequently spotted out and about in Houston, and Biles often posts shots to Instagram of her dutifully attending her man's practice sessions, too. Thankfully, they won't have to worry about handling a long-distance relationship since the team subsequently added Owens, a defensive back, to their practice squad. This means that, although he's not officially a part of the team at the moment, the Texans could pull Owens up to play for them later on in the season.
The New York Post notes the talented athlete played six games last season and in one the previous year. Teams are currently cutting their rosters down to 53 players across the board, so it's likely Owens just missed the cut. Whatever happens, Biles is primed to keep her boyfriend on track, even if he may not necessarily want to burden her with his problems. Owens previously gushed to Texas Monthly, "Her energy is something." He added, "She's always happy, giggly, bubbly. If I've had a tough day at the office, I wouldn't want to take that home to her. Her personality, man." Judging by how supportive Biles has been, she'll be more than up to the challenge.