The Truth About Gifts On Bachelor In Paradise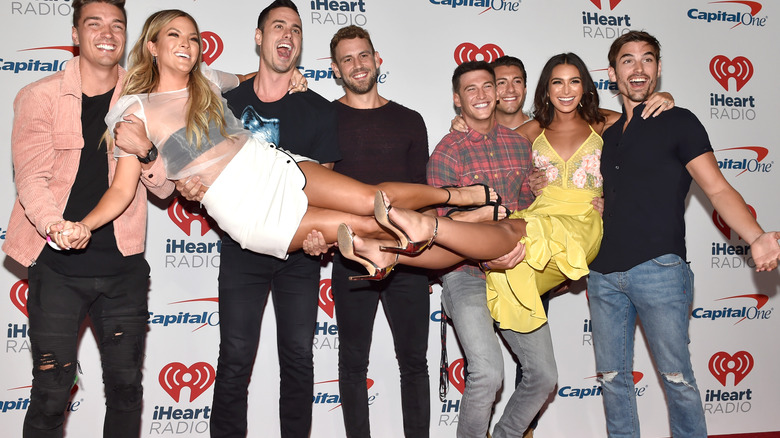 David Becker/Getty Images
Who else saw Chasen Nick gift that giant, sparkly necklace to Deanda Kanu on Tuesday night's episode of "Bachelor in Paradise" and think, um, did he bring that in his suitcase down to Mexico? Of course, Chasen wasn't the first single suitor to present the sought-after Deandra with jewelry — Karl Smith had also given her a charm bracelet that same week (via Us Weekly).
Gifts and other props for mini-dates and surprises abound on "Bachelor in Paradise." Like that birthday cake Demi Burnett baked for Kenny Braasch— or did she (via Refinery29?) Well, according to Blake Horstmann, who dated "Bachelorette" Becca Kufrin, gifts come courtesy of producers, not contestants. Specifically, regarding that necklace, Horstmann noted on his Instagram Story, "The producers bought it lol not Chasen."
Say what? Good thing the reality star went into more detail about exactly how gifts work on "Paradise." Because we can't sleep tonight unless we know more.
Karl Smith refutes Blake Horstmann's account of the gifts
On his Instagram Story, Horstmann explained to "BIP" fans, "Just to let you know how these gifts work. Producers bought all of these gifts before 'Paradise' even starts, and then they kinda have them in like a box and they like give them out to people. So that's how that worked. They saw an opportunity, and they were like go give a necklace" (via Yahoo!).
No matter how the gifting came to pass, fans loved the necklace stunt, and many seemed to already get that producers had a hand in it, with one Twitter user commenting under a laughing meme, "the producers giving chasen a necklace to give deandra to one up karl's bracelet." And another in-the-know fan tweeted, "Chasen giving Deandra a necklace seems like such a production decision."
Meanwhile, Karl claims he bought the jewelry he gave Deandra, with Cosmopolitan reporting he said on Instagram, "I actually really bought my own gift from Miami. Still got the gift. Still got the receipt."