What Karen Laine Did Before She Was Famous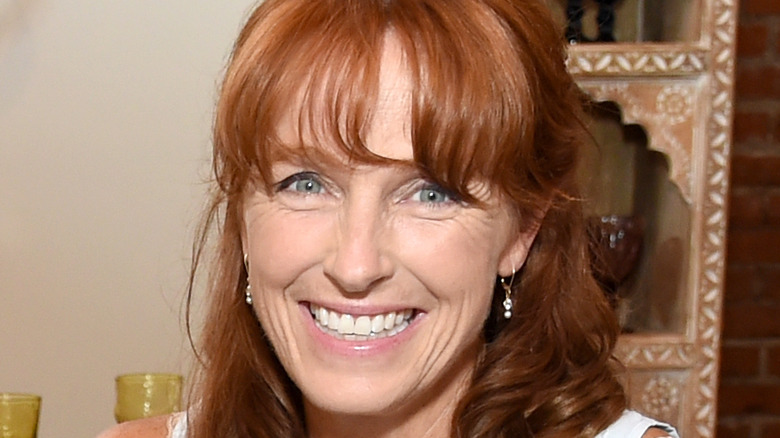 Michael Kovac/Getty Images
"Good Bones" fans know Karen Laine as the loving mother and enthusiastic colleague of co-star Mina Starsiak Hawk. The two ladies are dedicated to renovating neglected properties throughout their beloved hometown of Indianapolis, and their long-running HGTV show has proven eminently watchable — chiefly because of their irresistible chemistry. The mother-daughter duo also owns a business together, Two Chicks and a Hammer, which served as the impetus for "Good Bones." However, in 2019, fans were shocked when Laine stepped away from the company. 
Announcing her departure on the company's official Instagram page, the post read, "After a long career of practicing law and revitalizing homes and neighborhoods, Karen is retiring from Two Chicks and a Hammer." Fans were reassured that Laine would still make regular appearances on "Good Bones," however, she was retiring to spend more time with her husband, Roger, and do all the other stuff Laine loves. As Hawk told People back in 2017, the duo working together came about through happenstance. 
But what else was Laine up to before HGTV came calling?
Karen Laine had a demanding career before 'Good Bones'
As Mina Starsiak Hawk explained to People, she stumbled into home renovation by chance. While working part-time as a waitress, with her bachelor's degree completed but no idea what to do next, Hawk impulsively bought a house and recruited her mother, Karen Laine, to help renovate it. In 2007, Two Chicks and a Hammer was born (via their official site), and the ladies haven't looked back since. Hawk's concerned father even encouraged her to go to law school as a backup, but, thankfully, after "Good Bones" gained traction, he got the picture. However, perhaps his encouragement had something to do with the fact Laine herself was a practicing lawyer at the time. 
According to CheatSheet, she studied at the Robert H. McKinney School of Law at Indiana University, subsequently finding work as a defense attorney and an associate attorney. Laine worked in criminal defense, alongside family law and mediation, and provided guardian ad litem services. Laine was even a deputy prosecutor for the Marion County Prosecutor's Office at one stage. In 2017, the "Good Bones" star confirmed to PopSugar that she is still a practicing lawyer. "I am sorta on sabbatical," she said. "I've gotten rid of most of my clients, but I still have a few left." 
Obviously, home renovation became her full-time job once the show really took off. But, if Laine wanted to, she could've gone back to court rather than retiring.