How Cheryl Burke Really Feels About Jojo Siwa On Dancing With The Stars
Kathy Hutchins/Shutterstock
Fans of "Dancing with the Stars" will know that one of the best times of the year is when ABC announces the highly anticipated brand new cast of celebrities who will be taking the stage that season. But how are the celebrities who will participate chosen? 
According to co-executive producer Deena Katz, they want the cast to be like the ultimate dinner party. "You want stars from all different parts and genres because you don't want only to win [one] market," she explained, per CheatSheet Showbiz. Katz added that the goal is to make the cast as diverse as possible, representing an array of representations. "We want to hit everything, so we try to have a little bit of everything," she said. And diverse they are, with celebrities ranging from singers, actors, business-people, show hosts, and even politicians. 
But sometimes things become a bit questionable when the celebs chosen to dance on the show have athletic backgrounds or are even dancers themselves. Indeed, some people believe that picking dancers and athletes creates an unfair advantage, as they compete against celebs who might have never danced in their life or aren't paid for being in excellent shape.
"You must be in touch with your body (as a dancer). Athletes do that for a living," said Donald Gaverick, a Manhattan-based theater director and choreographer, via New York Daily News. "Their body is their instrument. It does give them a huge advantage."
Cheryl Burke says Jojo Siwa might be at a disadvantage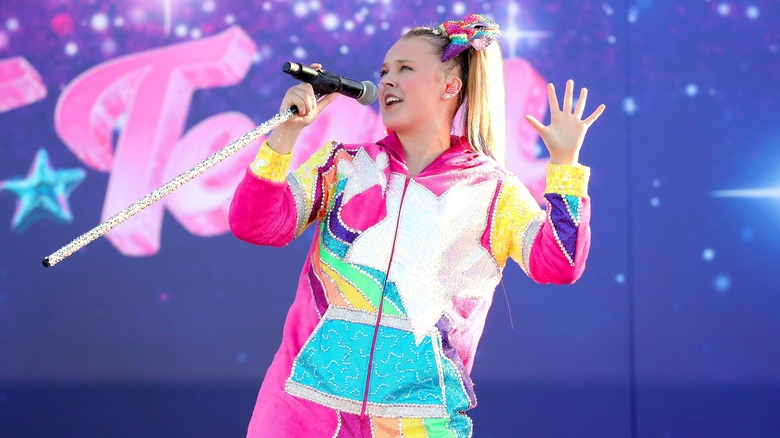 Leon Bennett/Getty Images
But not everyone agrees with this philosophy, including "Dancing with the Stars" alum Cheryl Burke, who has been on the show for 24 seasons (via Good Morning America). In an interview with E!, the dancing queen shared that while many people believe athletes have an advantage on the show, she actually finds it to be a major disadvantage. "I prefer almost the athletes because when you have dance experience and it's not ballroom dance, it's like you have to un-train your brain and it's a lot harder to develop new habits when you've been doing something for so long," Burke explained. She believes that athletes are prone to coming onto the show with "bad habits," whereas someone who has never danced before or is less athletic is easier to train.
So how will 18-year-old Jojo Siwa — a literal dancer — do on the show? After all, she has quite extensive training as a dancer, having gotten her start on "Dance Moms." Burke believes this won't be in Siwa's favor. "[Jojo] is an amazing dancer, but again, she's not ballroom. I think the judges are going to judge all the dancers who are on this season a lot harder than normal," Burke shared. 
While Siwa is no longer on "Dance Moms," she is still acting, singing, dancing, releasing music videos and original songs. She is even going on a nationwide tour called Nickelodeon's JoJo Siwa D.R.E.A.M. in 2022, per her website.
There's a slew of athletes in season 30's 'DWTS'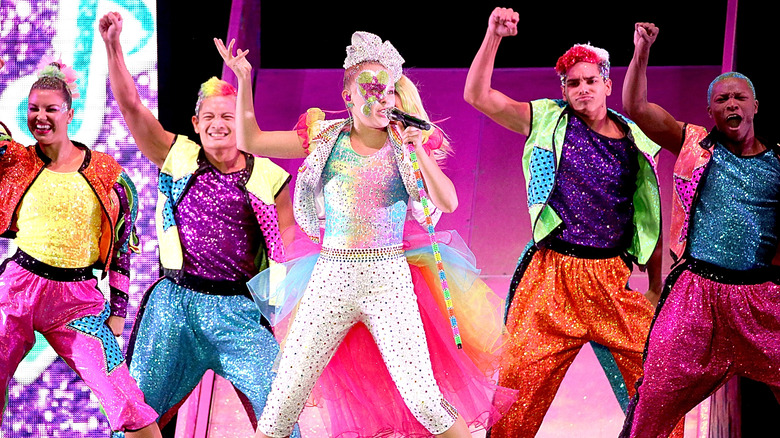 Gary Miller/Getty Images
Regardless, we're thrilled to see how Jojo Siwa does on the show. She will serve as the first "Dancing with the Stars" contestant" to be matched with a same-sex partner, which is happy news for the young dancer as she came out as pansexual earlier this year (via People).
"I am so excited to be a part of 'Dancing With the Stars,' Season 30, and to be dancing with a girl," Siwa said in a tweet. "I think it's so cool." Siwa added that her ability to dance with a woman on show demonstrates that not only can you love who you want to love, but you can "dance with who you want to dance with" per NPR.
Other celebrities to keep an eye out for this season of "DWTS" include influencer Olivia Jade, former "Bachelor" Matt James, NBA player Iman Shumpert, and actual Olympic athlete Suni Lee (via TV Line).