Meet The YouTuber Petitioning To Be The New Jeopardy! Host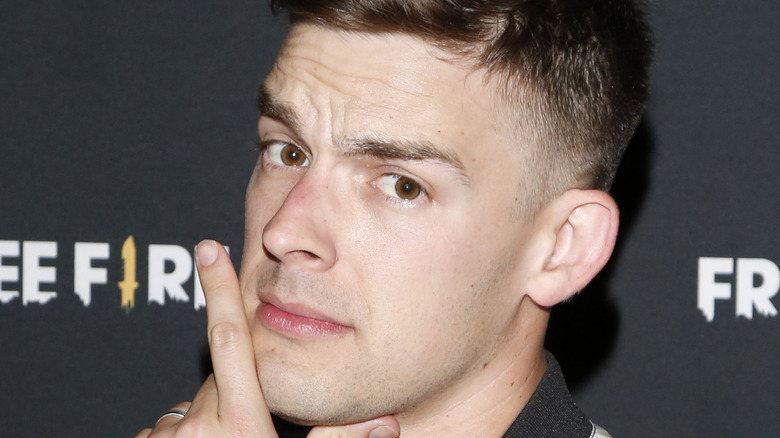 Gabe Ginsberg/Getty Images
Since the death of legendary, longtime "Jeopardy!" host Alex Trebek in November of 2020, there has been an extensive search to find a new host of the iconic game show (via Los Angeles Times). The show has used a number of celebrity guest hosts since last winter, with a star-studded lineup that included names like Katie Couric, Levar Burton, Aaron Rodgers, Ken Jennings, and even Anderson Cooper. The network finally landed on a split between executive producer Mike Richards hosting the weekday syndicated shows and "The Big Bang Theory" star Mayim Bialik hosting prime-time specials.
The decision was overturned before the ink was even dry when Richards stepped down amidst controversy surrounding lawsuits brought by "Price Is Right" employees when Richards was executive producer of the game show, as well as resurfaced derogatory comments he had made about women and minority groups on a podcast several years earlier. Now, many celebrities are vying for the coveted spot at the helm of "Jeopardy!" and the newest one may surprise you.
MatPat started a petition to put himself in the running for Jeopardy! host
Matthew Patrick, better known to his fanbase as MatPat, is a 34-year-old YouTube star who boasts some 30 million subscribers to his channel (via HITC). Patrick began his YouTube career in 2009, where he started out posting videos from various musical theater auditions. In 2011, he uploaded the video that would jump start his journey to stardom –  his first episode of "Game Theory", which dealt with the relationship between virtual reality and actual reality. Patrick now runs four successful YouTube channels: "The Game Theorists," "The Film Theorists," "The Food Theorists," and "GT Live."
Just a few days after Mike Richards stepped down as host, Patrick launched a campaign on Change.org to throw his hat in the ring for host of the iconic game show (via Newsweek). Excerpts from the petition read, "For a decade, MatPat has brought entertainment and education to viewers as the creator/host of 'Game Theory,'" and "together with the 'Theorist' community, he's helped raise over $5 million for charity and is committed to making the world a kinder, smarter place."
According to Change.org, Patrick's petition currently stands at more than 280,000 signatures.