Meet Beverly Poitier-Henderson, Sidney Poitier's Daughter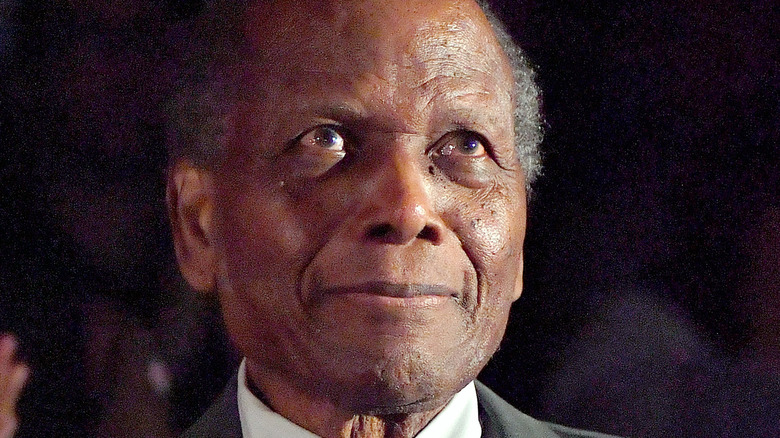 Stefanie Keenan/Getty Images
Sidney Poitier is a Hollywood legend whose fame traces back to the golden age of Hollywood. As reported in Britannica, the Bahamian-American actor became an emblem of inclusiveness in Hollywood when he became the first Black movie star. In 1964, Poitier was also the first African American male actor to win an Academy Award, winning Best Actor for his role in "Lilies of the Field." Due to his poise and grace while dealing with racism in Hollywood, one biographer referred to him as the "Martin Luther King of the movies" (via Vanity Fair). Throughout his trailblazing career, Poitier not only fought to receive accolades for his talents but better depictions of African Americans in film. His first role as Dr. Brooks in "No Way Out" was a contrast to the stereotypical images of Black Americans often depicted in cinema at that time (via Britannica). 
Along with being a Hollywood icon, Poitier is an outstanding father. The award-winning actor has six daughters: Beverly, Pamela, Sherri, Gina, Sydney, and Anika. In an exclusive interview with The Hollywood Reporter, his youngest daughters, Sydney Tamiia and Anika, reminisced on their childhood. "We would put barrettes in his hair, and then we'd make him call room service," Sydney recalled. "So room service would come, and he'd have to open the door with pink barrettes and lipstick on."
Who is Beverly Poitier-Henderson?
Beverly Poitier-Henderson is the eldest of Sidney Poitier's six children. The Hollywood icon married Juanita Marie Hardy in 1950, but they divorced 15 years later (via Amo Mama). The pair had four daughters: Beverly, Pamela, Sherri, and the late Gina. The actor remarried and had two more girls, Anika and Sydney, with wife Joanna Shimkus (via Oprah).
Although not interested in acting like her award-winning father, Beverly has dabbled in literature, self-publishing a novel in 2001, titled "Nana," per Vidette Online. Her life experiences and the people she's met inspired her to tackle writing a book. "The idea came from a lot of places — from a little old lady I knew at church, members of my family and things like that," she explained.
Sidney is just as encouraging of his daughter's career as she is of his. Beverly makes customized jewelry. Her designs are composed of various rocks, gems, metals, and clays, and available on her site Kazuri West. Her jewelry line is called Poitier-Henderson, inspired by two influential men in her life: her father, Sidney Poitier, and her high school sweetheart and husband.