The Matching Tattoos That Cara Delevingne And Paris Jackson Got Before The Oscars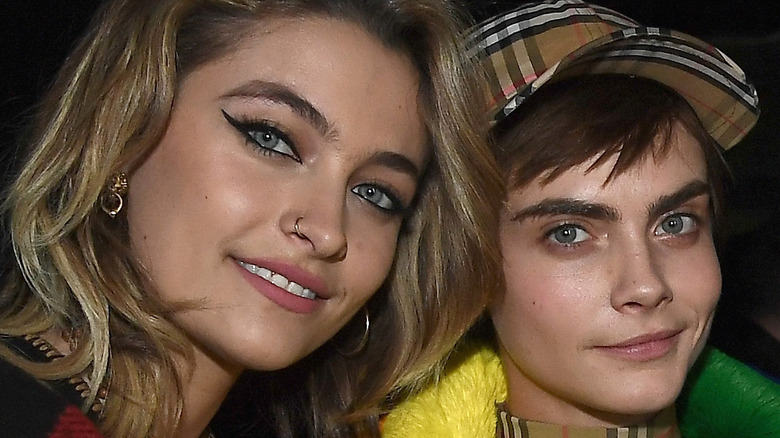 Gareth Cattermole/Getty Images
Actress Cara Delevingne has an impressive tattoo collection. According to Grazia, the blonde bombshell has over 20 tattoos inked all over her body. Some of her most notable tattoos include the lion she has inked on her index finger, the word "bacon" on the bottom of her left foot, and a delicate diamond inscribed on her inner ear. 
Aside from her stunning solo pieces, Delevingne has a penchant for going under the needle with her best friends. In 2014, the Victoria's Secret model got a matching "DD" hip tattoo with fellow supermodel Jourdan Dunn. A few years later, she celebrated her 28th birthday by getting another matching tattoo with her "solemate," model Kaia Gerber (via People). Delevingne even took the tattoo gun into her own hands and gave the cast and crew of her film "Suicide Squad" matching "SKWAD" tattoos, with the help of her co-stars Margot Robbie and Will Smith. 
After the 2021 Oscars, Delevingne sealed yet another friendship with a matching tattoo (via Pop Sugar).
Cara Delevingne and Paris Jackson have a long history
Cara Delevingne is sure to remember the 2021 Oscars. Before heading to an afterparty with musician Paris Jackson, the pair got matching tattoos (via Pop Sugar). They shared a photo on Instagram revealing the red rose design. Delevingne permanently marked the flower on her upper right arm, while Jackson inked the rose on her left forearm. 
After debuting their new ink online, the actresses headed to a party hosted by Joan Collins and Alan Nevins (via Page Six). A source told Page Six, "Cara is one of Joan Collins' god-daughters. She and Paris sat together and were friendly with everyone and they were quite stunning, I have to say." The source added, "They were pleasant — there's was nothing outward to show that they were 'together' or anything but friends out together."
While Delevingne and Jackson are most likely just friends, in 2017 the pair faced dating rumors after they were spotted leaving a nightclub together while holding hands. The gossip intensified weeks later when they were spotted kissing at a dinner with Jackson's godfather Macaulay Culkin and his girlfriend Brenda Song. However, the rumor mill has since died down. Regardless of the nature of the relationship between Delevingne and Jackson, the two women clearly share a strong bond.