The Real Reason SZA Won't Wear A Hijab On Stage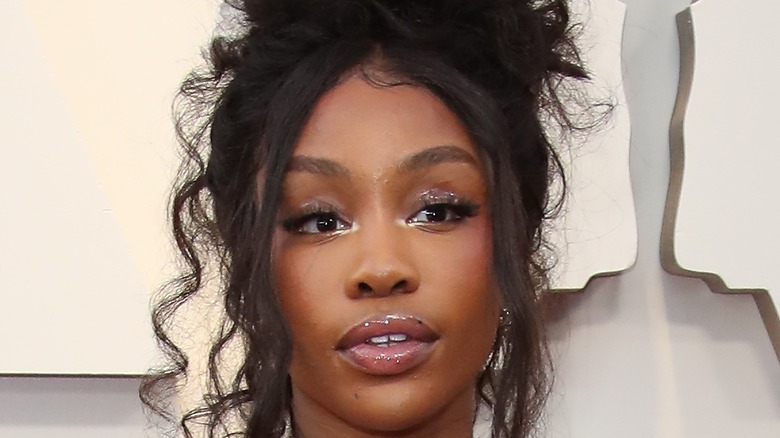 Dan Macmedan/Getty Images
Solána Imani Rowe, professionally known as SZA, has taken the music industry by storm with her neo-soul music, sultry voice, and poignant lyricism. In the relatively short span of her career, she's collaborated with a gamut of impressive names, including Childish Gambino, Doja Cat, The Weeknd, Kendrick Lamar, and many more (via Spotify).
SZA was born in St. Louis, Missouri, and raised in Maplewood, New Jersey. She has previously spoken about her home life, saying that it was a relatively restrictive one due to her family being Muslim. She told Coveteur that her family — particularly her father — had a huge say in what she could wear, which was an issue for her because she liked to use fashion as a mode of expression.
"I was very outcasted when I was younger, because wearing Jnco jeans and being black with a whole bunch of bracelets on and being like, 'Yeah, this is how I feel! I'm moody!' wasn't a thing back then," she recalled.
Her family required her to wear baggy clothes that would hide her body from the world, which she says ultimately led to her gaining weight. "When I lost weight I didn't want to wear baggy clothes anymore," she said, per Coveteur. "I worked really hard not to have to wear baggy clothes. And now I just feel like it's how I'm generally comfortable. Instead of doing just what was available, I can wear what I want, and that's a blessing."
However, there's one thing she's still not sure about wearing, particularly on stage.
9/11 had a huge impact on SZA — and her fashion — growing up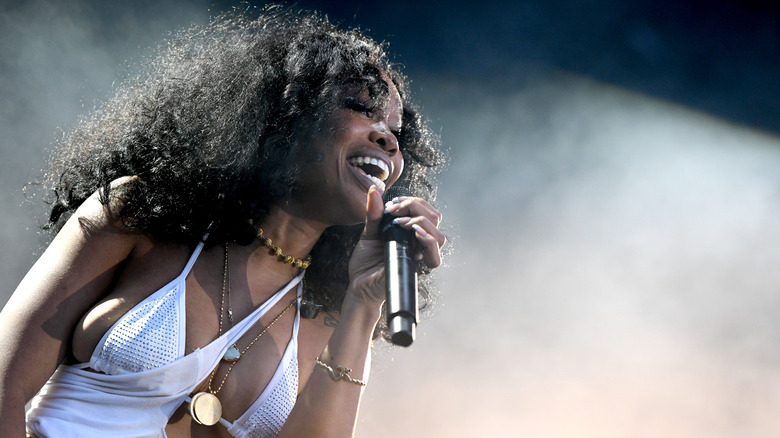 Craig Barritt/Getty Images
Even into adulthood, SZA has had doubts when it comes to what she wears, and it stems from her upbringing. As a child, growing up Muslim meant "super modest" clothing and "lots of overalls and bucket hats," she said, via Coveteur. But, now, it's led to her being unsure of wearing something she would have previously worn.
Accordion to The Guardian, SZA was terrified of the world knowing that she's Muslim, a fear that was only exasperated by the September 11 terrorist attacks in 2001. "I stopped covering after 9/11 because I was so scared," she said. "This was like elementary school, middle school. I regret so much — like being afraid or caring what people said about me."
SZA explained that she started wearing hijabs again in high school, but she often felt judged and like she wasn't "devout enough" to wear one — something that people in school would often tell her.
But, now, after confidently embracing her Muslim identity and allowing her hijab to make her feel confident and beautiful, the "Good Days" singer wears her covering when she can. "We played [shows] in Malaysia and Indonesia and it was really comforting to be able to cover up for the show," SZA said. "I always go back and forth about [wearing a hijab] like, should I cover? Because I don't want to be a part-time covered."
Ultimately, the choice is up to her — just as it should be.