How Prince William Reportedly Derailed Meghan And Harry's Plans For Lilibet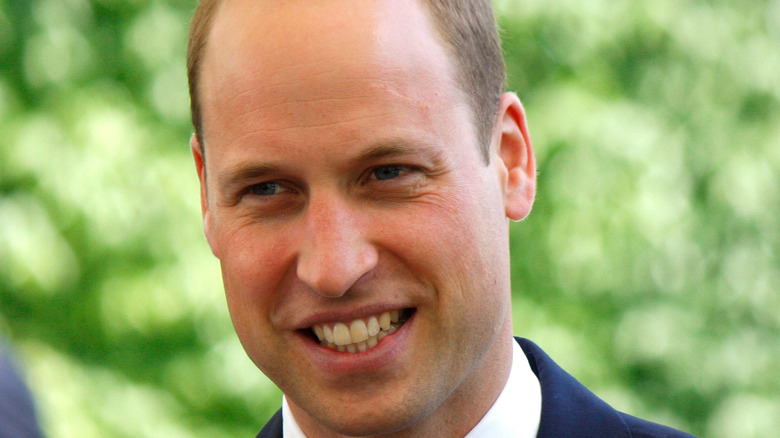 360b/Shutterstock
In June, Prince Harry and Meghan Markle announced the birth of their second child and first daughter, Lilibet Diana. Unlike the birth of nearly every other member of the royal family, Lilibet's birth was not a grand announcement in England. In fact, Prince Harry and Meghan waited until two days after she was born to announce her birth. This move deviated greatly from the typical royal family birth protocol, which is to capture a photo of the mother and newborn just a day or two after the mother gives birth to the newest member of the royal family, per Town and Country Magazine.
Though it has been four months since her birth, Prince Harry and Meghan have yet to share what Lilibet looks like in a single photograph. This deviation proves just how different Harry and Meghan's lives are since they left their royal duties behind in January 2020.
Stranger still (though it might also be a result of the COVID-19 pandemic), the royal family also has yet to meet Lilibet in person — though Queen Elizabeth II has been lucky enough to meet her virtually, at least. Prince Charles, Prince Harry's father, is particularly unhappy about not yet meeting Lilibet "I think Prince Charles really wants to meet his granddaughter," royal expert Nick Bullen told Us Weekly. "Prince Charles is incredibly sad about everything that's gone on. So the family will want to meet each other."
Did Prince William reject his brother's request?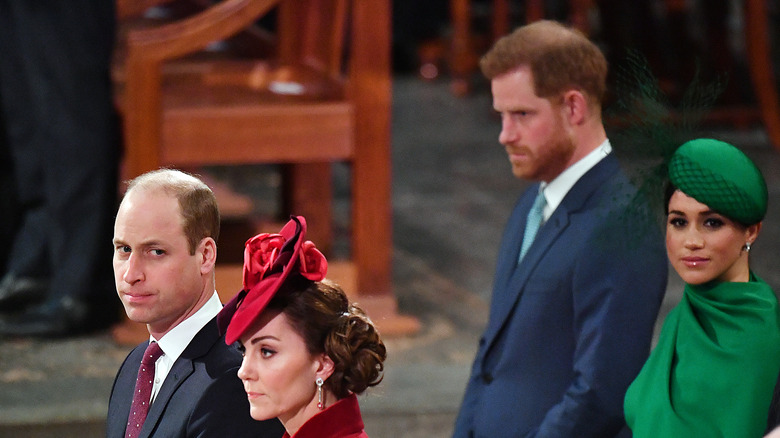 Wpa Pool/Getty Images
Another royal family tradition that was recently derailed was the christening of Lilibet Diana at St. George's Chapel in Windsor. As NBC royals correspondent Neil Sean divulged, per an Express report published in late September, Prince William denied Prince Harry and Meghan Markle's request to hold Lilibet's christening at St. George's Chapel.
"Both Harry and Meghan were very keen to make that return and make sure that christening happened, particularly in front of Her Majesty The Queen," Sean said, per Express. "But that came to a grinding halt. [M]oving forward, there was one person who basically decided there wasn't an appetite for this and the person that seemingly is, so far, not willing to kiss and make up with his younger brother ... According to a very good source, Prince William was the one who basically said 'no, we don't think this is going to work,' it wasn't a particularly good idea."
Royal expert Nick Bullen believes that Prince Harry and Meghan might choose to make the Platinum Jubilee, set to celebrate Queen Elizabeth's birthday and her 70 years as the monarch of Great Britain, a chance for Lilibet to meet every member of the royal family, per Us Weekly. "The Jubilee is a perfect opportunity for that because if Harry and Megan do come back ... because they have to be seen supporting Queen Elizabeth II. It's a great moment for everyone to be together," Bullen told Us Weekly. The royal celebration will be taking place in June 2022.
Archie's christening also stirred up a bit of controversy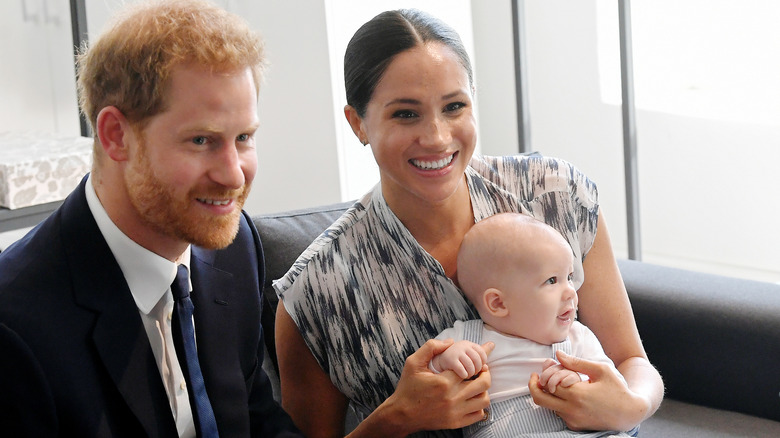 Pool/Getty Images
Similar to his younger sister, Archie Harrison Mountbatten-Windsor's christening in July 2019 at Windsor Castle ruffled a few feathers of those who appreciated royal traditions. The christening of Archie differed from other christenings in the past as it was a completely private ceremony. While reporters do not attend the actual ceremony, reporters are usually present to snap photos of those royals and other invitees going in and out of the church, per the Sunday Times. Though Prince Harry and Meghan Markle released photos of their new family a few hours after the christening, this deviation from the norm was noticed by many who remembered the many photos snapped by reporters during the christenings of Prince William and Kate Middleton's children.
The public became even more puzzled at the couple's privacy regarding the christening of their son when they did not release the name of Archie's godparents following the christening. In fact, it wasn't until six months after the christening that it was revealed that Archie's godparents are Tiggy Pettifer, Prince Harry and Prince William's former nanny, Mark Dyer, a former assistant of honor to Prince Charles, and Charlie van Straubenzee, a close friend to Prince Harry, according to Parade. "Harry and Meghan's relations with the British press went badly downhill when Archie was christened in private and the names of the godparents were not released," royal commentator Richard Fitzwilliams told Express in August. A few people close to Markle also might have been named Archie's godparents, though their names have not been released.