Inside Olivia Jade's LA Apartment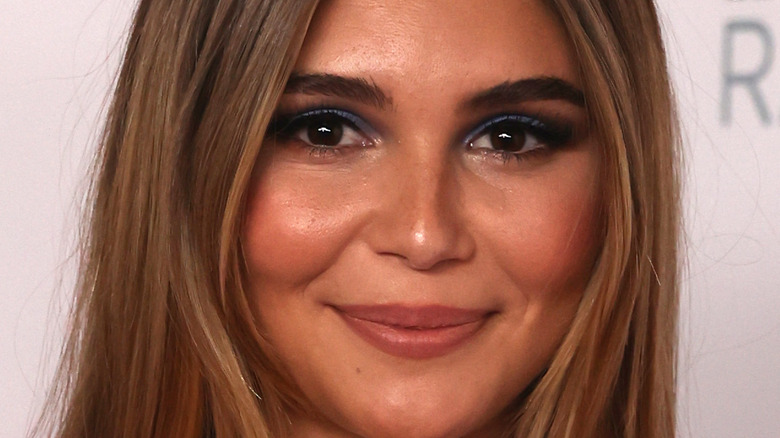 Isaac Brekken/Getty Images
Influencer Olivia Jade has had a difficult past few years. Though she's currently starring on the historic 30th season of "Dancing With the Stars" (via E! News), in 2019, she found herself at the center of one of the biggest scandals of the past decade. After her parents paid the University of Southern California $500,000 to have her admitted to the school as a fake crew recruit, Jade completely withdrew from her social media career (via Variety). Almost one year after losing favor with the public and her lucrative brand deals with companies like Sephora and Tresemmé, Jade made her long-awaited return to YouTube. 
Her first video, "Hello Again," amassed over six million views and explained her desire to start creating again. Since her first two minute video, Jade has returned to posting her popular makeup routines, day in the life vlogs, and most notably updates on her new apartment.
Olivia Jade is ready for new beginnings
Amidst rebranding herself on YouTube, Olivia Jade posted a tour of her brand new Los Angeles apartment. In the video, she showcased her grand master bedroom, bathroom, kitchen, living room, and more. The 22-year-old influencer shared that she was most excited about having a new space to decorate and is enjoying how large her new place is. Her bathroom featured a giant white tub, a large counter space, and the area where she planned to put a vanity. Next, she showcased her bedroom, which featured floor-to-ceiling windows with a nice city view. Her living room connected to her kitchen, which has a big fridge, tons of storage space, and many appliances. Jade's living room also connected to a balcony that provides great outdoor space in her high-rise building.
From the looks of her subsequent YouTube videos, Jade is slowly beginning to furnish her place. In her video, "First Day In My New Apartment," she fully decked out her kitchen with groceries, cooking supplies, and kitchen staples. She also revealed that she filled her living room with a big white couch, coffee table, and standing mirror. Lastly, her bedroom features a giant bed flanked by two side tables and matching lamps (via YouTube). Though Jade has yet to deliver the full apartment tour video, she appears close to finishing her furnishings.