The Truth About Greta Thunberg's Famous Parents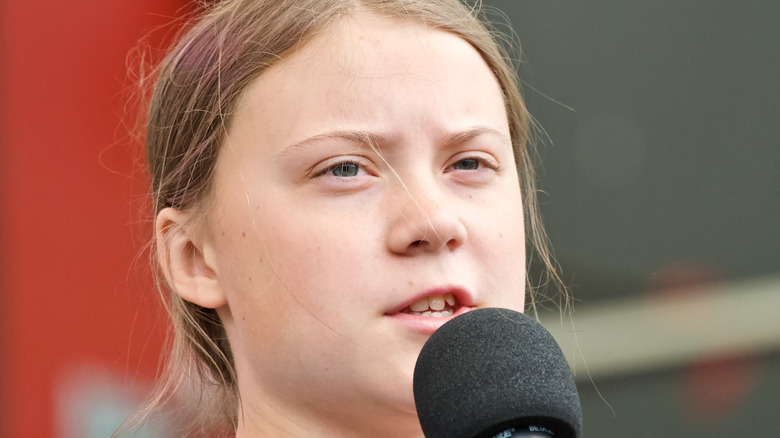 Liv Oeian/Shutterstock
At just 18 years old, Greta Thunberg has become one of the most recognizable faces addressing the planet's climate change crisis as well as the youngest ever recipient of a Time Person of the Year award. At the age of just 15, the Swedish-born activist began protesting outside the Swedish parliament with the hopes of pressuring the government into addressing carbon emission numbers. It was a campaign that eventually inspired millions of others to become impassioned about the same issues — and from there, the scope of her voice would only continue to grow more and more. It eventually made its way in front of the United Nations (via BBC).
But how does a young person become so passionate, knowledgeable, and ambitious? Well much of it is nature, we can't forget the power of nurture — which is where Thunberg's parents come into the picture. As it turns out, they've had a huge impact on their daughter's massive success and courage as an individual.
According to an emotional and raw essay written by Greta Thunberg's mother, Melana Ernman, it took a long time before Greta became the person she is today. She suffered severely growing up with depression and mental struggles, which lead to a lack of eating to the point of malnutrition. However, her life completely changed after countless doctors appointments when Greta finally received an official diagnosis: Asperger's, high-functioning autism and OCD. This diagnosis is what Greta would later call the "gift" that helped her begin to "see things from outside the box," after her parents tireless attempts to get to the bottom of their daughter's ailment per The Independent.
Malena Ernman was an opera singer and Eurovision star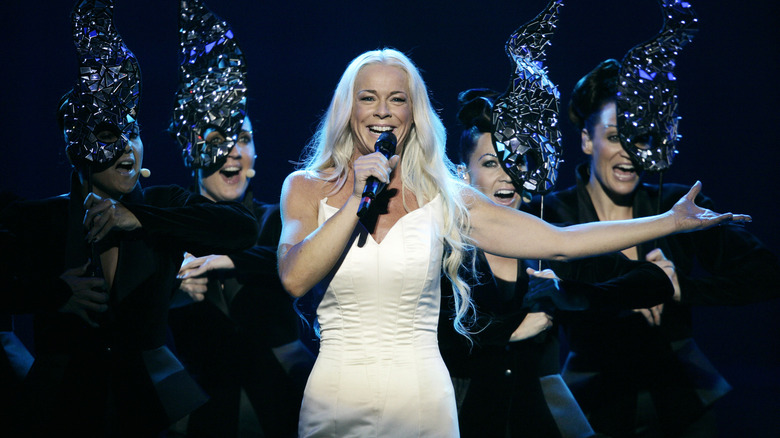 Oleg Nikishin/Getty Images
While her parents, Malena Ernman and Svante Thunberg, can't boast fearlessly disputing with former President Donald Trump like their daughter can, their own careers and accomplishments are certainly nothing to sniff at. According to Greta's mother, Malena, she and husband Svante are considered "cultural workers" in Sweden — otherwise understood as people involved in opera, music, and theatre careers. 
She studied music at the Royal College of Music in Stockholm, is a member of the Royal Swedish Academy of Music, and established herself as one of the most well-known opera singers in Sweden, per The Netline. In 2009, Malena represented Sweden in the Eurovision Song Contest, performing her single "La Voix." When fans of Greta learned of her mother's musical background and time on the international contest, they fell in love with the family even more. 
One Twitter user wrote, "I didn't think it was possible to have any more adoration for @GretaThunberg than I already do," while another tweeted, "Then I discover her mum was on @Eurovision & my mind is blown. And it's not that it has any bearing on her brilliance, it's just a fact that warms my heart " (via The Independent).
Svante worked on some of Greta's documentaries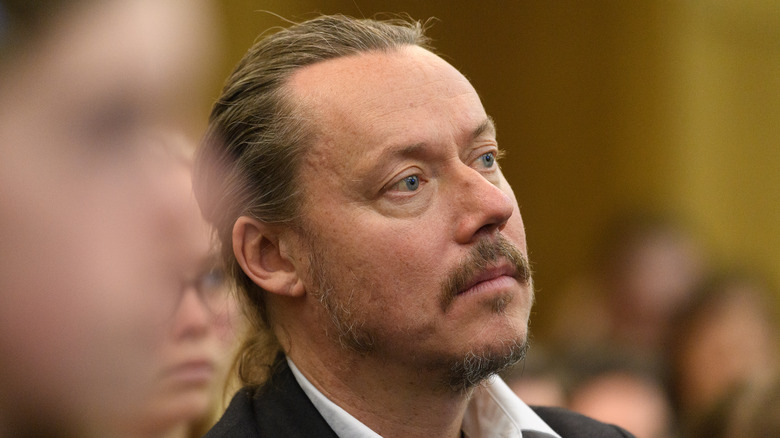 Leon Neal/Getty Images
As for Greta's father, Svante Thunberg, he isn't quite as well known as his wife. Per The Guardian, he recalled once saying to Malena, "You're one of the best in the world at what you do." He added, "And as for me, I am more like a bass player in the Swedish theatre and can very easily be replaced. Not to mention you earn so damned much more than I do," although Malena allegedly vehemently protested this.
Svante had made a career for himself within the entertainment industry. Svante is an actor and manager, best known for his role in the 1997 to 2000 TV series, "Skargardsdoktorn." He even worked on Greta's documentaries, "I Am Greta" (2020) and "Greta Thunberg: A Year to Change the World" (2021), per The Netline.
Reports say that Greta had a huge part in making her parents more environmentally conscious. According to Greta, her parents were like "everyone else" and weren't worried about climate change, believing that "someone will invent something in the future." But then she made them "feel so guilty" for "stealing [her generation's] future," which lead to her parents making some big changes, per The Netline. So much so, in fact, that in 2017, World Wildlife Fund (WWF) named Malena the Environmental Hero of the Year. "My small role in the environment movement is as a public person trying to lend my voice to those who are not heard in the media noise," Melana said per The Sun. "No other issue is more important or more difficult to spread."