The Celebrity Chef You Never Knew Was Good Friends With Jimmy Fallon
Arturo Holmes/mg21/Getty Images
Some of Jimmy Fallon's celebrity friendships are well-documented. Chief among them is, of course, the late night host's bromance with Justin Timberlake, with the two often sharing their hijinks on Instagram (via PopSugar). According to The Things, Fallon also counts Dwayne Johnson, Tina Fey, Drew Barrymore, and Kevin Hart among his inner circle.
But there is one star who most fans may not know is a good friend of the "SNL" alum, and he happens to be a celebrity chef. Let's start with the fact that this culinary genius has been on "The Tonight Show" many times, including for a blind wine tasting, and grilled cheese cook-off (via People).
If you guessed Mario Batali and Jimmy Fallon are thick as thieves, you'd be right, with Food & Wine also sharing that the restaurateur appeared on the late night show to play "Secret Ingredient" with its host. But the famous duo's comradery extends off the air as well.
Jimmy Fallon and Mario Batali are tight on TV and off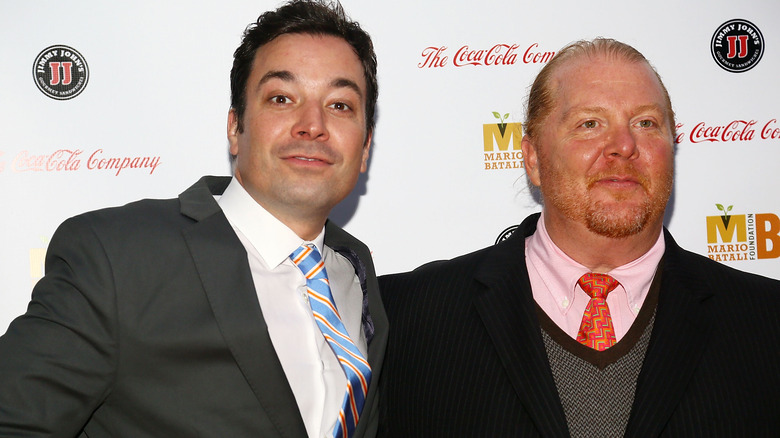 Astrid Stawiarz/Getty Images
They are such good pals, that in 2017, Fallon and Batali even celebrated their birthdays together, according to People. Also included in the champagne-fueled party? Paul McCartney, who shared a photo of a festive moment of the trio to his Twitter account.
Bloomberg reports that Fallon is one of Batali's regular golf partners as well, with the chef saying about his favorite sport, "One of the things about my job is that I spend a lot of time in small, hot rooms surrounded by a lot of people. For me, going out on the golf course is a remarkable, spiritual, cleansing thing."
But just because Fallon has the opportunity to be a foodie with Batali, don't think the down-to-earth star has abandoned his roots of ordinary guyhood, with the host also telling Parade his favorite snack is popcorn, and he also enjoys getting "beer, hot dog and a cheesesteak—love those."