Who SNL Went With Instead On Jimmy Fallon After His First Audition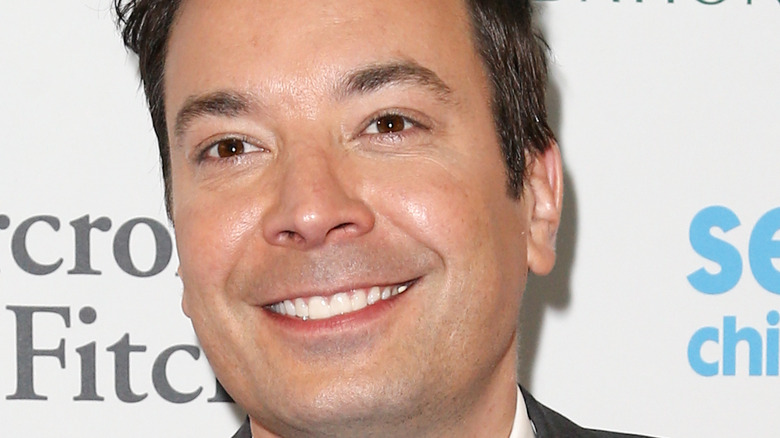 Debby Wong/Shutterstock
Some would argue that it is Ryan Seacrest who is seen everywhere on TV — and while we don't disagree, we have to acknowledge another Hollywood host who's arguably just as seasoned: Jimmy Fallon, whose resume is longer than a Walgreens receipt. The comedian has had an impressively long career before settling into his current gig as the host of "The Tonight Show." He played the leading man opposite Drew Barrymore in the romantic comedy "Fever Pitch." He held his own against Queen Latifah in "Taxi." And he portrayed a perfect art snob in "Factory Girl." Plus, many might be surprised to learn the TV host has also been a Calvin Klein model and even has a small part in the serious HBO mini series, "Band of Brothers."
Like we said, Fallon is incredibly is successful — and it's likely he attributes much of his success to this career-defining gig, as nothing is as big as his run on "Saturday Night Live."
Jimmy Fallon's spot on 'SNL' initially went to another famous alum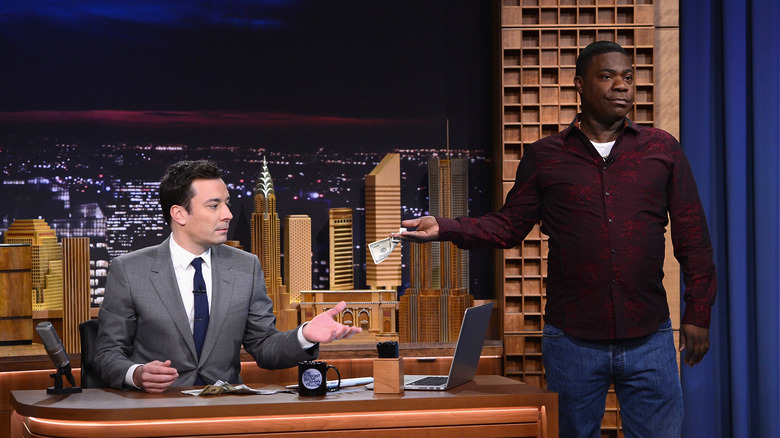 Theo Wargo/Getty Images
Back in 1998, Jimmy Fallon started his six-year run as a cast member on "Saturday Night Live." Highlights during his tenure include co-anchoring "Weekend Update" with the legendary Tina Fey, spot-on parodies of other "SNL" alumni, and, of course, hilariously breaking character. Like many other actors, writers, and current A-Listers, Fallon's time on the show gave him some unquestionably good exposure. However, he wasn't immediately given a spot on the long-running comedy sketch show. In fact, Fallon star didn't even pass his first audition, in which he used a bit about celebrities selling troll dolls, per Money Inc. Instead, the show went with another known name in comedy, Tracy Morgan. Luckily, Fallon was allowed to audition again, but under requirement to come up with a new bit. Fallon took the opportunity to show off impressions of celebrities — including Adam Sandler — and scored a spot on the long running sketch series.
In a SiriusXM interview, Fallon discussed the successful audition, revealing that he "was shaking." "That's all I wanted to do," he said. "I didn't want to do movies. I didn't want to do anything else." Luckily for the late night host, he made Lorne Michaels laugh — and Tracy Morgan (nor Fallon's own nerves) didn't ruin his big break.