Did JoJo Siwa And Kylie Prew Break Up?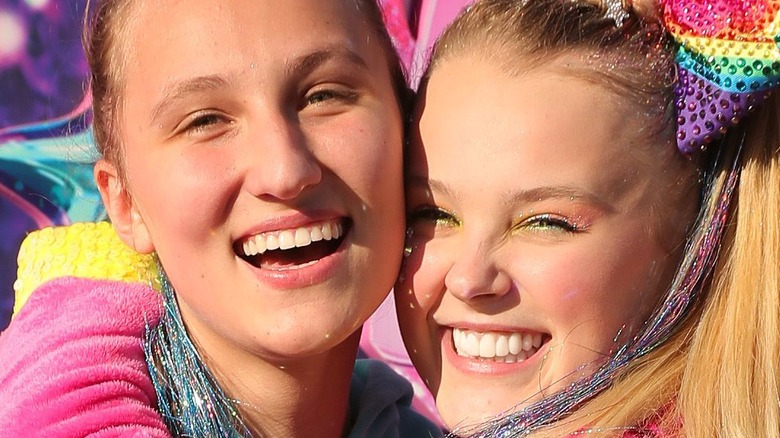 Leon Bennett/Getty Images
Influencer JoJo Siwa delighted her millions of fans at the top of 2021 when she came out as queer on social media. The singer tweeted a photo of herself wearing a "Best. Gay. Cousin. Ever" shirt in January and later revealed on "The Tonight Show" that her girlfriend at the time helped her share her truth.  
"One day I was on FaceTime with my girlfriend ... and I was like, 'I kind of just want to post this picture on my [Instagram] Story," she told host Jimmy Fallon (via the New York Post). "She was super encouraging, she was like, 'do it' and I was like, 'alright' and I did it ... [then I went] back to FaceTiming with her." 
That same month Siwa confirmed the identity of her girlfriend in an Instagram post. In honor of the couple's one-month anniversary, the 18-year-old shared a sweet tribute to Kylie Prew.
Though the pair's sweet relationship has captured the hearts of fans across the globe, Siwa and Prew have reportedly broken up (via Page Six).
JoJo Siwa is focusing on dancing
An insider told Us Weekly that JoJo Siwa and Kylie Prew broke up about two weeks ago. They also revealed that "Some 'Dancing With the Stars' cast are aware about the breakup" and that "Kylie stopped attending the show so she hasn't been seen in the audience since they split." Despite dealing with the reported split, Siwa is continuing to focus on the competitors. The insider said, "While it's a rough time for her, she's handling 'DWTS' very professionally and still putting on a smile and giving 100 percent. She doesn't want to let down her fans."
While Siwa hasn't confirmed the breakup herself, she has talked about going through a difficult time and leaning on her "DWTS" dance partner Jenna Johnson for support. After competing on Disney Villains night of "DWTS," she told reporters (via Us Weekly), "The reason why I was able to overcome [my emotions] was because of my amazing coach [Johnson] and because of my dances this week." She added that dancing has become an escape for her. 
If the reports of a breakup are true, Siwa has a good support system to help her through. "Luckily I have really good people in my life," she said. "And I'm really lucky that every day this week I got to spend three hours with my best friend in rehearsals and we got to dance."