The Exact Lip Color Veronica Wears In Riverdale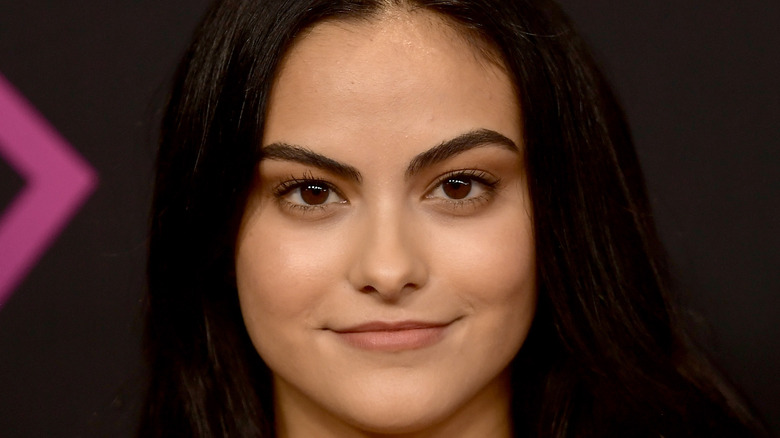 Matt Winkelmeyer/Getty Images
"Riverdale" follows a group of effortlessly cool young adults as they navigate life, love, and loss in the titular town. There's also plenty of murder, sex, and betrayal along the way too since this is, after all, a drama based on a long-running Archie Comics story. Although each member of the core cast has their own personal sense of style, New York transplant Veronica Lodge is easily the coolest chick in Riverdale. As played by relative newcomer Camila Mendes, the character also has a fascinating Latinx slant. 
Mendes admitted to PopSugar, "Veronica definitely inspires me," pointing to the ambitious young woman's abilities to balance a million different things at once. She elaborated, "Veronica is a very intelligent young woman who is fearless and determined and doesn't let obstacles deter her from her goals. That's something that I can definitely take with me in my career is the perseverance through adversity." Veronica's looks echo her desire to be a boss in every area of her life, from prim business suits to killer heels. 
Her beauty looks, meanwhile, are equally chic and eye-catching. If you're looking to get some of that Veronica confidence in your own life, this is the exact lipstick used for the character on "Riverdale." 
Turn to Glossier for Veronica's business chic makeup look
Veronica Lodge loves a statement lip and, according to makeup artist and TikTok user Brittany Cale, one of Veronica's go-to's is by none other than Glossier. For Veronica's classic brownish-plum lip look, on-set makeup artists reached specifically for their Generation G lipstick in Jam, which is described as a "deep berry" shade. Pick it up online for $17. Actor Camila Mendes is more experimental than her most famous character, even if she prefers to let her skin breathe during off days. Mendes, who is a spokesperson for Urban Decay, explained to Allure she favors foundation and nude shades for the most part, with a subtle color on her eyes: "Then I brush my eyebrows up, put some mascara on, and call it a day," she said. 
Her perspective on skincare, however, has changed since "Riverdale" began, with the stunning star revealing in an interview with Hollywood Life, "I do look at beauty now from a perspective of health. I think I always sort of have, but I think I value that more. When I do go to get facials, they're always like, you're getting blemishes up here because you're dehydrated. You're not drinking enough water." She added, "I think a huge part of skincare is just what you're putting into your body. It shows when we're being healthy and staying active and eating right ... Your skin glows. I think that's something that's really underrated." Clearly, whatever Mendes is doing is working, regardless of whether she's glammed up or not.