The Internet Can't Stop Talking About Tom Brady's Hertz Tesla Commercial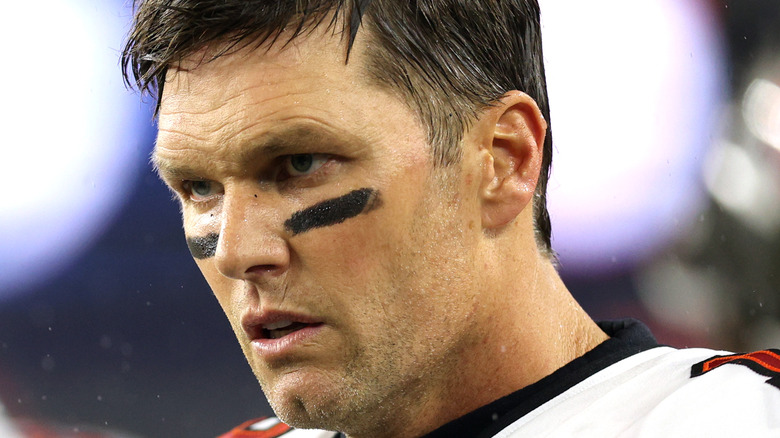 Maddie Meyer/Getty Images
Earlier this week, Hertz announced that it had placed an order for 100,000 Teslas, which, according to Bloomberg News, is the largest single purchase of electric vehicles, well, ever. This means that 20 percent of Hertz's global fleet and that the car rental company will be installing 3,000 Tesla EV charging points in the United States and Europe. While Tesla has been steadily accelerating their output and gaining in popularity over the years, car rental company Hertz has struggled in the past few years and eventually filed for bankruptcy protection at the height of the COVID-19 pandemic, per CNBC. Then, Hertz received new funding and a second wind of popularity, leading them to make this monumental purchase.
Hertz then made an even bigger move, hiring football quarterback Tom Brady to promote their latest acquisition in two commercials, "Plugged In" and "Speed." According to The Drum, the commercials play on Brady's football catchphrase "Let's go" and follow Brady as he rents and recharges a Hertz EV (in one commercial, he is charging himself). "Although the company has been around for over 100 years, their constant evolution, especially now, is something that is amazing to be a part of," Tom Brady said in a Hertz press release. "I've been driving an EV for years and knowing Hertz is leading the way with their electric fleet speaks to how the world is changing and the way companies are approaching being environmentally and socially conscious." Hertz also charged OneRepublic's Ryan Tedder with coming up with an original score for the commercials.
Twitter and the stock market approve of Tom Brady's Hertz Tesla commercial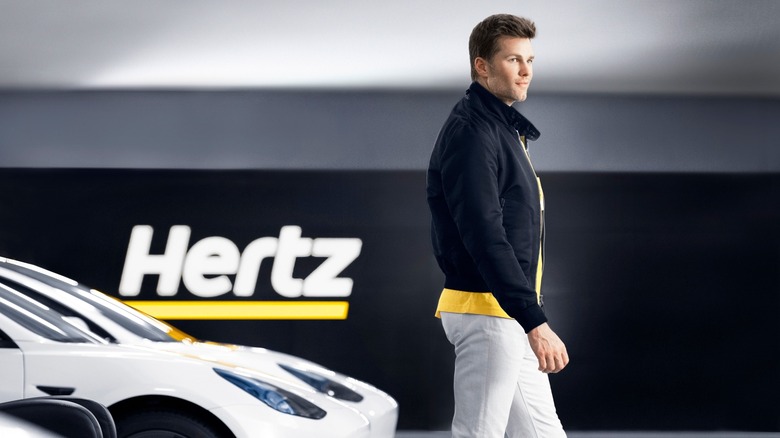 Eric R. Davidson/Getty Images
Just after Hertz announced that it would be ordering 100,000 Teslas to add to its rental vehicle fleet by the end of 2022, Tesla hit an impressive $1 trillion market cap on Monday. Not only that, Tesla's stock rose 12.66% at about $1,024 per share, according to CNBC. Even Tesla Motors CEO Elon Musk celebrated the $1 trillion milestone by tweeting "Wild $T1mes!"
Other Twitter users marveled at the historic Tesla-Hertz deal and subsequent commercials starring Tom Brady. "On the real Hertz just made a hell of a move," one user tweeted. "Buying 100k Tesla's to RENT is market changing. Then you get Tom Brady to shoot a commercial mid season?! I can dig it." Other Twitter users marveled at Hertz's massive transformation. "One minute I'm thinking @Hertz went bankrupt, the next I hear they are buying 100K Teslas and I see @TomBrady on a commercial promoting it ... WHAT," a user tweeted. "Hertz already has their Tesla commercial going and it has Tom Brady," another Twitter user said. "Where are they getting this money from?"