Could The Queen's Health Force Prince Harry Back Into Royal Duties?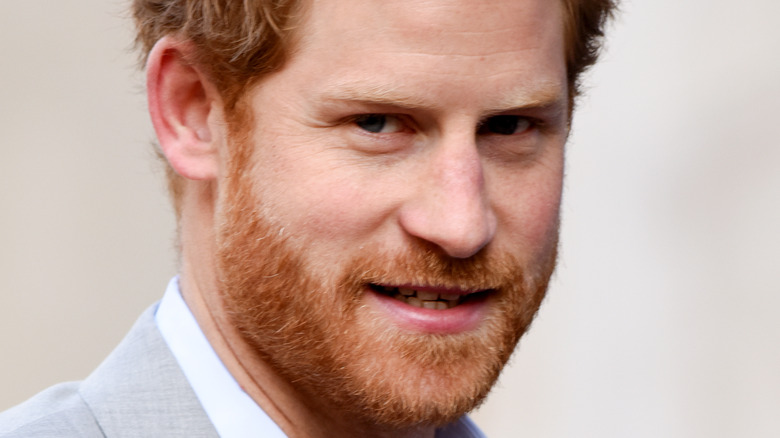 Bart Lenoir/Shutterstock
Following concerns over Queen Elizabeth II's recent hospital visit, royal experts are speculating that the British monarch may back out of some royal duties in the months ahead.
As the BBC reported, the queen spent the night in the hospital in October for preliminary medical checks. In a statement, Buckingham Palace confirmed that Her Majesty had since returned to Windsor Castle and was "following medical advice to rest for a few days." Alarm bells started to go off soon after that when the queen canceled her trip to the COP26 climate summit in Scotland, and Buckingham Palace announced she was told by doctors to rest for another two weeks, per The New York Times. The queen has been spending her downtime at Windsor Castle but addressed the summit virtually, giving a speech about her late husband's concern for the planet.
Speculation that the queen may need to slow down her royal duties arrives ahead of what promises to be a busy year for the monarch, whose Platinum Jubilee celebrations are scheduled to take place throughout 2022, per Royal UK.
Per Cosmopolitan UK, the UK law states that if the queen is unable to carry out her duties due to illness or traveling, her "counsellors of state" can step in to help. These include the sovereign's now-deceased spouse, Prince Philip, and the next four people in line to the throne, but only those who are over the age of 21. This includes Prince Charles, Prince William, Prince Harry, and Prince Andrew.
There are certain royal duties Prince Harry wouldn't be allowed to take on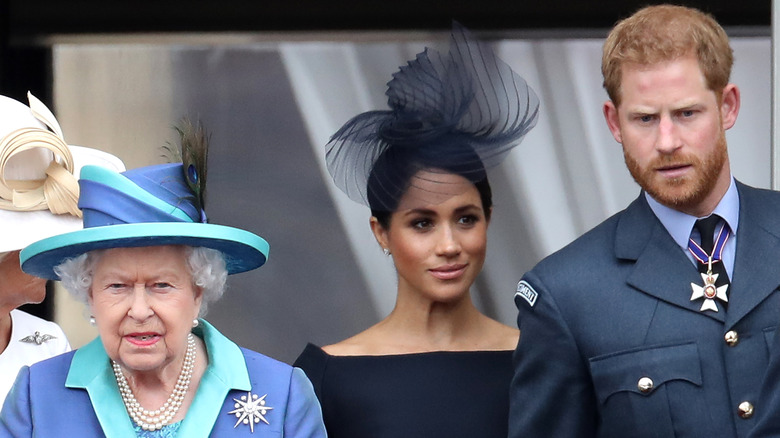 Chris Jackson/Getty Images
Speaking to The Guardian, author, political scientist, and expert on the British constitution Professor Vernon Bogdanor shared his view that other senior members of the British royal family, including the Duke of Sussex, could step in to take on more royal duties in the future. However, he added that there would be limitations as to what they would be permitted to do.
"Obviously, as the queen gets older, more duties will be devolved upon other members of the royal family," Bogdanor said to the outlet. "The other royals can do anything except the constitutional functions, such as audiences with the prime minister and signing acts of parliament." In addition, Harry or any counselors of state wouldn't be able to dissolve Parliament or appoint a new prime minister, as that is something only the queen can do, per Cosmopolitan UK. However, some duties that Prince Harry could be required to carry out include attending privy council meetings, signing routine documents, and receiving credentials of new ambassadors to the UK.
Back in January 2020, the Duke of Sussex and his wife, Meghan Markle, announced that they would be stepping back as "senior" members of the royal family and would "work to become financially independent" (via the BBC). However, despite his decision to leave the royal sphere and move to the United States, Prince Harry could be required by law to act as a counselor of state if necessary.
Prince Harry has returned to the UK when necessary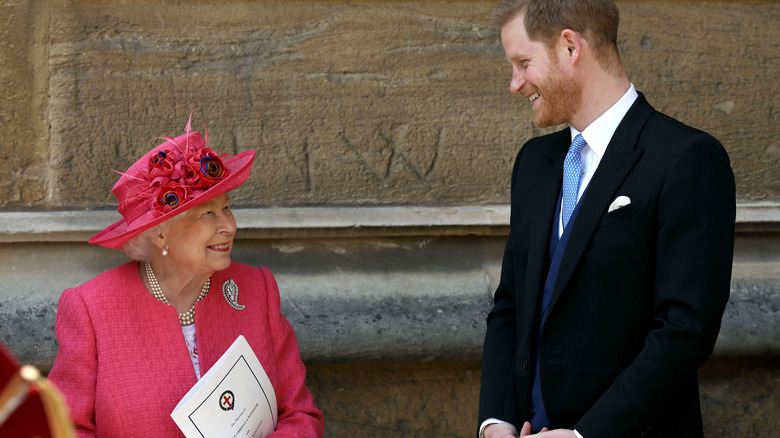 Wpa Pool/Getty Images
If Queen Elizabeth II does need to step back and her royal duties fall to her counselors of state, requiring Prince Harry to carry out some of them, his loyalty to his family has been made clear since his royal exit. 
Prince Harry left his royal duties (and royal family) behind in the UK to start a new life in California, where he is raising two children, Archie and Lilibet, with his wife, Meghan Markle. Still, Harry has shown a willingness to return to Britain when duty calls. When his grandfather, Prince Philip, died in April of 2021, he made the trip across the pond to attend his funeral and he was even spotted in a chat with his older brother, Prince William, according to the BBC. He also spent time with William during another trip back to the UK in July for the unveiling of his late mother, Princess Diana's, statue on what would have been her 60th birthday, per The New York Times. 
Harry also proved his affection and his loyalty to his grandmother after his daughter, Lilibet Diana, was born in June. Harry and Meghan named her for the late Princess of Wales as well as for the queen, whose childhood nickname was Lilibet. The moniker is also what Prince Philip called her through much of their long marriage. Harry and Meghan reportedly asked the queen's permission before using the nickname for their daughter, according to Page Six.