Lady Gaga Reveals A Surprising New Detail About Her Biden Inauguration Dress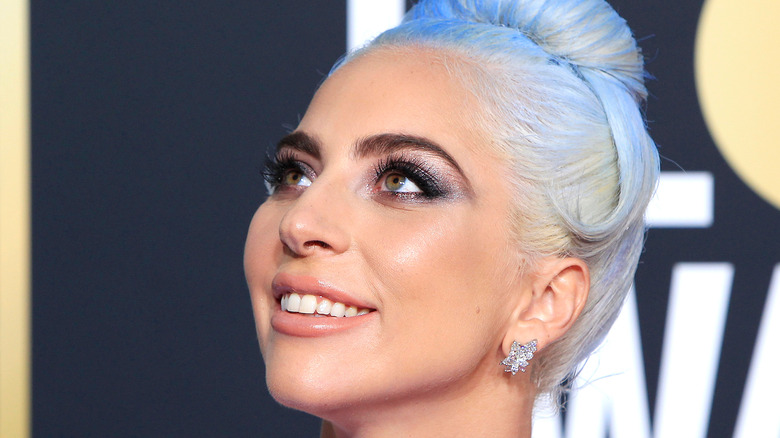 Joe Seer/Shutterstock
Countless celebrities flocked to President Joe Biden's side during the 2020 elections. Throughout the duration of Biden's campaign, celebrities all over the world spoke up and backed him, and none quite as passionately and repeatedly as Lady Gaga.
From the launch of Biden's campaign, Gaga has been very vocal about her dislike for former President Donald Trump and her support for his Democratic opposition. Gaga even managed to incite a reaction from Trump, to which she of course celebrated on Twitter claiming, "so happy I'm glad to be living rent free in your head" (via Twitter). Gaga worked tirelessly to urge voters to vote and even made PB&Js for the poll workers (via Glamour). So, it came as no surprise when Lady Gaga arrived to sing the national anthem at the 59th Presidential Inauguration of President Biden (via Elle). What was surprising though was an interesting secret Gaga recently revealed about her dress, now almost a year later...
Lady Gaga's Schiaparelli custom dress was actually bulletproof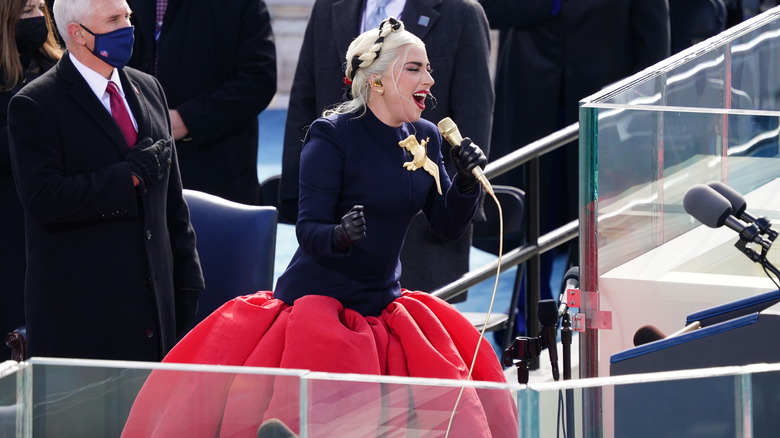 Pool/Getty Images
Lady Gaga is infamous for her iconic style. From the shocking meat dress, to her countless extravagant gowns at award shows, she rarely misses the mark. Gaga also makes a point to often send a message with her outfits, always representative of something. Her gown at the 59th Presidential Inauguration was no exception.
On November 8th, 2021 Gaga joined British Vogue in a video looking back on her past iconic looks to promote her being their December 2021 cover girl. When it came to the inauguration dress, Gaga shared a previously-unknown fact. She explained, "​​This is one of my favorite things I've ever worn. I wore this Schiaparelli design for the inauguration, and nobody knows this, but this is a bulletproof dress."
Gaga was dressed by Schiaparelli Haute Couture in a custom Haute Couture dress complete with a dove brooch (via People). The 12-time Grammy award winner took to Twitter to share the message behind it: "A dove carrying an olive branch. May we all make peace with each other." Gaga shared in an interview with Vogue that singing the national anthem was one of the proudest days in her life, and she shared her own fun fact claiming, "Singing in a Schiaparelli bulletproof dress. I don't know if people know this about me, but if I weren't who I am today, I would have been a combat journalist. That was one of my dreams."