Why Carrie Underwood Fans Are Coming After Luke Bryan After His CMA Joke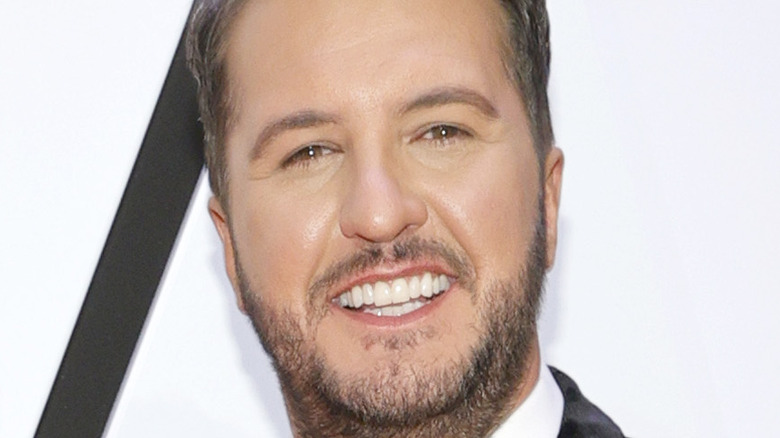 Jason Kempin/Getty Images
The 55th CMA Awards on November 10 had an energy and a joy that the previous year's ceremony lacked. Back then, the organizers and artists caught major heat just for holding the event at all in the midst of the COVID-19 pandemic. The LA Times, for one, criticized the relentlessly upbeat tone of the show and the decision to allow a full and unmasked audience to attend. In fact, several of the night's scheduled performers – including Rascal Flatts – had to sit out the show because they had tested positive for the coronavirus
A lot can change in a year. With the vaccine now widely available across most age groups, and the country reopening to everything from weddings to sporting events, it was a given that "Country Music's Biggest Night" would go on as usual. The awards made a triumphant return to Nashville's Bridgestone Arena, hosted by Luke Bryan and featuring an A-list lineup that included Jimmie Allen, Miranda Lambert, Keith Urban, Dierks Bentley, Blake Shelton, Katy Perry, and many more performers and presenters.
Bryan got an enthusiastic reaction as he took the stage to start the show. But his opening monologue included a topical zinger that got a reaction now making the rounds on social media.
Carrie Underwood's side-eye was epic
After a heartfelt welcome to the in-person and home audiences, CMA Awards host Luke Bryan spoke about how great it was to be returning to the traditional Nashville venue for the event. He went on to poke fun at the fact that he wasn't nominated for any of the awards this year.
Then Bryan made a joke about the show's COVID safety protocols (via People): "It is so great to be here with my fellow artists, tested and together — or is it immunized?" The crack was clearly aimed at the recent controversy over NFL star Aaron Rodgers, who created a stir when he revealed that he had led his teammates to think he was vaccinated, when in fact he was "immunized" through a different medical protocol (via NFL).
Cameras panned to the audience and caught Carrie Underwood looking away with a distinct side-eye expression. The reaction wasn't surprising, in light of the fact that Underwood's husband, retired hockey pro Mike Fisher, has publicly supported Rodgers' decision not to get the vaccine. In an Instagram post, Fisher said in part, "[T]hese past 2 years [have] clearly shown us that this is not about our health, it's about control over our lives."
Underwood's disapproving face quickly went viral. Among the reactions on Twitter was this observation from radio DJ Kadie Daye: "Was it just me or ... did you also catch @carrieunderwood's side-eye after @lukebryan said everyone was "immunized" ... Just me? Oh ... okay ..."