Meghan Markle's Makeup Artist Explains The Dramatic Eye Makeup Look Prince Harry Loved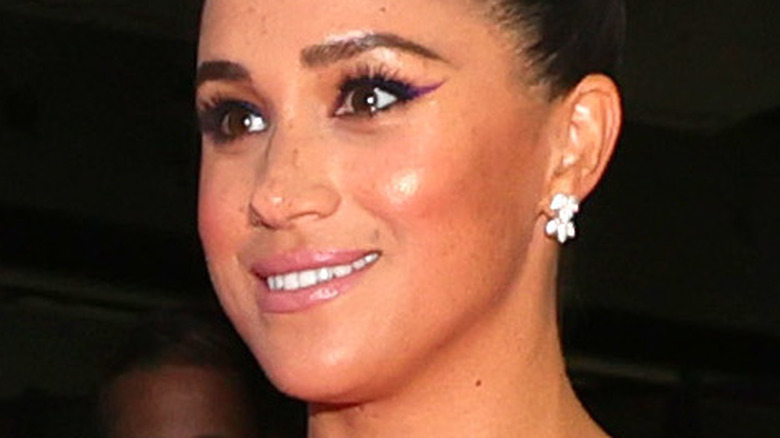 Dia Dipasupil/Getty Images
Meghan Markle has stepped out in yet another stunning red carpet look. Ever since stepping down as working royals, Meghan and Prince Harry haven't made many public appearances. (That and, you know, they have two kids now, too.) So when the Duchess of Sussex does make an appearance, people eye up every single detail about the look, and her most recent look didn't disappoint fans. Yes, the bright red gown she wore to the Salute to Freedom Gala in New York City on November 10 was gorgeous. But it was Meghan's eye makeup that got the most attention.
The forever-royal-in-our-hearts stepped out with what, at first glance, looks like your typical cat-eye liner look. Meghan often rocks a smokey eye, so there was no surprise when she had the dramatic eyeliner on the red carpet. Grazia calls the dark, sooty eye look her signature, and the publication isn't wrong.
When Meghan stepped out onto the Salute to Freedom Gala red carpet, it initially looked like she was taking her signature look for another spin. But according to People, Meghan's eyeliner wasn't actually eyeliner at all — it was eyeshadow.
Meghan Markle's winged liner was actually eyeshadow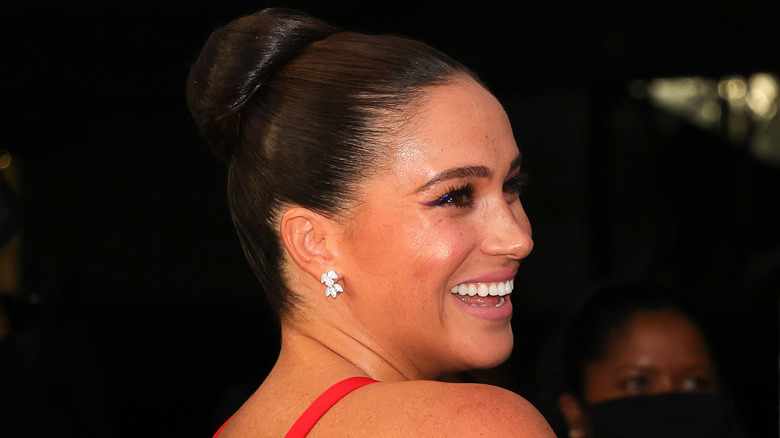 Dia Dipasupil/Getty Images
That's right, my friend. You're actually looking at some unconventional eyeshadow placement — not liquid liner. According to People, Daniel Martin, the Global Director of Artistry and Education for Tatcha and the man behind Meghan Markle's wedding makeup look, used Danessa Myricks Beauty's Lightwork Palette Volume III to achieve the look. "I wanted an Audrey Hepburn-inspired eye without it being harsh with black, so I used purple," Martin told the publication. "I just love purple and red together."
And according to the makeup artist, Prince Harry was a fan of Meghan's eye makeup look, too. "He thought it was cool!" Martin said to People of Harry.
The best part? This gorgeous look is super easy to recreate. Because it's applied with shadow and not eyeliner, you'll have more control over how much pigment you get and where you're applying it. Liquid liner can be a little tricky and gives off a really bold look. It's great sometimes, but Meghan's soft liner for the gala was absolutely stunning, too. Martin told People that he wanted to create the same symmetry with Meghan's liner and her slicked-back bun: "up and back." It's safe to say that he nailed the look.
Recreating Meghan Markle's eye makeup look is pretty simple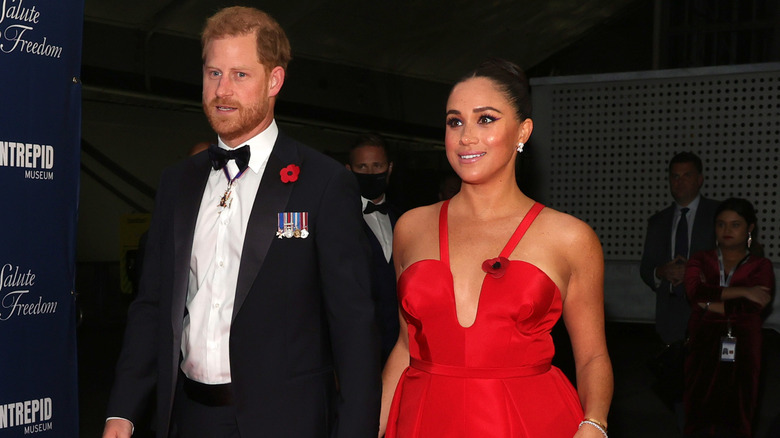 Dia Dipasupil/Getty Images
If you're looking to nail the look, you'll be happily surprised by how easy it is. According to People, Daniel Martin used only eight products for Meghan Markle's look. Unfortunately, the priciest item on the list is the Lightwork Palette Volume III, which Marin used to create Meghan's standout shadow liner. The palette is a cool $125 and, at the time of publication, is currently sold out. So you couldn't even get it if you were looking to splurge. You could easily use another single purple eyeshadow to nail the look, though.
Many of the brands the makeup artist used on Meghan were from BIPOC-created brands, and People reported that the brands were exciting to her. "She was excited to learn about these new brands and what they stood for," Martin told the publication. It's a beauty look, but it's so much more than that, in true Meghan form.
A big thank you to Meghan and her makeup team for making simple eyeliner the new normal. Time to step away from the liquid liner and switch to something a bit more soft!