How Achieving Ciara's Auburn Hair Look Is Easier Than You Think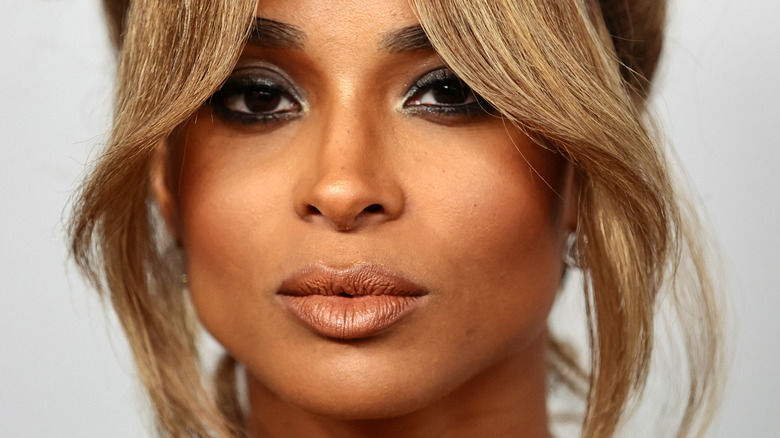 Dimitrios Kambouris/Getty Images
When it comes to hair inspiration, there's no one better to look to than Ciara. The singer absolutely nails every single color she tries. She's had short blonde hair and long blue locks, but nothing quite tops Ciara's stunning auburn hair. According to Byrdie, it's super easy to recreate Ciara's auburn hair, too. From what to ask for at the salon to what kind of shampoo you should use afterward, we've got you covered.
First of all, let's just talk about how bold it is to go red. While some people switch between blonde and brunette like it's nothing (we're looking at you, Kim K), not that many people opt to go redhead that often. There are a few reasons for that. Senior Colorist at Roy Teeluck Salon in New York City told Reader's Digest that "red is the hardest color to keep lustrous and the hardest color to remove."
It makes sense, then, that plenty of people would avoid the color. But when you're got the top hair colorists and stylists at your service as Ciara does, it makes sense that she'd try the look from time to time. Here's how to keep your red looking incredible, even if you don't have an entire hair care team. 
Ciara's auburn hair color is easy to maintain
One of the first times Ciara rocked her auburn locks was around Halloween 2019 when she dressed as Beyonce. Inspired by Beyonce or not, her red hair was absolutely stunning. The top stayed her natural color, while the ends reflected the gorgeous copper hue. It was the perfect way to ease into the redheaded trend, and apparently, it's pretty easy to recreate at home.
If you want to nail this easy auburn-locked look, per Byrdie, ask the salon to give you highlights close to the ends of your hair. That way, you get more color towards the end of your hair and don't have to worry about making multiple appointments to keep the color alive and looking fresh. 
Byrdie suggests stocking up on Davines Alchemic Shampoo and Conditioner to keep those lovely locks alive at home. It's the redhead look, without the fuss.
Commit to the color with Ciara's all-over red hair look
The auburn ends look wasn't the only time Ciara committed to the bright hair color. The singer took it one step further when she posted an Instagram photo of herself with waist-length bright red hair in May. She even captioned her Instagram post "Pelirroja," which means "redhead" in Spanish. According to Allure, it was created by celebrity hairstylist Céasar DeLeön Ramîrez.
This look is absolutely stunning, but it does require a little more maintenance if you're looking to recreate it. The Zoe Report suggests investing in Overtone's Ginger Healthy Color Duo to help keep the color hold on to your hair. It's a conditioner that you put in your hair after you shampoo regularly, and, according to the brand's website, it has some pretty incredible reviews from fellow faux-redheads.
There are tons of different hair colors to get inspired by from Ciara's past looks, but the red is definitely a way to go bold. Just make sure you're ready to take care of your new locks.