Sean Hannity Corrected Donald Trump Live On Air. Here's Why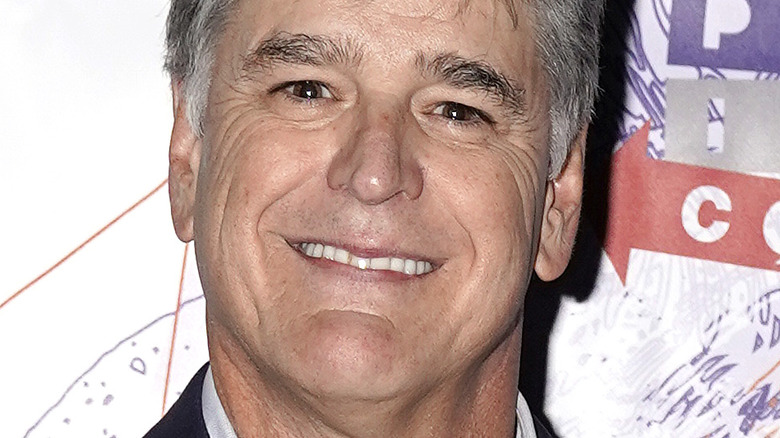 Ed Rode/Getty Images
Former President Donald Trump and Fox News host Sean Hannity enjoyed an unholy alliance that stretched back years and proved particularly useful during Trump's 2016 campaign, as well as his presidency. However, according to a book by journalist Brian Stelter, entitled "Hoax: Donald Trump, Fox News, and the Dangerous Distortion of Truth," their mutually beneficial relationship has become strained in recent years. Business Insider notes that Hannity was happy to go to bat for Trump, even though doing so would be considered a conflict of interest in certain circles, but he took issue with his friend's flagrant peddling of disinformation surrounding the 2020 presidential election.
Stelter revealed, "The calls and counseling continued right up until Election Day — when the relationship between the two men began to break down. Hannity, according to one source, was 'disgusted' by some of Trump's election denialism." 
However, on air, the Fox News host continued to invite the likes of former White House press secretary Kayleigh McEnany onto his show to share so-called "evidence" of voter fraud, "even though Trump's suits were laughed out of court left and right." As a Fox News source explained, Hannity gives the people what they want, regardless of his personal feelings. However, the conservative commentator has shown he's not willing to go along with Trump on everything.
Hannity corrected Trump's misleading timeline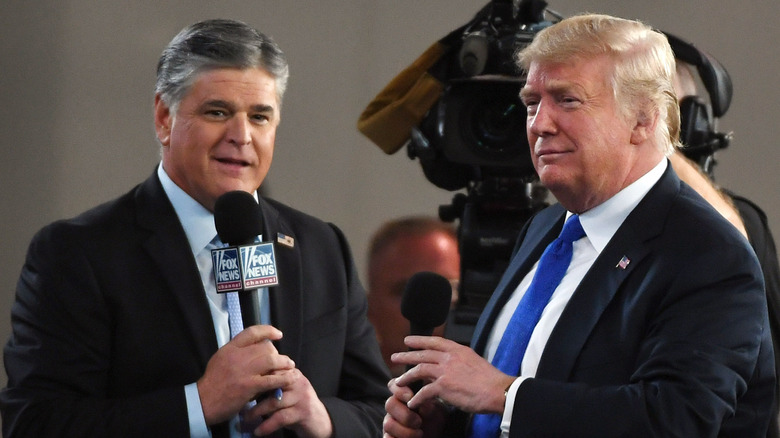 Ethan Miller/Getty Images
During a November 23 Fox News interview, former President Donald Trump was sharply corrected by frenemy Sean Hannity live on air. Newsweek reports that the duo was discussing the FBI's infamous Russia probe. 
Investigator John Durham, who was appointed to look into the initial treatment of alleged ties between the U.S. and Russia, has come highly recommended by Trump and his allies. They also heavily criticized the FBI probe, particularly when it came to the bureau's reliance on the infamous Steele dossier. "The Durham report — you know, it's come out. It could have been a little earlier, but it's unbelievably completed. I would imagine..." Trump began, only for Hannity to cut across him to clarify, "It's not even out yet, though."
Trump then doubled down on "the foundations" of Durham's report while Hannity attempted to clarify matters. Durham has yet to issue any findings, and the probe is still ongoing. Russian analyst Igor Danchenko was indicted by a grand jury on five counts of making false statements to FBI agents, during 2017 interviews surrounding the Steele dossier, on which he was a researcher, per Newsweek. Trump, meanwhile, maintains there was no collusion with Russia in the 2016 election. Trump swerved the conversation to Durham's report after Hannity asked him about his intentions for 2024, about which the former president has remained vague.