Anastasia Beverly Hills Eyeshadow Palette Vs. Tarte Eyeshadow Palette: Which One Is Better?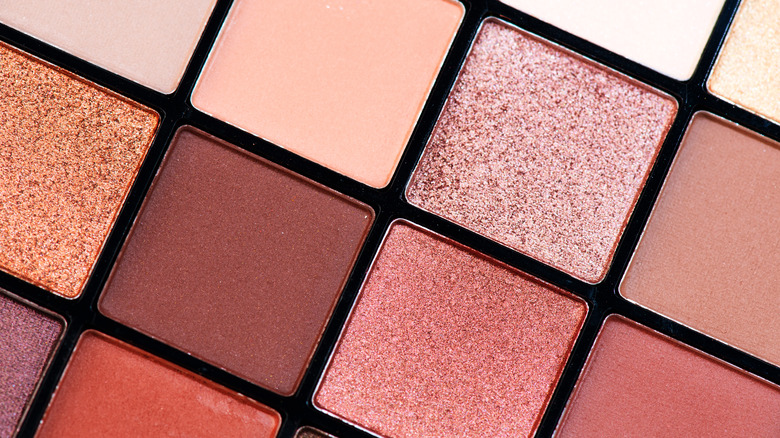 Subbotina Anna/Shutterstock
Stepping into the world of makeup is truly like stepping into another dimension. As soon as you decide you're going to buy a new *insert makeup product here* there are so many options available. On top of that, there are tons of reviews, conflicting advice, and YouTube tutorials available. Whether you've loved makeup for your entire life or are just getting interested, there's a lot to constantly keep up with. When it comes to the battle of which eyeshadow palette to buy, Tarte and Anastasia Beverly Hills are two standout brands, according to KDVR.
If you're asking which brand out of the two is better, that depends on what you're hoping to get out of the eyeshadow palette. There are pros and cons to each side depending on what you're looking for.
Don't get us wrong, though, there are clear winners in each category. Because at the end of the day, the two might both be popular makeup brands but they've got two totally different styles. From pigment and payoff to allergens and color options, here's a full breakdown of what you'll get with each brand's eyeshadow palettes.
Anastasia Beverly Hills' eyeshadow palettes are easier to blend and more durable
Anastasia Beverly Hills came onto the makeup scene originally offering brow products. The company basically invented brow makeup. Heck, Kim Kardashian was one of the first celebrities that was originally obsessed with the brand (via Us Weekly). Then, as the brand began to grow, they expanded into eyeshadows as well.
When ABH dropped their first eyeshadow palette, fans were excited (via PopSugar). The Modern Renaissance Palette offered twelve shades in a sleek magnetic palette that opened the company up to a whole new world of beauty possibilities. Over the years, the brand has expanded to also offering everything from four-shade to 30-shade palettes. While they have kept their stock rather small, it is mighty.
That breakdown pretty much gives you an idea of what you get when you shop the brand. According to KDVR, ABH's eyeshadow palettes offer a more long-lasting and blendable pigment than Tarte's, but will cost you around $45 to $60 each. The eyeshadow hues are also only available in the palettes and not singles.
If you're looking for a high-end makeup look that will last all day, these are the palettes for you.
Tarte's eyeshadow palettes are more versatile and practical
If Anastasia Beverly Hills is the small but mighty option, Tarte is the exact opposite of that. One browse through the brand's website and you'll be hit with an incredible amount of options. We're talking wearable palettes, day-to-night palettes, and even palettes with bronzer and blush in them. It's honestly incredible the amount of options that Tarte offers, and most of them are in the $30 to $40 price range. 
While that is a major upside to the brand, there are also a few downsides. According to Reddit, Tarte's formula isn't as blendable as ABH's and the packaging isn't as durable. So, while you have plenty of options when it comes to the shades, you aren't getting the most high-end product. There are major pros to the brand, though. For instance, the versatility of the shades and the fact that you can buy a large majority of hues as singles if you really fall in love with them is nice.
All in all, both of these brands are standouts in the makeup community. It just comes down to the price you want to spend and what kind of makeup looks you want to create.