How To Recreate Amanda Seyfried's Lip Color As Karen In Mean Girls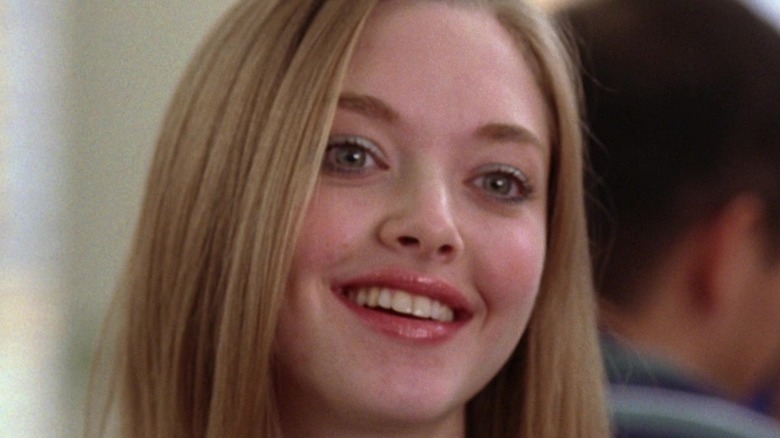 Paramount Pictures
"Mean Girls" will likely go down in history as one of the most beloved teen movies of all time. The eternally memeable film appeals to youths but has plenty of depth you'll notice when rewatching as an adult. It also serves as the ultimate time capsule for the early aughts.
Sure, all of the fashion in the movie isn't totally "fetch" in 2021. However, some of outfits worn by teen queens Cady Heron (Lindsay Lohan), Regina George (Rachel McAdams), Gretchen Wieners (Lacey Chabert), and Karen Smith (Amanda Seyfried) hold up as iconic (via Insider). It doesn't hurt that fashion and beauty trends from the turn of the century are having a moment this year. Here's a prime example: The glossy lip Regina George rocked while ruling North Shore High School is totally in again. And lip gloss formulas have come a long way from the sticky messes they were in the early aughts.
That means there's plenty of style tips you can pick up from your favorite member of the Plastics. If you don't have one, we'd definitely recommend the lovably dim-witted Karen. Although she arguably plays a smaller role in the plot compared to her peers, she delivers some of the most unforgettable lines (via MovieFone). Karen also shares a couple equally essential life lessons (via Bustle). If you're looking to channel the hysterical blonde, you could dress up as a cat for Halloween next year. Or you could simply cop her makeup routine.
Amanda Seyfried wore a warm-toned glossy lip as Karen in Mean Girls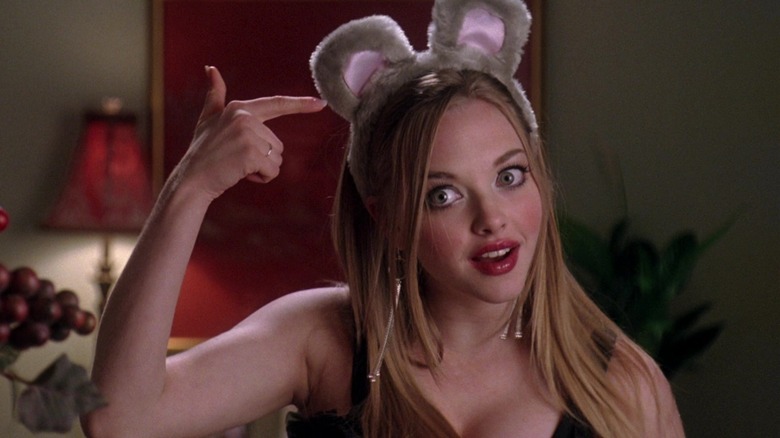 Paramount Pictures
If you're looking to steal tips from Karen Smith's beauty routine, one of the best places to start is with her glossed-out pout. TikTok user Brittany Cale is a pro when it comes to hunting down the exact lip products actors wear on set. She had success when it was time to break down Lindsay Lohan and Lacey Chabert's "Mean Girls" looks. However, Amanda Seyfried's on-set makeup kit is still a bit of a mystery (via TikTok).
Despite being unable to find the exact product, the beauty guru had some tips. Karen prefers a warm-toned glossy lip so Cale recommended the Lustreglass Sheer-Shine Lipstick in shade Spice It Up! by MAC Cosmetics. The color is described as a "brown berry," while the formula is "lightweight" but long-lasting. That sounds like the perfect option for showing up at the North Shore High School spring fling or for an extra burst of confidence while out and about. As an added bonus, Cale noted this is the exact product Jennifer Aniston wore while playing Rachel Green on "Friends." As if you needed another guarantee that it was a stylish option.
Of course, there are other ways to channel Karen on your lips. Nylon recommended picking up MAC's Amplified Lipstick in shade Saint Germain. Described as a "clean pastel pink" with a "semi-lustrous finish," we'd like to think Karen would save this bold lip for a Wednesday. 
Channel Karen Smith with sleek hair and body jewels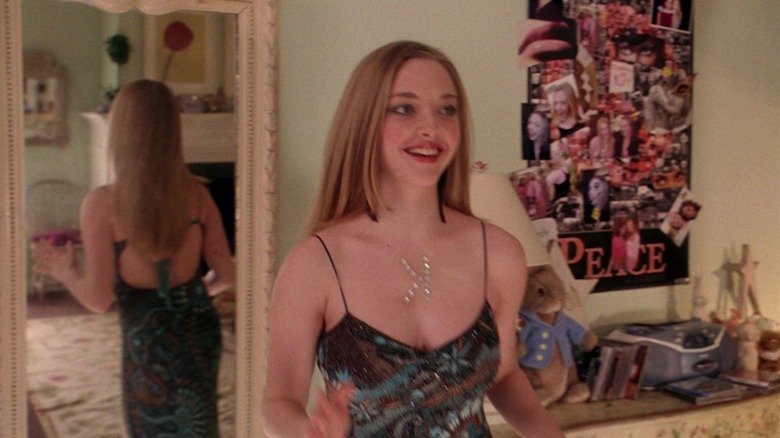 Paramount Pictures
Amanda Seyfried delivered a couple iconic style moments while playing Karen Smith in "Mean Girls." Her lingerie and mouse ears Halloween costume is a prime example. We'll give that look extra points since she paired it with one of the movie's best quotes: "I'm a mouse, duh" (via YouTube). Honestly, where is Seyfried's Oscar for this overlooked role?! That's a genuinely perfect moment in cinematic history.
Arguably her only moment to top Halloween is when she's getting ready for the spring fling. In true early '00s style, Karen decided to finish off her look with a blinged out initial. Unfortunately for her (fortunately for us), she stuck her bejeweled letter "K" on backwards. Teen Vogue ranked it as one of the best beauty moments in the movie.
While Karen generally steered clear of dramatic makeup, you can pay tribute to her style in a couple subtle ways. Nylon noted that the high schooler kept her blonde tresses sleekly styled. The publication also hypothesized that she'd be a fan of The Sweet Pinks Eyeshadow Palette by Juvia's Place. The six-pan palette is filled with the perfect blend of mattes and shimmers in an array of pinks. This is another product we'd like to think Karen only wore on Wednesdays.