Kamala Harris Completely Avoids This Important Question
BiksuTong/Shutterstock
It has been a tough few weeks for Vice President Kamala Harris by many accounts. As NBC News reports, Symone Sanders, who is the veep's spokesperson and senior advisor, is stepping down from her role in the coming weeks. This news comes hot on the heels of the announcement that Ashley Etienne, Harris' communications director, is also leaving at the end of December.
To be fair, Sanders told The Washington Post she is not leaving because she's unhappy working for Harris. And it isn't exactly unusual for high-profile staff to exit the White House mid-term. But of course, as the outlet notes, rumors are running rampant that there is a problem in paradise. CNN reported back in November that tensions are running high inside the administration, with Harris feeling she is not being allowed to take as active a role as she'd like under President Joe Biden.
But it seems Harris is not interested in commenting on the current controversy surrounding her. As the San Francisco Chronicle reports, the second in command is dodging questions about the recent staff departures.
Kamala Harris had a lot to say about her Paris shopping trip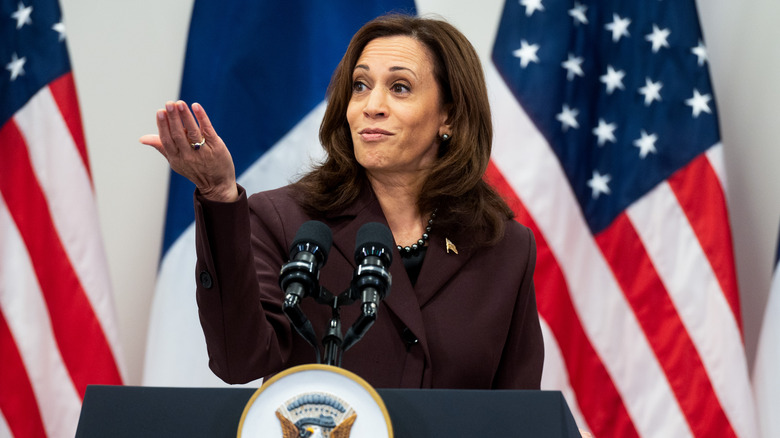 Bloomberg/Getty Images
As CNN reports, Harris took the time to comment on negative headlines about her shopping trip in Paris, while there on official business last month, calling the criticism regarding her purchase of an expensive cooking pot "ridiculous."
She told the San Francisco Chronicle, "Oh, how about, 'She's going to buy a pot on her way to the airport, after a very significant and highly successful bilateral meeting in France on issues that are about national security, on issues that are about climate, on issues that are about what we are doing in terms of international norms and rules on everything from cyber to space.' Come on."
But when it came to questions about her staff, Harris stayed mum. It's worth noting that as CNN reports, Sanders and Etienne are likely not the last members of the VP's staff who will end up parting ways with her. The outlet expects more folks to leave in the coming months.