Donald Trump Is Still Fuming Over This Melania Trump Christmas Scandal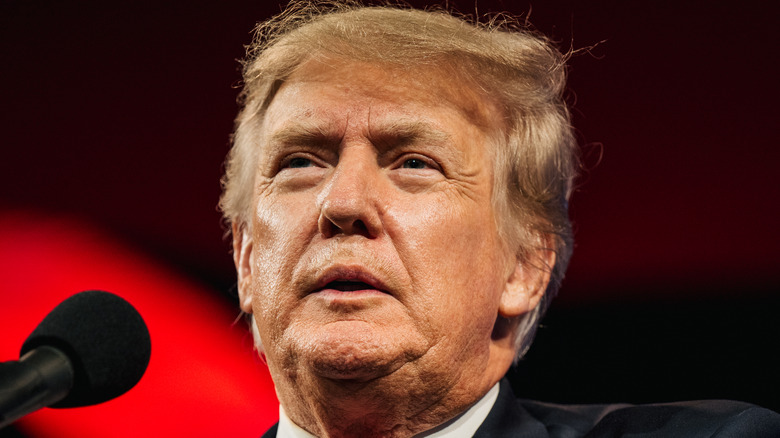 Brandon Bell/Getty Images
The Trump presidency was not short of scandal, including a number related to former first lady Melania Trump. She was accused of plagiarizing Michelle Obama (per BBC). She was criticized by some for wearing a jacket that said "I really don't care do u?" on it while on the way to a children's shelter on the Texas, Mexico border (via BBC). She was also called out for how she decorated the White House for Christmas.
The tradition of the first lady choosing a theme for the White House Christmas tree started with Jackie Kennedy in 1961, who chose "Nutcracker Suite," and it expanded over the years to have themes for the decorations throughout the White House (per White House History). In 2018, Melania chose the theme "American Treasures," and it included the East Colonnade full of deep, bright red cranberry covered trees (per Us Weekly). As many may remember, some on Twitter and in the media called her out for the seemingly dystopian choice (per The New York Times).
In 2021, people have compared current First Lady Dr. Jill Biden's decor with Melania's. Some saw the decor in the Biden White House as more traditional, per Newsweek. Donald Trump Jr., however, went on Instagram to declare that Melania's decorations were much classier. And Jr. isn't the only Trump bringing up Melania's White House decor.
Donald Trump thinks Melania was treated unfairly over her decor choices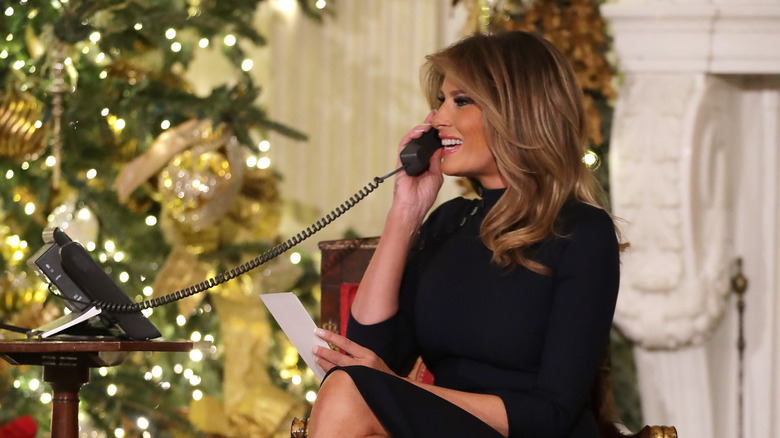 Chip Somodevilla/Getty Images
At a Christmas Sunday service at First Baptist Dallas, Donald Trump brought up a series of grievances, from Afghanistan to gas prices, but he also brought up his perspective on the media's opinion of Melania Trump's Christmas decor, saying she "didn't get a fair shake."
"She would make the most beautiful Christmas decorations. And I remember she made these magnificent red trees and the media said, 'Oh, that's terrible.' I said, 'Honey, next time, try white.' She made magnificent, remember, the most beautiful you've ever seen, white trees? And they said, 'Oh, that's terrible.' I said the next time, let's do it more traditional. Let's go with green," he said (via YouTube).
The timeline there with white trees after red might not necessarily add up, as the media uproar over white tree branches in the East Colonnade was in 2017, the year before the red trees (per Newsweek). The 2020 decorations in the East Colonnade featured foliage representing the state trees for each state and territory (via Washingtonian).
As for Melania, her opinion on White House Christmas decor was leaked when a series of recordings made by Stephanie Winston Wolkoff, a former senior advisor and friend to Melania, were released. Melania said, "I'm working ... my a** off on the Christmas stuff, that you know, who gives a f*** about the Christmas stuff and decorations? But I need to do it, right?" (per CNN). Melania may not have cared about the decor at the time, but Donald still seems to care now.