Why Some Selling Sunset Fans Think Christine Quinn Used A Surrogate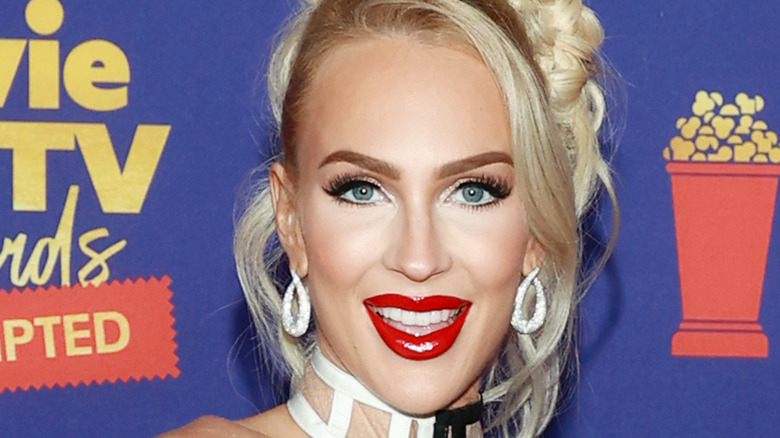 Matt Winkelmeyer/2021 Mtv Movie And Tv Awards/Getty Images
Upon watching "Selling Sunset" a lot of things stand out. The stunning fashion choices. The insanely lavish properties. How beautiful every restaurant in LA is. How attractive this entire brokerage is. The list is endless, but when it comes to Season 4 somehow one thing stood out above the rest — and that's Christine Quinn's pregnancy and motherhood storyline. 
As the self-proclaimed villain of the show, Quinn has always radiated a presence every single season (via Cosmopolitan). Whether it's been due to her countless arguments with her co-workers or simply for her fashion statements that only she could pull off, Quinn demands attention. Season 4 of "Selling Sunset" has undoubtedly revolved almost entirely around Quinn and her battles and tension with every other castmate (via Buzzfeed News). If she wasn't on screen, people were talking about her. But despite all of the drama, one thing stood out most about Quinn — and that's her baby bump's journey.
Fans accuse Quinn of using a surrogate
Celebrities, and especially reality TV stars, are often placed under intense public scrutiny. Their honesty is doubted, and most of what they do is deemed a publicity stunt. But no one could have expected claims that someone is faking an entire pregnancy. Fans of "the show, Selling Sunset" Christine Quinn love to hate her — either way she's generally deemed the villain of the show. Throughout Season 4 of the hit Netflix show, Quinn debuted her pregnancy with her baby bump and went on to have the baby during the show and snap back to her perfect figure within a couple of weeks (via Grazia).
While some fans just sighed in saltiness at how great she looked, it raised questions for a lot of fans. A rumor began to spread through a Reddit thread that perhaps Quinn wasn't pregnant at all, and was using a surrogate and faking her baby bump (via Reality Titbit). Quinn clapped back by first posting a series of hurtful DMs she received attacking her, and she tweeted, "For all yall still mad on pregnancy gate please go look at my ig stories. And apologize. This is seriously so hurtful." (via Cosmopolitan)
Quinn vehemently denies these allegations, but fans continue to speculate on how genuine her pregnancy was and even question her choices to work out so soon after giving birth. She denies it all, and emotionally addressed the trolls saying, "this is seriously so hurtful." (via Buzzfeed News).