Is Liquid Or Stick Concealer Better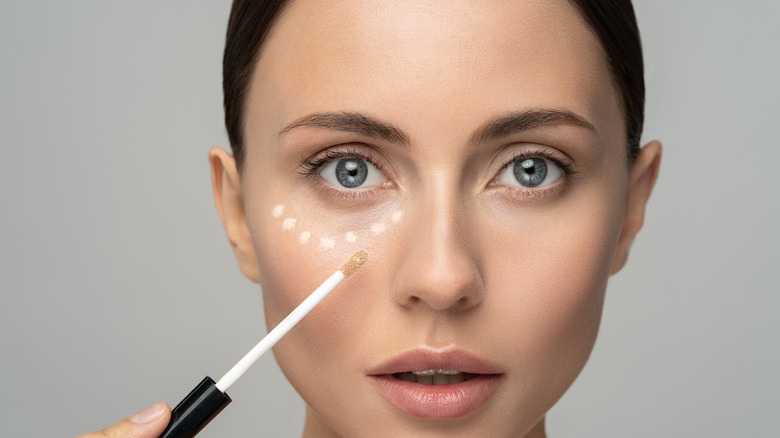 DimaBerlin/Shutterstock
No matter how simple or advanced your makeup routine is, one product is guaranteed to make an appearance: concealer. Whether you're a simple, fresh, no-makeup-makeup kind of person or prefer a full glam moment, concealer is imperative. Even on those no-makeup days, you still find yourself dabbing a bit on to help even out your skin or keep those pesky dark circles in check. As with any makeup product, you have about a million options to choose from as well as nearly two million ways to use them. Over the years, a few brands have managed to lead the concealer market with their cult-favorite products like Tarte Cosmetics' Shape Tape concealer, as per Byrdie.
Concealing is very personal. Everyone has their own preferred method, and every influencer tries to show you how their way is the best. Throughout a lifetime, you're likely to go through multiple phases of concealers and concealer application methods. Light coverage. Full coverage. Hydrating. Thick. Color correcting. Depuffing. The list of concealer qualities is endless. It's possibly the most overwhelming product to buy if you don't know what's what. Concealer also comes in many forms: liquid, cream, stick, pot, etc. But figuring out the right concealer for you is all about figuring out your needs. So in the battle of liquid versus stick concealers — which comes out on top? 
Liquid concealer does it all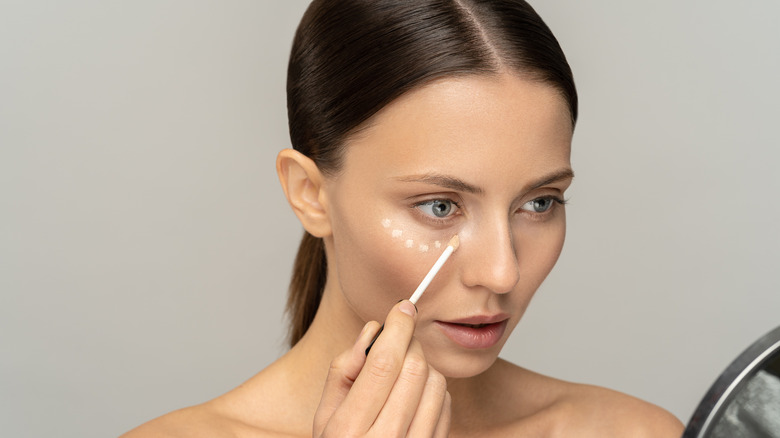 DimaBerlin/Shutterstock
Stick concealers date all the way back to the 1980s, and they're still a trusty tool for many. A stick concealer can be useful in your arsenal if your primary concealing need is quite literally that — concealing darkness. According to StyleCaster, stick concealers' compact and easy-to-use packaging isn't their only selling point. They're also designed to help you pack product onto a targeted area to tailor their coverage to your needs. Stick concealers are great on the go to give your skin a touch-up, and they're especially ideal for covering up blemishes. Simply dab it onto the affected spot instead of blending all over an entire section. 
But there is a reason why liquid concealers are generally the preferred type. While stick concealers serve their purpose, liquid concealers do it all. Ideal for all skin types, liquid concealers can come in various finishes, from hydrating to satin to matte (via Paula's Choice). What makes liquid concealers superior is simply that they are multi-purpose. Some people choose to wave their concealer wand onto patches of discoloration, which evens out the skin tone. Or perhaps you'd like to apply the viral TikTok "facelift" hack for an instant sculpt (via Vogue). Liquid concealer is simply more versatile and suitable for daily use, whereas stick concealer serves a particular purpose and does it well. At the end of the day, it's all about your needs.