Law & Order Episodes That Aged Poorly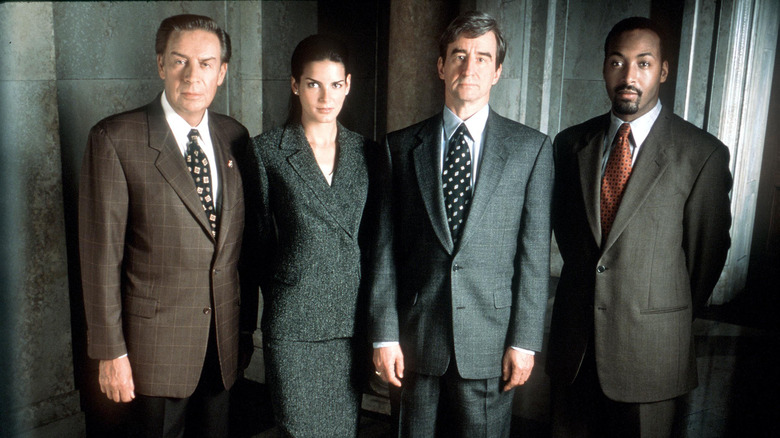 Getty Images/Getty Images
After years off the air, the courtroom of NBC's original crime series "Law & Order" is officially opening its doors again, per Cinema Blend. Fans know it as the cult-classic show that launched multiple spin-offs, including the successful "Law & Order: SVU" (which spawned its own spin-off "Law & Order: Organized Crime"). Since its inception, "Law & Order" has tackled tough topics head on in an authentic way. ScreenRant highlights the legal drama for its commitment to accuracy and showing what investigations and courtroom procedures are actually like. 
Whether you've kept up with the entire franchise or not, there's no argument that "Law & Order" is an important part of TV history. But as beloved as the series is, it hasn't always hit the mark. During the series' 20-season tenure, before its cancellation in 2010, there were a few episodes that were considered controversial and aged poorly (via Distractify). What is and isn't accepted on television today is drastically different from the era the show was filmed in, and these episodes are no exception.
In "Discord," the treatment of women doesn't sit well with fans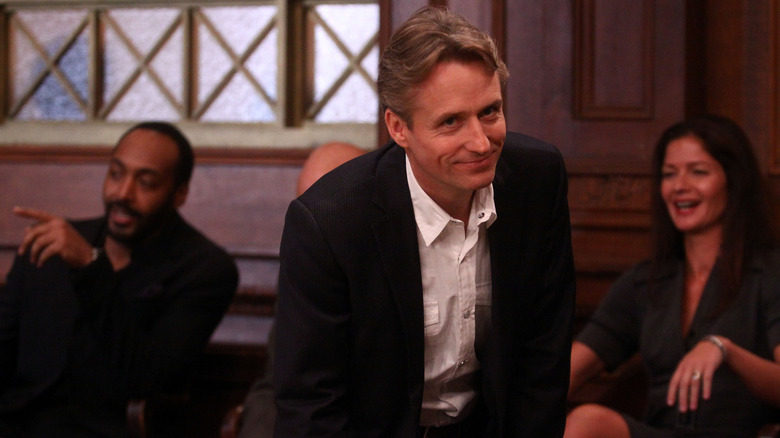 Astrid Stawiarz/Getty Images
In Season 4, Episode 3 of "Law & Order," the legal drama addresses sexual assault allegations between a woman named Julia and a musician. However, it's handling of this timely and heavy topic left fans with a sour taste. As Outsider reported, Julia's accusation isn't taken seriously and even becomes a source of contention between the main characters. 
The cringe doesn't end there. To make matters worse, an underlying layer of gender bias reveals itself when Lieutenant Anita Van Buren and Assistant District Attorney Claire Kincaid are burdened with proving their case to their male counterparts while facing criticism, as reported by the outlet. Fans called out the episode (appropriately titled "Discord") for its treatment of women in a Reddit thread, with the original poster writing, "The women in this episode including both Van Buren and Claire are just ridiculed and questioned ridiculously. I know its 1993 but damn."
Another Reddit user acknowledged the show's questionable approach to certain topics, but argued that having these conversations today is important. "Back when the early seasons were made, it really was a different time. But I personally think it's good to look at these things through a modern lens and talk about it," they wrote.
"Sunday in the Park with Jorge" was accused of perpetuating harmful stereotypes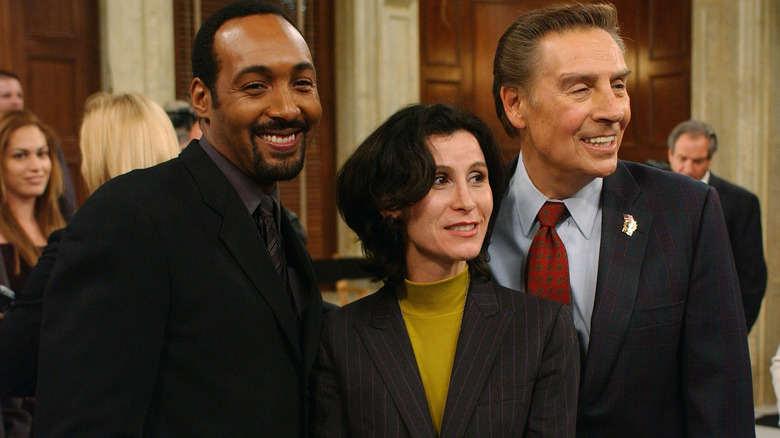 Mark Mainz/Getty Images
This Season 11, Episode 11 of "Law & Order" was so poorly received (and ill-timed) that NBC no longer airs it. "Sunday in the Park with Jorge" draws from a real world crime, a strategy that the crime drama normally employed according to Business Insider. However, in this one case, the hit series took things too far. 
Entertainment outlet AceShowbiz reports that the premise of the episode was loosely based on the June 2000 Puerto Rican Day Parade attacks in Central Park. News 12 reports that multiple women recounted being assaulted during the parade and police response (or lack thereof) was heavily criticized. In the show, a woman is murdered in the park at the same time that similar attacks were taking place. However, police suspicion turns from her millionaire husband to suspects of latin and hispanic descent.
The ramifications of this plot decision are two-fold. The entertainment industry has a tired history of portraying latin and hispanic characters as criminals or "other." Even the tongue-in-cheek use of the name "Jorge," which has Spanish and Portuguese roots according to Forebears, in the episode's title is in poor taste.
According to the Chicago Tribune, this episode aired a year after the attacks in Central Park and was a fresh wound for the people who actually experienced it. The outlet pointed out that activists asked NBC not to air it but were initially turned down. The episode was eventually pulled after another meeting between the network and activist groups, including the National Puerto Rican Coalition.