Sandra Bullock's Tribute To Betty White Is Both Heartwarming And Heartbreaking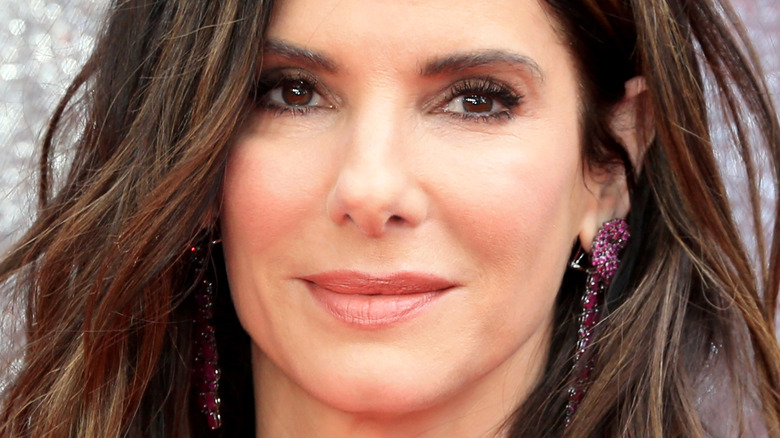 Cubankite/Shutterstock
The end of 2021 brought with it some sad news: Beloved actor Betty White died at age 99, only a couple weeks short of her 100th birthday. Some fans couldn't believe it at first, thinking that it was a hoax (per the New York Post). But the news was sadly true. As reports were confirmed, the outpouring of sadness and tributes for White filled social media. George Takei, Ryan Reynolds, Debra Messing, and even the Martin Luther King Jr. Center tweeted about how much White was loved and how much she will be missed (via CNN).
One such tribute was from comedian Seth Meyers, who tweeted, "RIP Betty White, the only SNL host I ever saw get a standing ovation at the after party. A party at which she ordered a vodka and a hotdog and stayed til the bitter end."
Vodka and hot dogs are what White had said helped her live a long life — along with a positive mindset. "It sounds so trite," White once said (via Taste of Home), "but a lot of people will pick out something to complain about, rather than say, 'Hey, that was great!' It's not hard to find great stuff if you look." And White's friend and "The Proposal" co-star Sandra Bullock was clearly paying attention.
Sandra Bullock was in awe of Betty White's comedic skills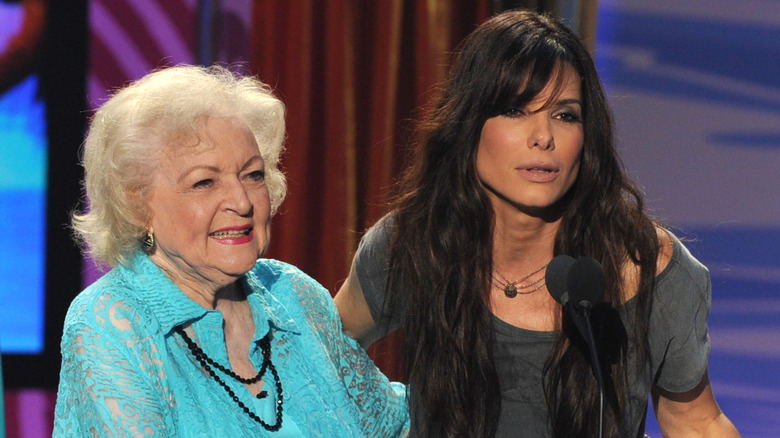 Kevin Winter/tca 2010/Getty Images
Sandra Bullock is honoring Betty White's life with some of White's favorite things. "I don't drink vodka" Bullock told People. "But I will tonight, on ice, with a slice of lemon with a hot dog on the other side and just be okay being sad."
Bullock, who starred in the 2009 romantic comedy "The Proposal" with White, also talked about the other thing White attributed to her long life: optimism. "I'll have to buy some rose-colored glasses because Betty was that for all of us," she said (per People).
Previously, Bullock raved about White's skills as a comedic actor. "Timing isn't easy in comedy, because you have to navigate other people's timing," Bullock explained to People. "Betty pivots like I have never seen, making it look seamless. The rest of us just remain silent and pray we're not cut out of the scene." Bullock previously teamed up with fellow "The Proposal" star Ryan Reynolds for a Twitter tribute on White's 98th birthday where the two each teasingly claimed they loved White more than the other.