How Betty White Really Felt About Her Golden Girls Co-Stars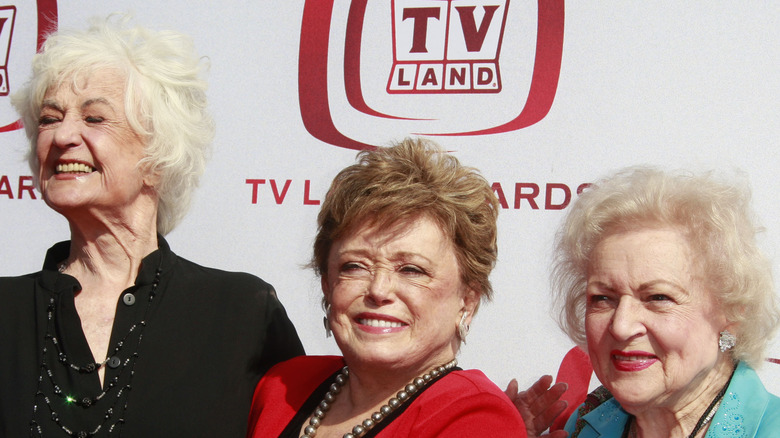 Joe Seer/Shutterstock
On Dec. 31, 2021, "Golden Girls" star Betty White died peacefully in her sleep, just a few weeks before her 100th birthday, per People. 
Throughout her multiple decades in show business, White became a beloved figure for her work on "The Mary Tyler Moore Show," "The Golden Girls," and so many more films, television shows, and hilarious commercial stints. 
From 1985 to 1992, White portrayed the lovable Rose Nylund. As Outsider reported, she was originally picked to play the flirtatious Blanche Devereaux while Rue McClanahan was chosen as Rose, but the creators of "The Golden Girls" decided to switch their roles.
"It was a perfect switch, in hindsight, but I was a little scared," White said during a 2004 interview, per Outsider. "I knew Blanche. That would have been easy. I didn't exactly know how to play dumb. The best advice I got was, again, from Jay Sandrich. He said, 'Rose takes every word for its literal meaning. She knows no sarcasm, no nothing. If somebody said Rose could eat a horse, she'd call the SPCA.'" 
She continued: "And Rue, my god, she took Blanche out into orbit where I would have never dared to go. So I just think it worked out beautifully. If I had half the sex life Blanche had I would have been dead from exhaustion."
Given the fact that White worked alongside her "Golden Girls" castmates for nearly a decade, it stands to reason that she formed solid bonds with the women — or most of them, at least.
Betty White got along with all of her Golden Girls co-stars — except for one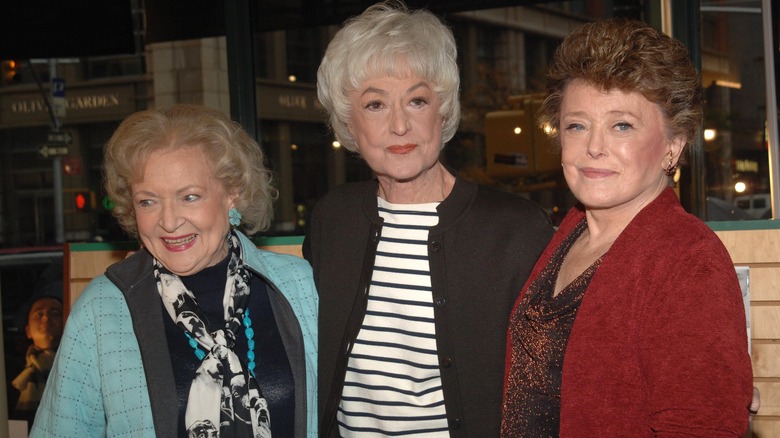 Brad Barket/Getty Images
For the most part, Betty White got along well with her co-stars on "The Golden Girls," which included Rue McClanahan, Estelle Getty, and Bea Arthur. 
When McClanahan died from a stroke in 2010, White told OK! Magazine that she was heartbroken over losing her friend. 
"We adored each other," she said. "It hurts more than I even thought it would, if that's even possible. She was everything, as far as a friend is concerned." 
On the other hand, while Getty was often shy when she wasn't portraying the feisty Sophia Petrillo, White still enjoyed getting to know the actress. 
"Estelle came in as an outsider, but Betty took a liking to her," a source told OK! Magazine. "She loved hearing Estelle's stories about growing up in the Yiddish theater in New York and doing stand-up at the upstate resorts. Betty just lapped those stories up."
However, White didn't enjoy the same close relationship with Arthur, who reportedly wanted someone to be angry with while on "The Golden Girls" set — and that person happened to be White.
"My mom unknowingly carried the attitude that it was fun to have somebody to be angry at," Matthew Saks, Arthur's son, told Closer Weekly. 
During a 2011 interview with the Village Voice, White acknowledged the fact that the pair had some kind of feud. 
"She was not that fond of me," she said. "She found me a pain in the neck sometimes. It was my positive attitude — and that made Bea mad sometimes. Sometimes if I was happy, she'd be furious!"