Why Fans Swear Chrissy Teigen And Khloé Kardashian Are Twins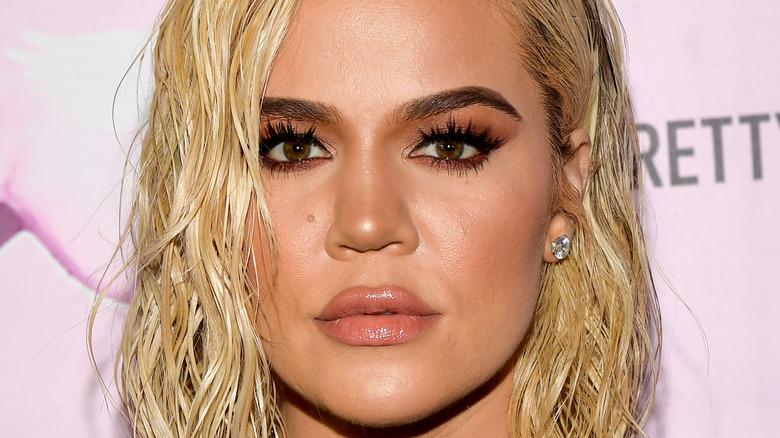 Matt Winkelmeyer/Getty Images
In the world of ever-changing looks of celebrities, Chrissy Teigen and Khloé Kardashian are known to dabble in beauty enhancements and Instagram filters. The model and cookbook author recently caught heat for undergoing buccal fat removal in her cheeks and then an eyebrow transplant. Meanwhile, the reality star made headlines several times in 2021 for seemingly looking like a different person on social media and in ad campaigns.
Now, fans are saying Teigen and Kardashian are actually starting to look like one another. The comparisons started when the mom of two posted a photo to her Instagram showing off a new haircut (via Page Six). While many followers praised Teigen for the sleek bob, another reaction became very prevalent in the comments section of the post. "Anyone else thought she was khloe at first glance?" asked one commenter, while someone else wondered, "I thought this was Khloe Kardashian."
Similar sentiments continued to pour into the comments section of Teigen's share, with another person noting, "Looked like khloe kardashian when I looked quickly." "Is this the Khloe Kardashian filter?" joked another commenter. "Hey Khloe! Where is Chrissy?" questioned yet another person.
This isn't the first time a celebrity has been compared to Khloé Kardashian
Meanwhile, a quick hop over to Kardashian's actual Instagram proves that fans might be onto something. In the most recent photos the star shared of her holiday celebration, the workout fanatic is also sporting a bob hairstyle.
And humorously, Teigen is not the first celebrity to be "accused" of turning into Kardashian. Who could forget when Tori Spelling was compared to the Good American entrepreneur last year (via Hola!)? The mom of five said she was "honored" by the notion that she resembles the social media influencer (via Hollywood Life). Wonderwall has also posited that singer Maren Morris and Kardashian look alike — as far as we know, the women have not agreed or disagreed with this assessment.
As for Teigen, at time of writing she had not specifically shared her reaction to being told she looks like Kardashian, nor had Kardashian commented on the resemblance fans noticed.