What You Should Know Before Getting Hand-Tied Extensions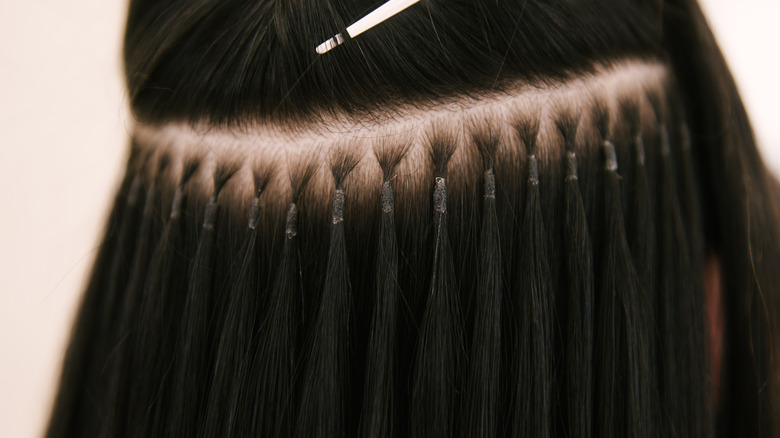 Kseniya Maruk/Shutterstock
Extensions are becoming increasingly popular. Why spend hundreds of dollars on a sew-in or a wig when you can use extensions? This mindset has led many to hair salons, asking for different types of hair extensions, including hand-tied.
But just what are hand-tied hair extensions? Cosmetologist Brittany Johnson told Byrdie that "hand-tied extensions are a method where a stylist attaches beads onto a row of a client's natural hair, similar to the beaded weft method." In other words, the hairstylist is using a nylon or cotton thread to "tie" the weft to your natural hair.
There are a lot of benefits to these extensions. For once, they're more comfortable than tape extensions and they offer more versatility. According to Rinsed, the placement of the extension makes ponytails and up-dos natural. Furthermore, these extensions are long-lasting. The outlet said that the method will last six to eight months with check-ins every few weeks to move the extensions up.
Unfortunately, hand-tied extensions do have some downsides. For one, this method doesn't work well on curly and kinky hair because the extensions are thin, Rinsed said. That said, for other non-thin hair types, Johnson recommends using sewn-in wefts.
How to take care of hand-tied extensions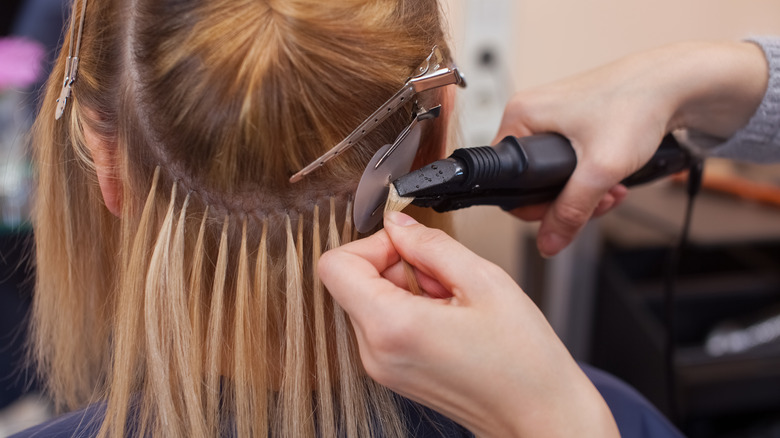 dimid_86/Shutterstock
You need to take care of your hair daily. With extensions, you need to up your daily hair regimen.
The first thing is to get your maintenance appointments scheduled. Without check-ins with your hairstylist every few weeks, your hair's health will begin to suffer, Byrdie added. "Having them moved up and removed in the right time frame will help make sure that there's not too much tension on your hair as they grow out," said Johnson. Your regular shampoo may also have to change as well. The outlet said to avoid sulfate shampoos as much as possible. And when it comes to using a flat iron and curly wands, using a heat protectant is imperative.
Outside of upping your hair maintenance schedule, you must also get your hair extensions installed by an experienced hairstylist. An inexperienced stylist won't give you a silky and natural look. Without the right placement — two to four wefts in each row — the extensions may not give you the hairstyle you desired, per Rinsed. That's why it's important to find a good hairstylist who asks for your specific hair goals and talks to you about the process of achieving them.