What You Need To Know If You Want To Get Blue Hair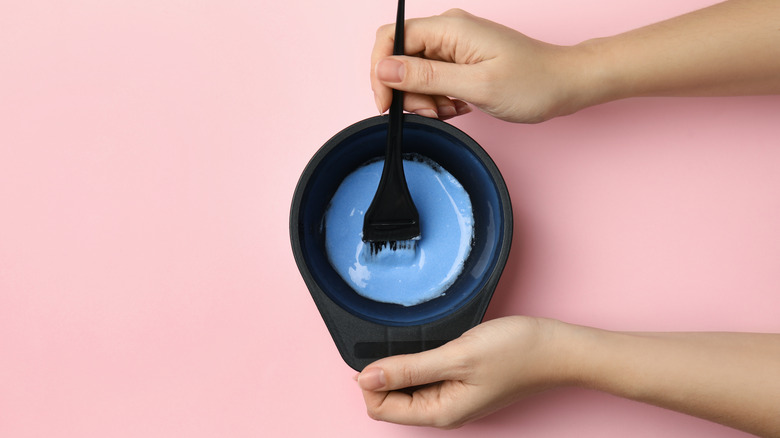 New Africa/Shutterstock
Dying your hair brunette and blonde gets tired, no? If you're trying to spice up your looks, why not try blue? However, dying your hair, no matter the color, can potentially damage your hair. Luckily, we have the go-to guide on how to dye your hair blue that's safe for your hair.
Per Bustle, the first thing to note is you must start with blonde hair. So for our brunettes, start your hair blonde before taking the blue plunge. "The key to achieving the perfect blue hue is to lift your hair to a clean blonde from the beginning," colorist Laura Estroff said. Next, be prepared to be in the salon for quite some time (via Teen Vogue). Since dying your hair blue requires bleaching, there's a multistep process from shampooing to deep conditioning to shaping again, the outlet added.
Most importantly, your hair will require a lot of maintenance. Bustle also added that the blue dye hair will only last for three to 15 shampoos, but it can last longer if you take care of it properly.
How to prevent blue hair dye from fading fast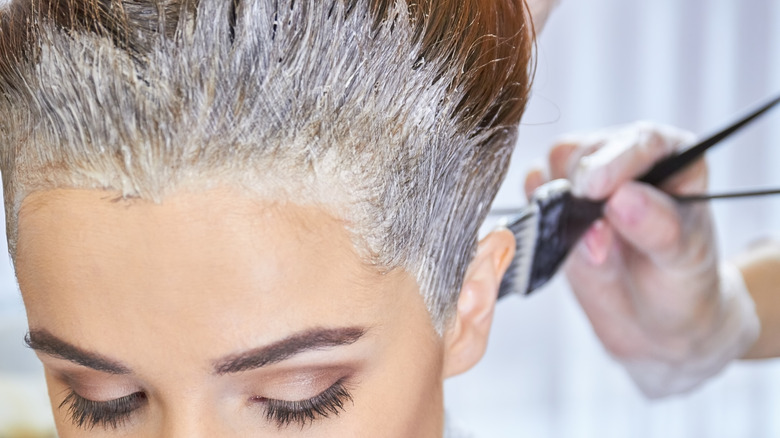 DenisProduction.com/Shutterstock
Since the blue hair dye won't last forever (and a professional dye job can cost you a bit of money), there are ways to get that ocean color to last longer than a couple of weeks. First, stop using so much shampoo. Instead, head straight to the beauty supply store and stock up on dry shampoo, per Elle. Don't forget the UV protection spray (as the sun fades color)!
Next, ask your stylist to use a color deposit product between dye jobs, which may be every other week, to extend the color for a longer period of time. "Using a color depositing conditioner, like EVO Fabuloso Pro, can help keep your hue longer, but you will have to refresh the underlying blond every 6-12 weeks," Estroff said (via Bustle).
Most of all, remember to take care of your hair, especially if you're dying your hair from brunette to blonde to blue. Use plenty of Olaplex hair protections and other shampoos for color and conditioners, suggests Elle. And most of all, don't forget to take plenty of pics of the blue hair while it lasts!