Twilight Director Gives Steamy Details About Kristen Stewart And Robert Pattinson's Audition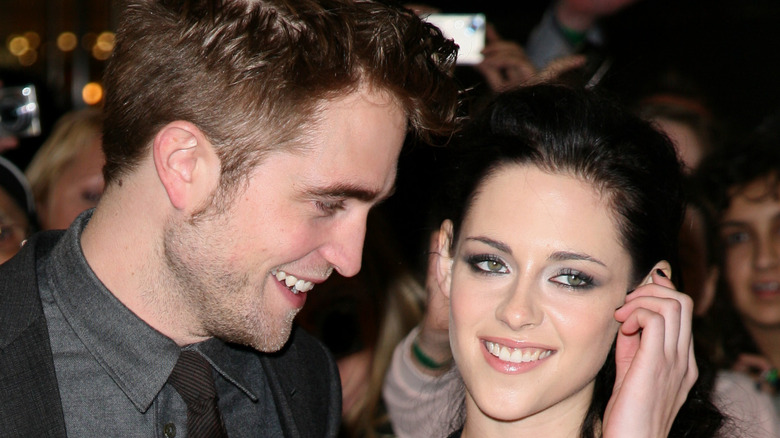 Featureflash Photo Agency/Shutterstock
With the cult favorite "Twilight" movies dropping on Netflix in 2021, the mania of the saga seems to have had quite the revival. 
Well, the truth is that, for any self-respecting fanatic of the movies, the obsession never fully faded. In an entirely new era, it was met with an onslaught of memes and a new generation of fans. 
To love Bella and Edward is to dive deep into the hundreds of fan theories on the inner workings of Kristen Stewart and Robert Pattinson's real-life romance. The young couple's beginning in 2008 seemed hopeful and garnered countless obsessed fans "shipping" the romance — before it came to a messy halt in 2012 (via E!).  
Since the couple was private, fans read into every tiny detail of the actors' life together to try to gather some semblance of what the relationship was like — and even to confirm that the relationship existed, at one point.
Stewart and Pattinson remained extremely secretive throughout their relationship, which is why, even now, 13 years later, fans are still excited at the chance to gain some insight into how it all went down. And that includes details of their "Twilight" audition.
Rob Pattinson fell off the bed during his Twilight audition with Kristen Stewart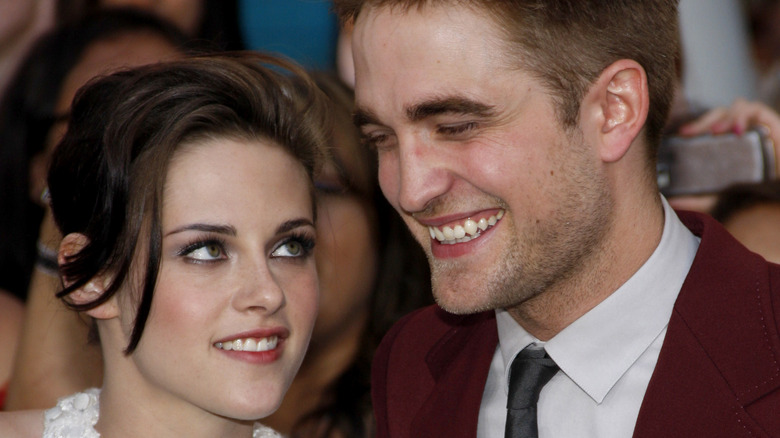 Tinseltown/Shutterstock
Over the years that have passed since Robert Pattinson and Kristen Stewart's breakup, they have remained pretty tight-lipped on their time together — which is why, on the rare occasion when a member of the "Twilight" gang decides to comment on it, fans go a little nuts.
During her promotional tour for "Spencer," Stewart opened up about how she swooned over him during their first meeting (via The New Yorker). "We were young and stupid and, not to say that we made it so much better, but that's what it needed, and that's what anybody playing those parts needed to feel," she said.
On the other hand, the most Pattinson has ever commented on the relationship was saying a simple "yes" when asked if he was on good terms with his exes (via Marie Claire). 
Well, "Twilight" director Catherine Hardwicke has finally given fans the confirmation they needed that Pattinson was doing his fair share of swooning himself. Speaking on "The Big Hit Show" podcast, she recalled the pair's first meeting, when they auditioned in Hardwicke's actual bedroom.
"Rob and Kristen auditioned on my bed, the kissing scene — Rob was so into it he fell off the bed," she said. "I'm like, 'Dude, calm down.'"
Hardwicke went on to share just how passionate Stewart was about Pattinson playing Edward. 
"And at the end, Kristen was like, 'It has to be Rob,'" she said. "But I could tell they had a lot of chemistry, and I'm like, 'Oh my god.' I thought, Kristen was 17. I don't want to get in some illegal things."