Details About The Next Duggar Wedding Get Leaked Online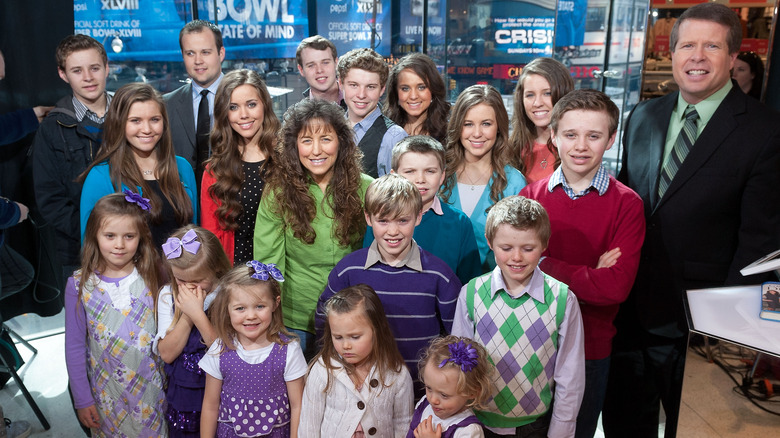 D Dipasupil/Getty Images
Since first appearing on their TLC show "17 Kids and Counting" (which was changed twice to reflect the arrival of two more children) in 2008, the conservative Christian Duggar family has been a reality television staple. For over a decade, the lives of Jim Bob Duggar, Michelle Duggar, and their 19 children have been documented on "19 Kids and Counting" and the spinoff show, "Counting On," according to Us Weekly. Though "19 Kids and Counting" was canceled in 2015 and "Counting On" was canceled in June, the Duggar family has continued to make headlines for less-than-pleasant reasons.
In December 2021, a jury in a federal court in Fayetteville, Arkansas found Josh Duggar guilty of two charges of receiving and possessing child sexual abuse material, according to 4029 News. The prosecution testified that agents found evidence that photos and videos of children, some even younger than 10 years old, being sexually abused were likely accessed and subsequently deleted by Josh on a password-protected operating system on his work computer, per People. For committing these acts, Josh is facing up to 20 years of imprisonment and $250,000 in fines on each of the two counts. Most recently, Josh's legal team has filed an appeal, calling for the acquittal of the child pornography charges or for a new trial if he is not acquitted, according to Today.
However, it looks like the Duggar family is about to celebrate some good news.
Jeremiah Duggar is getting married in March
In a post on the private Duggar Family News Facebook page, it was revealed that one of Jim Bob and Michelle Duggar's 19 children, Jeremiah Duggar, is set to walk down the aisle in March 2022, according to The Sun. Just earlier this month, the 23-year-old announced that he had popped the question to his girlfriend, Hannah Wissman. "She said YES!!!!" Jeremiah captioned an Instagram post about his engagement with Wissman. "Hannah, getting to know you for the past year has been so incredible! I can't even find the words to describe it. You are the best thing that has ever happened to me and I cannot wait to marry you. I love you!!"
The news of Jeremiah's impending nuptials to Wissman comes shortly after his brother, Jedidiah Duggar, experienced a whirlwind romance and subsequent marriage to Katey Nakatsu in April 2021. Then, in September 2021, the couple announced in an Instagram post that they were expecting their first child in Spring 2022. After a three-month engagement, 19-year-old Justin Duggar married Claire Spivey in February 2021, according to an Instagram post Justin made on the day of their wedding.
In the past, Bob and Michelle have been open about their strict rules regarding abstinence and the banning of birth control, tattoos, and even reading romance novels, according to The Sun. Despite these strict rules, many members of the family have gone on to marry their partners at relatively young ages.
The couple first announced that they were dating back in October
While it is unclear exactly how long Jeremiah Duggar and his fiance, Hannah Wissman, had been dating before they announced their engagement, the couple made their relationship Instagram official in October 2021. "Never been so happy. Never felt so blessed!! Getting to know each other has been one of the greatest joys of our lives! We are excited to start sharing our story with all of you and to see what God has in store for our future," the couple both wrote on their respective Instagram pages.
According to Showbiz Cheat Sheet, 26-year-old Hannah is very similar to Jeremiah in many ways, including that she comes from a large, conservative family consisting of 12 siblings. Hannah is the lead vocalist and fiddle player in her family's musical group that travels around the country performing at various churches. One scroll through her Instagram page will show that religion and baking play an important part in her life.
A few days before Jeremiah popped the question, Wissman posted a sweet tribute to her soon-to-be-husband on his birthday. "Whether it's having a fuzzy blanket on hand just in case I get cold, spoiling me with flowers, pizza and coffee, asking me how I'm feeling or what I'm thinking, encouraging me in whatever project I'm doing, reading the Bible together, praying with me, or the way you simply smile at me, you show me that you care in a million ways every single day and I am so grateful to be your girl!" Hannah wrote in the Instagram story.