Raven Goodwin Discusses The Emotional Process Behind Single Black Female - Exclusive Interview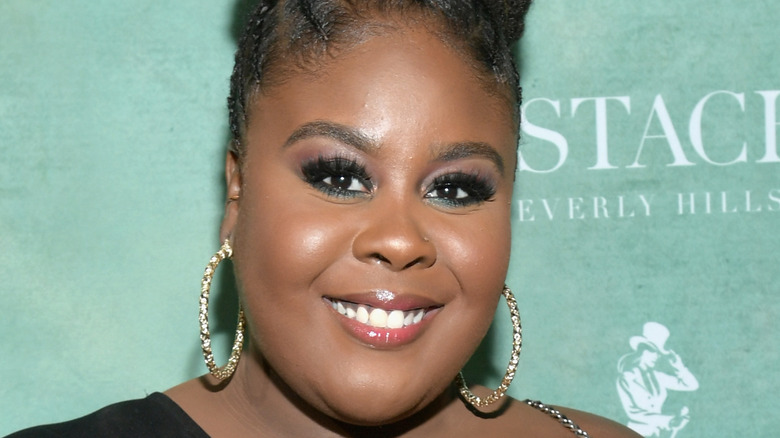 Emma Mcintyre/Getty Images
Raven Goodwin began her career as a child actress in the early 2000s. Her film debut in the comedy "Lovely & Amazing" earned her an Independent Spirit Award nomination for best debut performance in 2001 (via IMDb). Two years later, Goodwin earned a Screen Actors Guild Awards nomination as part of the brilliant ensemble cast of "The Station Agent," sharing the recognition with fellow actors Peter Dinklage, Michelle Williams, and Patricia Clarkson. Shortly thereafter, she broke into the world of television, where she first joined the cast of Nickelodeon's "Just Jordan" before moving onto "Good Luck Charlie" on the Disney Channel.
Although Goodwin was a fan favorite on "Good Luck Charlie," the actress ultimately cemented her place in Hollywood through her dynamic performances in "Huge" and the successful BET series "Being Mary Jane." Over the years, Goodwin has portrayed a variety of nuanced characters, each time proving that her talent and work ethic were unparalleled. She's set to entice audiences even further in her upcoming performance in Lifetime's psychological thriller "Single Black Female," where she acts opposite longtime friend Amber Riley.
Goodwin and Riley's dynamic in the film is equal parts unsettling and entertaining. The movie is memorably nerve-wracking, and we had the chance to speak with Raven Goodwin about her time filming "Single Black Female," as well as her preparation process for this intense role. We also spoke with Goodwin about her time on the set of "Being Mary Jane," "Huge," and "Good Luck Charlie," and discussed what it means to her to be portraying Hattie McDaniel in an upcoming biopic about the iconic actress.
Raven Goodwin opens up about the emotional filming of Single Black Female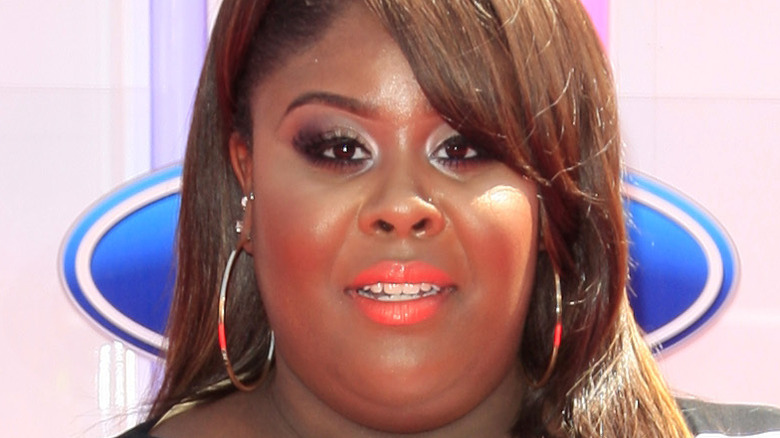 Kathy Hutchins/Shutterstock
Congratulations on "Single Black Female." What an incredible movie! What was most appealing to you about working in the psychological thriller genre?
Because you rarely see girls like me in psychological thrillers, and girls like Amber [Riley], I don't think I have really seen it. That was a big thing for me. I remember when my brother Michael Chin, [when] he was previously at Lifetime, did "The Clark Sisters" with us. We had developed a really good relationship, and he called me with this and he was like, "I'm going to send you the script, it's a thriller. I think you and Amber, I think it'll be great."
I was like, "A thriller? I'm pretty much already game. Let me read it, but I'm in," because this is so on the opposite end of the spectrum as to what I'm used to doing. I started off in drama, and then I spent years doing TV shows and a lot of comedy and this and that. Doing a thriller was pretty high on my list. I still want to do a scary movie, but the thriller, the psychological thrillers, this is where it's at. I want to do more. I love this genre.
You mentioned your incredible co-star in "Single Black Female," Amber Riley, and you both were so intense and really masterfully played that dynamic in the film. From your perspective, what is it like to portray a character where you're constantly going through these waves of emotion through the entire movie?
It was fun. It was definitely from an authentic place. I lost my father in July, and we shot the movie in [September through October]. It was an emotional time for me. Anyway, I was getting married. I was planning a wedding. It was a lot of emotions going on — you're happy and you're sad at the same time. You're grieving, but so many great things are happening to you. I think that's where Monica was at [too]. She's in a transitional period in her career.
She can possibly get her dream job, but then she's dealing with grief and her dad not being there to see her accomplish that. I think with all of that, it came from an authentic place, really. Honestly, it was easy for me.
I hope that this experience was cathartic for you in a way.
Definitely cathartic, definitely therapeutic. All of those crying scenes, I was really crying. I would be like, "Get me out of this scene!" But yeah, it was a good time, definitely.
It's always nice when you can use your work as that sort of emotional release.
You have to use your life experiences in what we do, because we are living life through these characters. I think that's key in anything, honestly.
She revealed her preparation process and how she gets into character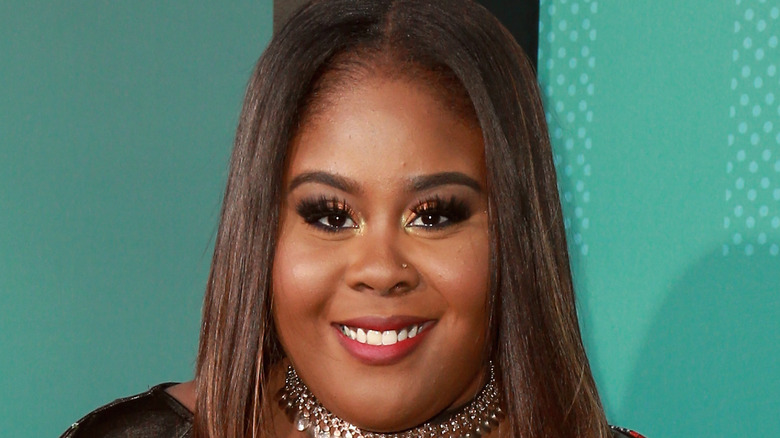 Leon Bennett/Getty Images
Since you were drawing from these real experiences and real emotions while filming "Single Black Female," did you feel then that it was difficult for you to separate from the character when you were done filming?
No, my life at the time was so busy. When I got home, I made sure that I was present with my baby and my fiancé at the time, husband now. But I just made sure I was just out of that character and in the present. I had a knack for just pulling my wigs off as soon as we wrapped a scene, in front of everybody. Once I pulled that wig off, I was gone.
I think that's good that you were able to do that, because I know sometimes people, especially in the tense thriller/horror genres, get very stuck in the character because it's hard to disconnect from that experience.
No, it wasn't that experience for me. Not yet! I'm looking forward to that role. I know it's going to be crazy, but I'm sure one day I'll be like, "Who's Raven?!"
Looking at yourself in the mirror and you don't even recognize yourself.
I'm looking forward to it. I'm such a sick actor, but go ahead.
I'm always very curious about how people get into character for these films. Obviously, you were drawing from real emotions, but do you use any specific techniques, or music maybe, that help you get back into that head space once you're on set getting ready to film?
Yeah, I'm pretty old school. When I get characters initially, I create my own backstory for them, typical acting school stuff. Although, I've never really taken real acting classes or anything like that! But from my personal research, that's what I do. I build a backstory, humanize them, the typical stuff that they tell you [during the] first semester if you're a major in theater, or acting or whatever the case may be. Typical stuff.
"Single Black Female" is so impactful — was there something that was most memorable to you about the filming experience for this?
For me, it's a few memorable moments. One was my baby coming on set. That was memorable. Her getting behind the camera and just hollering out "Mama!" during a scene. That was definitely memorable. I'm a very personable person so I like being in my trailer, inviting people to my trailer. Let's have some spirits, let's really get to know each other so that the energy is there. That's just who I am.
Those moments with me, Amber, K. [Michelle] just chilling, eating, relaxing between scenes, really meant a lot to me. Also, the stunt day, us fighting and having a good time and all of that stuff was good.
Goodwin shares a close friendship with costar Amber Riley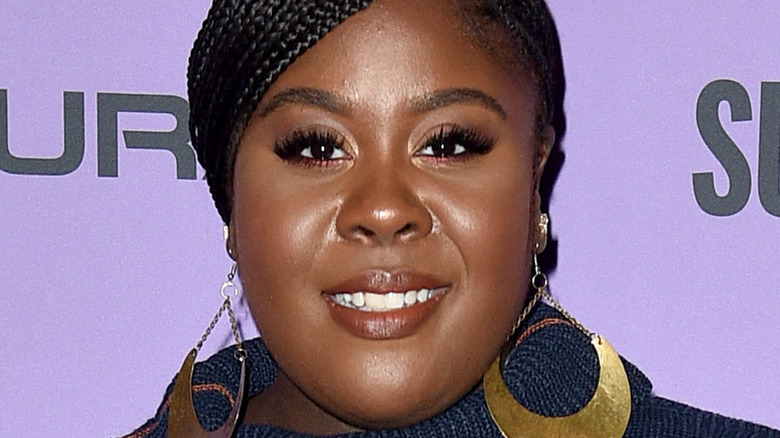 Ernesto Distefano/Getty Images
It's good that it's a positive experience you can reflect on and just say it was all memorable, it was all positive. I think that's great.
I think some productions don't have positive experiences and I've heard so many horror stories that, when I do become a part of something, I make sure that in some way, shape, form, or fashion, that I'm that light. Let's just chill. Let's just enjoy this.
I always ask people while we're filming, "Are you having fun?" Sometimes, they don't really know what to do with that question, because they're like, "No, I want to go home." But you need to remember that one, we get paid to wait, and two, this should be fun at the end of the day. This should be a fun experience, because what we do is so cool.
How was that in terms of establishing your dynamic with Amber? Your intense scenes with her are very chaotic, but then you're saying afterwards that you want to hang out, you want to relax. How was it for you to maneuver that dynamic in your relationship?
Amber and I met when I was 17 years old. We met literally at "Glee" auditions. I heard her singing and I [said], "Okay, I didn't get this. We can go home, mom. It's fine."
We go way back, and I feel that the history of our relationship really helped us to be in and out of that. If we had something intense, we'd just do it. We were trying not to laugh and be silly between scenes and make it real, but it wasn't any method, or a "Don't talk to me" situation ... We've known each other for so long. It was like working with a relative.
I didn't realize you guys have known each other for such a long time, but that does seem helpful. Because you have already established that trust that you would need in those scenes, where you're very at each other's throats, that you know this person's going to give what you need them to give and vice versa.
We'd already had those conversations and we started building a solid relationship a few years back. It's probably been about four or five years since we started really building. When this came about, I was like ... this is perfect. We've been establishing more of a sisterhood, more of a friendship trying to figure each other out. This will be good for us.
Goodwin shared her most memorable filming experiences to date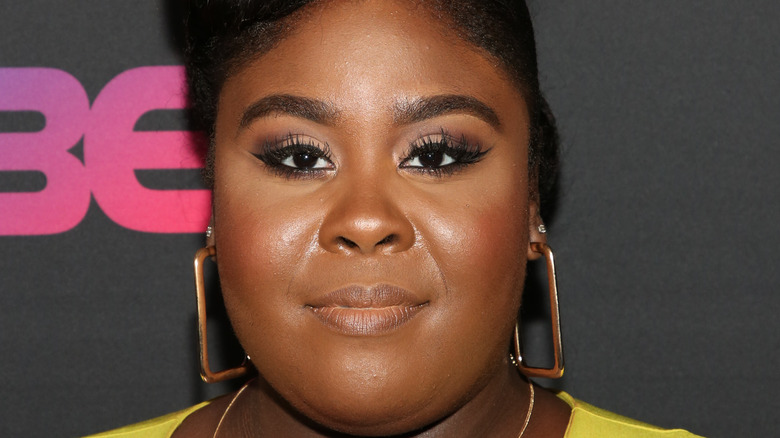 Paul Archuleta/Getty Images
It was funny seeing the reaction to the casting and everything on Twitter and social media, and seeing so many people who thought the casting was perfect. I'm glad you guys finally had this chance to collaborate. It seems like something that people are really going to be excited about when they get to watch "Single Black Female."
We took a picture [together] in New Orleans. I think it was either 2018 or 2019. I can't really recall ... We went to Essence Fest and we took a picture and posted it online and everybody was like, "Do a movie, do a movie!" It came, and we manifested it. I think that's pretty cool.
It's always nice when you can manifest those things. I always think what you put forth into the universe comes back to you.
I think the caption she put was, "It's time for us to do a movie," or something in that area.
You've had such an incredible career and you've done so many film projects and television projects, but what would you say was the most memorable filming experience for you on a personal level and then on a professional level?
That's so easy. For me, it's between "Being Mary Jane" and "Huge." With "Huge," that experience was so enriching for me, because of the relationships I developed. Our dialogue coach, Larry Biederman, is everything to me. Although we don't talk often, I think about him often, especially when it comes to building a character. He really taught me so much and he really got me to tap in. I think when you're a child actor and you transition and you start doing [other] things ... I was 18, 19 on that show.
I graduated high school on that show. You don't know. [You ask yourself] "Do I still love this? Is this actually what I want to do with my life?" I think that show made me realize how much I love doing what I do. I have lifelong friendships from that show — Harvey Guillén, Ashley [Holliday Tavares], so many amazing souls that are in my life forever. And then with "Being Mary Jane," it was the longevity, getting to know people on a four or five year show. We had so many amazing experiences.
Gabrielle [Union] can really throw a party. She had so many parties while we were filming that show. She still has her annual birthday party, but she had so many cool, amazing parties and they just taught me good tequila and good bourbon. I grew up on that show, too. Like I said, I'm a personable person so more than the filming aspect, it's the connection with who I'm filming with that I tend to focus on.
Especially when I reflect, I worked with really amazing people, like Richard Roundtree. Watching him smoke his cigars at his trailer. Just these amazing legends living. I worked with more legends on "Being Mary Jane" as well, from Margaret Avery and Richard Roundtree to Regina King, who directed us. There were so many amazing directors, like Mario Van Peebles — these iconic filmmakers who were a part of this experience. I think between "Huge" and "Being Mary Jane," those were my two best experiences as an actor and as a young girl.
She discussed what it was like to work on the hit Disney show Good Luck Charlie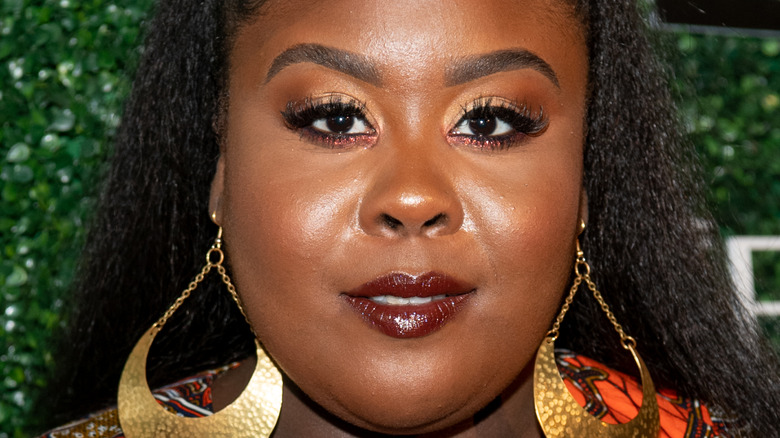 Emma Mcintyre/Getty Images
It seems like these projects came at the perfect time for you.
Yes, everything does. Everything does. That's the thing. I feel with my age and with the things that I get, it's always perfectly aligned. It's so weird, but it lets me know that I'm doing what I'm supposed to be doing.
Speaking of these incredible experiences you've had in your past, I'm sure Disney fans are curious — do you still keep in touch with the cast of "Good Luck Charlie"?
No, I don't. It's strange, but when I think of them, I send them love and light, but I know Bridgit [Mendler] is married now, and I'm sure Bradley [Steven Perry] is taller than me. I know all of them are doing well. Leigh [Allyn Baker] has the most amazing, cute boys ever. We don't keep in touch. We really don't, as much as we should. I'm sure they do as a cast, but I was also there more sporadically than it may seem.
I was shooting "Huge" at the same time, and then I went on to "Being Mary Jane," so I wasn't there a lot to really build on those relationships. But they always treated me so sweet and nice. I always send them love and light when I think of them. I was just thinking about Eric's [Allan Kramer] cooking the other day. He was a great cook. He would cook every Wednesday. I think every Wednesday that we would do the network run through, he would cook. That man! Chili, cornbread, all kinds of stew. He could just really cook. I was thinking about his cooking the other day.
That sounds amazing!
Now you make me feel like I've got to reach out. I've got to reach out and say hi to them. I really do. We would play Bananagrams, bake, do all this cute stuff. They're cute people.
You've been cast as the absolutely iconic Hattie McDaniel in the upcoming biopic "Behind Her Smile." I was curious, as a fan of hers, what period of her life will the film cover?
It will cover multiple periods of her life. I'll just say that as of now, it's still in the works. My producer, Jami [McCoy-Lankford] is doing all that she can to get this film done. We're really, really excited. I just want to pay homage and just bring a lot of nuance and love to Hattie.
I think I have her all over my house, she's all over my house. Every day I'm just reminded of ... you have this task at hand, you can do it. You're capable, you're able, because it's just a huge responsibility in my opinion. For the culture, for Ms. Hattie, for her family that remains, I just want to be respectful and do what I can to get her story told.
Goodwin talked about having the amazing opportunity to portray Hattie McDaniel
Frederick M. Brown/Getty Images
That's so important. It's incredible that you have the opportunity to show people all of that in a lens where they can wake up and see that this iconic Oscar-winning actress was just not treated the way that she deserved to be treated at the time.
She laid on the cross, at the end of the day, for everyone. I think that's what it essentially is for women to get up on that stage, black women to get up on that stage, and get that award at the highest accolade. It's the highest accolade. She accomplished what she was supposed to accomplish, it's just unfortunate the way she was treated. Even that night that she won the Oscar, she wasn't able to sit with the rest of the cast. It's just insanity. Can you imagine?
People always just think it was "old school Hollywood," but it was not that long ago. People are still alive from that time period.
Somebody alive right now that lives in Beverly Hills was there that night.
I'm glad you're able to do this project, and I think it's going to be incredible to actually bring these things to the forefront and really tell her story the way it deserves to be told.
I'm ready to bite down and really get this done. It's just a matter of time. I can't wait until it's done and we can be interviewing about that.
I know you were saying earlier that you have a very specific preparation process when you get ready for your roles. Do you think that will change when you're depicting Hattie, because she's a real person? Because with this project, you don't need to create the backstory because it already exists.
Yeah, it's definitely a different process. I have to study her mannerisms, and there's not much of her to find. I think the only video of her that's outside of her acting is the Oscar speech. I've looked high and low and I cannot find anything. I found some of her music that she recorded. I'm really trying to nail this down because, in a sense, I actually do have to create a backstory, because there isn't much [information] about her personal life. I have to figure out what she liked to drink, maybe what she liked to eat, maybe if there's something specific, a ritual that she did.
Those are the things that I'm going to have to figure out. That's what is the challenge, because I want it to be authentic, but I also have to make her a person and humanize her in this movie because she's not with us anymore to tell me what I need to do. Then there's no one alive really that's her peer, that can really tell me how she was either. It's tough, but I'm sure I'll make a way.
She revealed which character of hers she'd most like to be friends with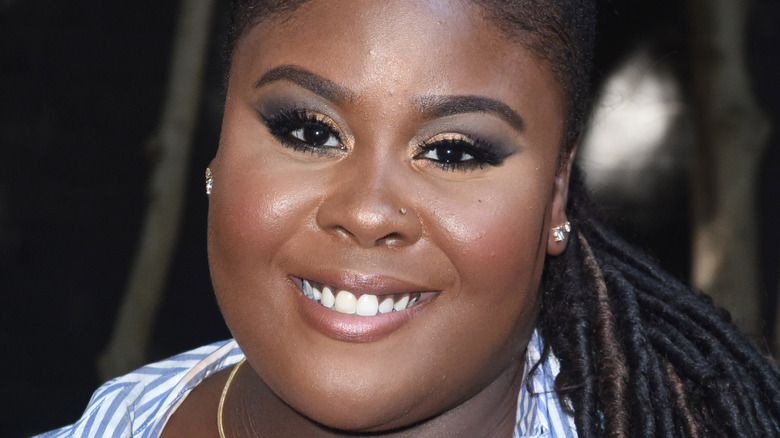 Vivien Killilea/Getty Images
I always like to end with a fun question. If you could be friends with any of the characters you've played, who would you be and why?
That is tough! Probably Eliza from "SMILF."
Amazing choice!
It was lit. That's another one. I think she comes third, maybe. Eliza's lit. I had so much fun playing her. She was this pre-med genius girl who was into all stupid stuff, but she was so brilliant. That's what I love the most about her, is that she had a brain and she was successful and had this successful dad and sister. It was a cool storyline to me and I had so much fun. That was my favorite wardrobe — all her chains, and the braid with the shaved sides. She was a moment to me. I loved Eliza, so I'll be friends with Eliza.
She'd be a good person to hang out with.
Exactly. Boston baddie!
"Single Black Female" premieres on Lifetime on Feb. 5