Kamala Harris' Staff Continues To Dwindle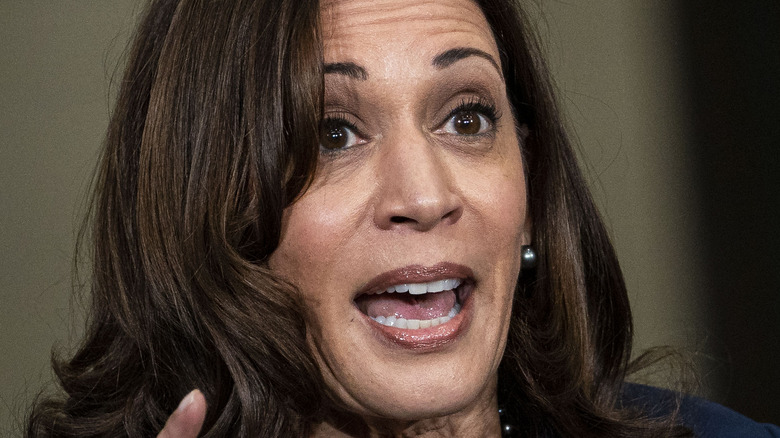 Bloomberg/Getty Images
Since July 2021, rumors about the chaos inside Vice President Kamala Harris' staff have been circulating, according to The Washington Post. Key members of her staff, like communications chief Ashley Etienne and Harris spokesperson Symone Sanders, have quit and people are starting to wonder what is wrong in the Vice President's office that so many key people are leaving this fast.
Burning through top-level staff is a problem that has followed Harris through her 18 years of serving in the public. "She refuses to take responsibility for delicate issues," one unnamed Harris staffer told Politico. That same staffer continued, saying Harris "blames staffers for the negative results that ensue." Insiders close to the Vice President say this is a "familiar pattern." After all, when her 2020 presidential campaign ended, she "jettisoned nearly everyone." Kelly Mehlenbacher, her state operations director, resigned. The New York Times published her letter of resignation, in which she stated: "This is my third presidential campaign and I have never seen an organization treat its staff so poorly" (via New York Post)
Another problem staffers have is that Harris refuses to read briefing materials before meetings. "It's clear that you're not working with somebody who is willing to do the prep and the work," one former staffer told The Washington Post. "With Kamala you have to put up with a constant amount of soul-destroying criticism and also her own lack of confidence. So you're constantly sort of propping up a bully and it's not really clear why."
This is the latest staffer to quit working for Kamala Harris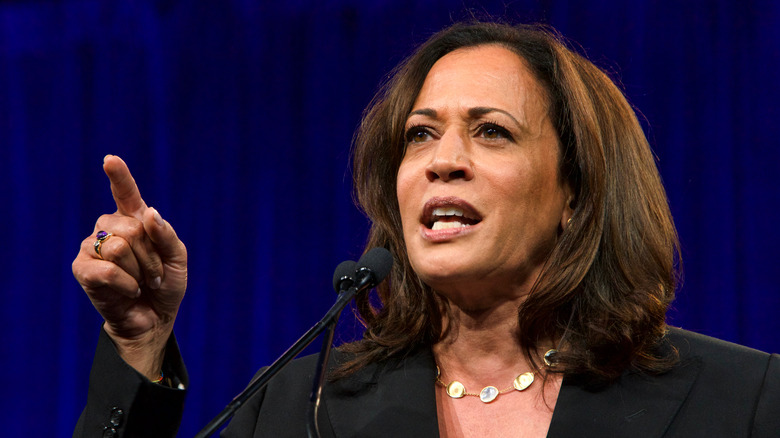 Sheila Fitzgerald/Shutterstock
Questions are once again being asked about how Vice President Kamala Harris runs her office in the wake of another key staff member resigning.
President Joe Biden, who has been surrounded by much of the same staff for years, is backing Harris for now, despite rumors of a fractured working relationship between the president and his second in command (per New York Post). Harris was handed what Politico calls "some of the most intractable issues facing the Biden administration" in her first year, which many believe has contributed to such a toxic work environment.
In a press briefing, White House spokeswoman Jen Psaki, who doesn't believe her time in the west wing will be long, said of the resignations from Harris' office: "In my experience, and if you look at past precedent, it's natural for staffers who have thrown their heart and soul into a job to be ready to move on to a new challenge after a few years" (via The Washington Post). Harris supporters agree, telling Politico that they don't think staff turnover rate will be an issue people "beyond the politically obsessive" will remember.
Kate Childs Graham, Harris' director of speechwriting, announced she'll be resigning at the end of February. She will be the eighth senior staff member to quit working for Harris since she took office in January 2021.