Here's How Much Taking A Photo With Donald Trump Will Set You Back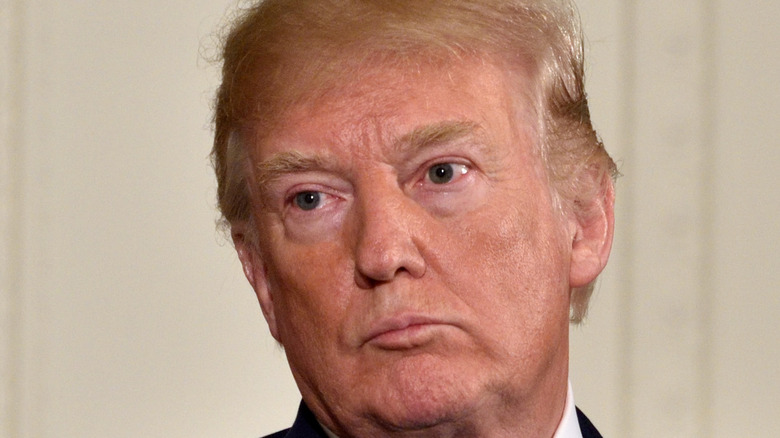 Evan El-Amin/Shutterstock
In the past few months, former president Donald Trump has only coyly hinted at a 2024 run for the presidency, despite holding multiple rallies and other speaking events in cities across the United States. Back in November 2021, Trump dished that he will likely announce his decision about running in 2024 after the midterms in 2022 during an interview with Fox News. "I am certainly thinking about it and we'll see," Trump said. "I think a lot of people will be very happy, frankly, with the decision, and probably will announce that after the midterms."
Until that announcement is made, though, Trump will be using his platform to bolster the campaigns of other politicians looking to secure an office in the midterm elections. In order to right these supposed wrongs and strengthen his political support system, Trump is endorsing a number of candidates for the 2022 midterm elections that have proven to be faithful to him and his various causes. According to FiveThirtyEight, Trump has already endorsed a total of 46 politicians set to run in the 2022 midterm elections, including Texas Governor Greg Abbott, Sarah Huckabee Sanders, Senator Marco Rubio, and many more. As Republican strategist Karl Rove told Deseret News, Trump's endorsement picks are based more on "how vocally a candidate is willing to support his claim that the 2020 election was stolen through widespread fraud, and not so much on a candidate's viability."
Trump's upcoming midterm fundraiser will cost participants a pretty penny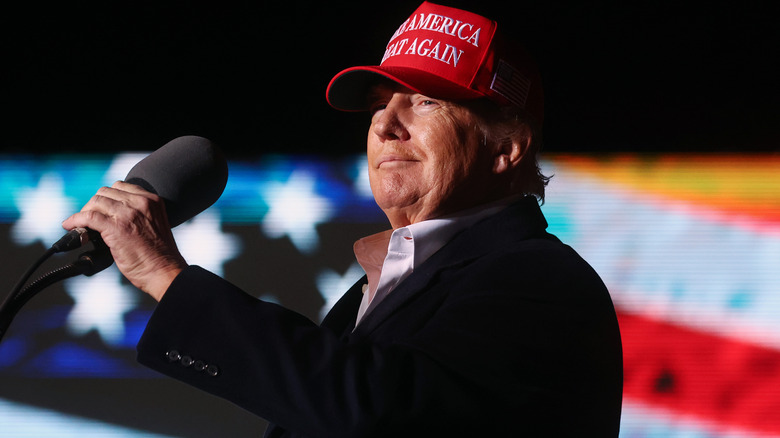 Mario Tama/Getty Images
On February 1, New York Times reporter Maggie Haberman tweeted pictures of an invitation to an upcoming fundraiser at Mar-a-Lago in late February. The midterm elections fundraiser, called "Take Back Congress Candidate Forum," is hosted by former president Donald Trump and comes with quite a hefty price tag. To simply attend the event, you'll need to fork over a steep $3,000. However, if you'd to actually interact with the politicians at the event, you'll need to hand over a bit more cash. For $15,000 per person, you can snap a photo with a candidate endorsed by Trump. The invitation states that PAC chair and former attorney general of Florida Pam Bondi, Kimberly Guilfoyle, former national intelligence director Richard Grenell, and former attorney general Matt Whitaker will be in attendance at the event.
While there are price points that give guests priority seating during a high-powered panel, perhaps the most shocking price point is the one that exists for those who wish to simply take a photo with Trump. As the invitation states, guests will need to pay $50,000 if they simply wish to take a photo with the former president. For $125,000 per person, though, guests can enjoy a private dinner and a photo with Trump.