What We Know About Penn Badgley's Wife Domino Kirke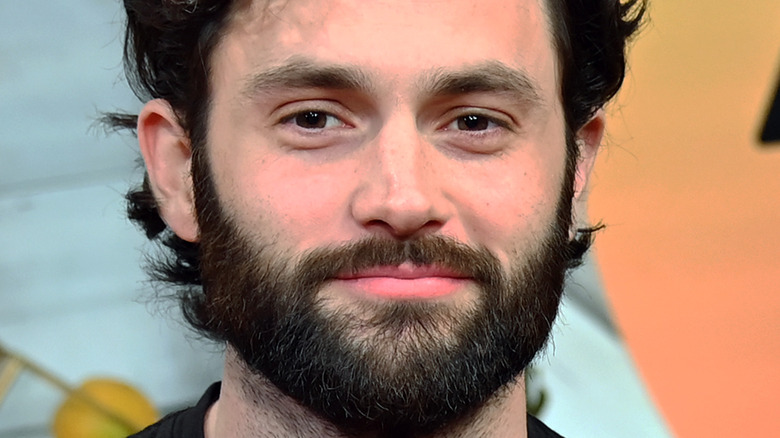 Slaven Vlasic/Getty Images
Though "You" star Penn Badgley has dated many famous women over the years — including his "Gossip Girl" co-star Blake Lively and "High Fidelity" actress Zoë Kravitz — the Baltimore native found his soulmate in a totally different scene (per Distractify). Since 2014, Badgley has been romantically linked to musician Domino Kirke. When the news first broke about the pair's relationship, a source told Us Weekly, "They've been dating for awhile. They have a number of mutual friends. It is a very mature and free relationship. Domino is a great girl for him, being a musician. Their interests align." Three years later, the pair wed for the first time in a small courthouse ceremony in Brooklyn, before holding a large reception in upstate New York a few months later (via Elle).
Since marrying, the couple has welcomed their first child together, a son, in 2020 (via People). Badgley is also a stepfather to Cassius Riley, Kirke's son from a previous relationship. Aside from spending her days parenting her two children, the 37-year-old works as a musician and a doula (per Oprah Daily).
Domino Kirke is a talented musician
Growing up as the daughter of "Bad Company" drummer Simon Kirke, Domino Kirke developed an early interest in pursuing her own musical career (via LPR). After graduating from LaGuardia High School's classical voice and piano programs, Domino signed her first record deal. She later went on to form the band DOMINO, which toured with award-winning artist Lily Allen, and was featured in Lena Dunham's film "Tiny Furniture" (per LPR).
After achieving much success with her band, Domino decided to step out on her own. In 2017, the Brooklynite released her debut album, "Beyond Waves" (via Nylon). The record features hits like "Half Blood" and "Paranoid Flowers." Each of the tracks explores themes of love, grief, and growing older. In an interview with Nylon, Domino described the meaning behind the final track on "Beyond Waves," titled "O'Kane." She said, "It's about self-acceptance and unconditional love. Honoring where we and who we were when we became a family, and how far we've come. It's about letting go and allowing ourselves real time to forgive." The artist's deep emotional connections and strong love of family has lent itself to another big part of her life, as well.
Domino Kirke has worked as a doula for many years
Aside from bringing two beautiful children of her own into the world, Domino Kirke has helped women welcome their own babies, too. For many years, Kirke has worked as a certified doula. In addition to her work in this profession, Kirke founded Carriage House, which offers doula education, connects expecting mothers with doulas, and provides birth and postpartum services for families (via Carriage House Birth). Kirke was inspired to start this company after suffering a difficult labor with her first child. 
As she explained to New York Family, "I was always interested in becoming a midwife, then at my own birth I didn't get the support I'd hoped for, and that changed everything. That's why I became a doula." The 37-year-old continued, "There's such a need. I just realized that my labor was so long and crazy that I was really good at supporting a woman in labor — it just felt so close to home. I really wanted Carriage House to be a safe space for women to come and have their needs met."
After spending over a decade in this space, Kirke recently partnered with Joanna Griffiths to release the photography book "Life After Birth," which aims to shift the conversation surrounding life postpartum. "People want to hear the real stories, as hard as they are or scary as some of them are. We have to normalize these conversations because people aren't talking anymore, they're on their phones. I really feel like people need to gather more and talk very candidly about their experiences when it comes to the arc of parenthood," Kirke told The Kit.