Here's What We Think Humble By Kendrick Lamar Really Means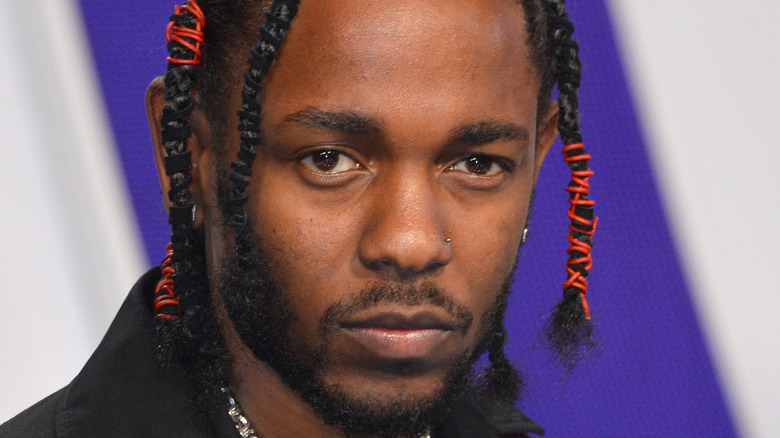 Featureflash Photo Agency/Shutterstock
Rapper Kendrick Lamar is one of the greatest artists of his generation. The 34-year-old has won 13 Grammys, became the first hip-hop artist to win a Pulitzer Prize for Music, and reportedly grossed over $40 million for his "DAMN" tour in 2017 (via Insider). 
In addition to earning critical and commercial success, Lamar is known for creating the unofficial soundtrack for the Black Lives Matter movement. His song "Alright, featuring Pharrell Williams, remains a protest anthem for the cause (via People). 
After years of hearing this song chanted on the streets by protestors, fans of the artist are hoping to hear it live on national television at the upcoming Super Bowl LVI halftime show on Feb. 13, 2022. Lamar is slated to perform alongside fellow hip-hop legends Dr. Dre, Eminem, Snoop Dogg, and Mary J. Blige (via ET Online). 
Aside from his track "Alright," Lamar could perform his hit "HUMBLE." The 2017 track is the rapper's first solo No. 1 hit on the elusive Billboard Hot 100 chart and currently has over 1.5 billion streams on Spotify. 
Although millions of people have sung this tune at the top of their lungs, many of them aren't aware of the true meaning of the award-winning single. Here's what we think it is.
Kendrick Lamar challenges his listeners – and himself – to be Humble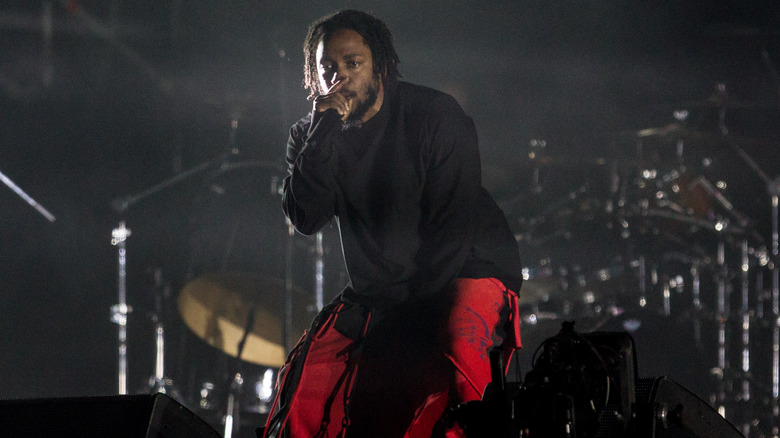 Santiago Bluguermann/Getty Images
Kendrick Lamar opens his song "Humble" — stylized as "HUMBLE." on the record — with a reference to his modest beginnings. He raps, "Ayy, I remember syrup sandwiches and crime allowances," the former referring to the "low-cost food he ate growing up in a poverty-stricken neighborhood," per Genius.
Then, Lamar dives into how successful he has become in recent years, talking about his Mercedes, his talent, and his widespread fame. But, in the chorus, he reminds himself of the importance of humility. He sings, "B****, be humble / Sit down / Be humble."
In a 2017 interview with Rolling Stone, Lamar explained that he's reminding himself and listeners to stay grounded.
"It's the ego. When you look at the song titles on this album, these are all my emotions and all my self-expressions of who I am," he said. "That's why I did a song like that, where I just don't give a f***, or I'm telling the listener, "You can't f*** with me. But ultimately, I'm looking in the mirror."
In addition to addressing himself on the track, "Humble" is intended to inspire other Black men, according to OkayPlayer. It calls the song "a call for black men to take an introspective look at their place and power. [Lamar] is self-aware of the stance of humility he needs to take and is encouraging other men to do the same." 
If Lamar chooses to perform this song on Super Bowl Sunday, his message will have the potential to reach millions of Americans in need of a reminder to be "Humble."