Here's What We Think Nuthin' But A 'G' Thang By Dr. Dre And Snoop Dogg Really Means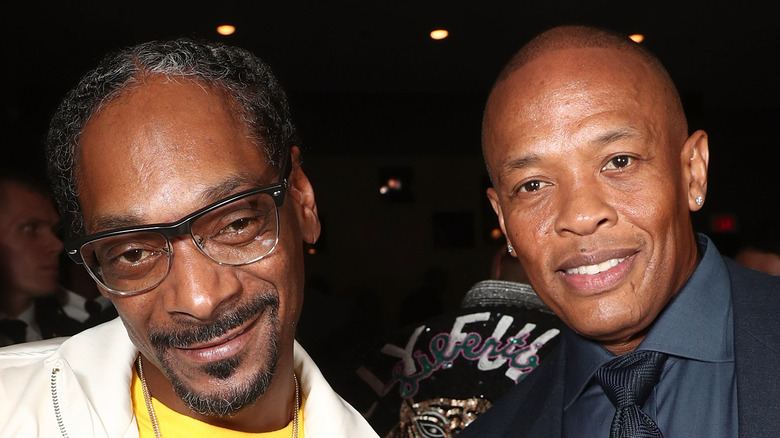 Todd Williamson/Getty Images
Football and funny commercials aside, one of the most entertaining parts of any Super Bowl is the star-studded halftime show, full of over-the-top musical numbers.
And the Super Bowl 2022 halftime show on Feb. 13 is going to be especially historic, featuring five hip-hop giants all performing onstage together for the first time: Dr. Dre, Snoop Dogg, Eminem, Mary J. Blige, and Kendrick Lamar.
During a recent interview with the Associated Press, Snoop Dogg spoke about what this opportunity to perform at the halftime show means to him. 
"I'm still thinking I'm in a dream because I can't believe that they will let a real hip-hop artist grace the stage in an NFL Super Bowl," he said. "We're just going to wait for that moment and put something together that's spectacular, and do what we're known for doing and add on to the legacy."
Dr. Dre, who was a member of the legendary hip-hop group N.W.A., also spoke about the honor.
"The opportunity to perform at the Super Bowl Halftime show, and to do it in my own backyard, will be one of the biggest thrills of my career," Dr. Dre said in a statement, referencing the SoFi Stadium's location in Inglewood, California, near his hometown, Compton (per USA Today).
With excitement building for the performance, we decided to take a look back at a huge hit single by two of the halftime performers: "Nuthin' But a 'G' Thang" by Dr. Dre and Snoop Dogg.
Nuthin' But a 'G' Thang is an ode to West Coast parties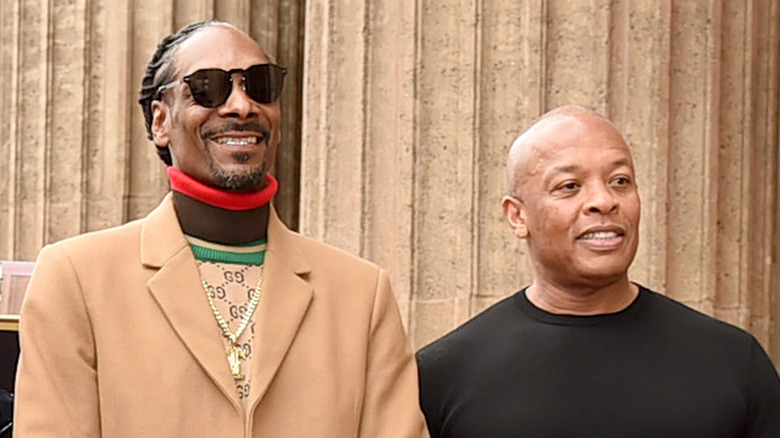 Kevin Winter/Getty Images
After Dr. Dre discovered Leon Haywood's 1975 track "I Want'a Do Something Freaky To You" in a stack of records at his mother's house, he knew he wanted to sample it in a new track, "Nuthin' But a 'G' Thang." That became the lead single of his debut solo album, 1992's "The Chronic," per Rolling Stone.
Dre asked Snoop Dogg to join him on the track, but the latter was in prison on unknown charges. However, once he was released, the pair recorded the song and released it to quite a bit of fanfare.
On the feel-good tune, per Genius, Dre and Snoop take turns rapping about women, attaining power in their industry, and, most of all, partying. Throughout the song, they pay tribute to the wild parties in their hometowns of Compton and Long Beach, respectively.
In the first verse, per Genius, they talk about being the life of the party as they arrive at a bash. "Snoop Doggy Dogg and Dr. Dre is at the door / Ready to make an entrance so back on up / 'Cause you know we're 'bout to rip s*** up."
Over the years, Dre has spoken quite frequently about his hometown of Compton, crafting entire albums about the city and even inspiring the 2015 biographical film, "Straight Outta Compton," about the beginnings of his famous rap group, N.W.A., per Bustle. "Straight Outta Compton" is also the title of N.W.A.'s debut album.
Likewise, Snoop Dogg has also paid tribute to Long Beach in his music over the years.