Here's What We Think Family Affair By Mary J. Blige Really Means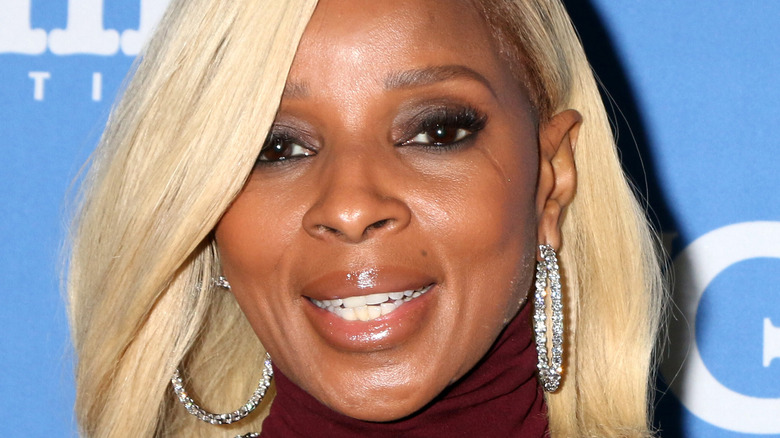 Kathy Hutchins/Shutterstock
As excitement builds for the 2022 Super Bowl, which will have the Los Angeles Rams and Cincinnati Bengals facing off against one another, so does the excitement for the Super Bowl halftime show. This year, the halftime show is set to feature five hip-hop giants all performing onstage together for the first time: Dr. Dre, Snoop Dogg, Eminem, Mary J. Blige, and Kendrick Lamar, according to NBC Sports.
Blige revealed that it was Dr. Dre — who has worked with every single artist on the halftime lineup — who initially invited her to perform alongside the other musicians. "Dre is the one who called us all to be part of this moment and it's an honor because we love and respect him so much," Blige told USA Today. "Everyone [in the lineup] is an artist that Dre produced or wrote for or has a connection. You get that call and you're like, 'What do you want me to do and I'm there.' And if he gives you two or three minutes of Super Bowl time ... wow. I appreciate the offer and I've earned the right to be anywhere that amazing. I'm going to be a team player and let them know, thank you for recognizing my talent."
Ahead of her performance at the Super Bowl halftime show, we are taking a deeper dive into one of her most iconic songs, "Family Affair."
Blige encourages her listeners to let loose on Family Affair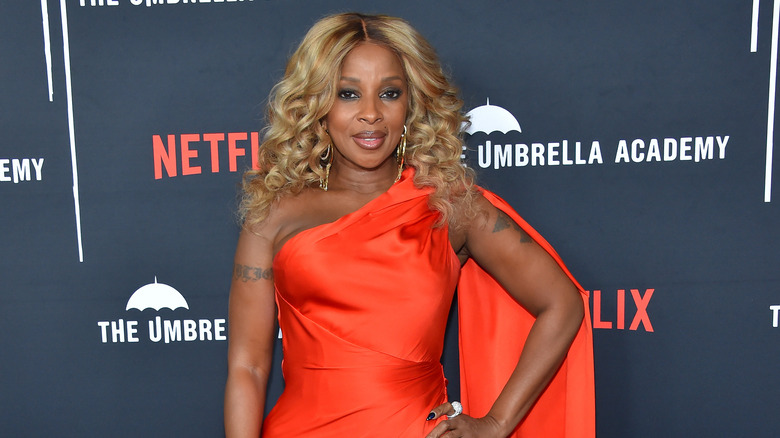 DFree/Shutterstock
Upon the release of her 2001 album, fittingly titled "No More Drama," Mary J. Blige had been crafting music about loss, trauma, and toxic relationships for nearly a decade, per udiscovermusic. However, in the lead single from "No More Drama," "Family Affair," Blige wanted to simply dance the drama and pain away. You'll hear this call for fun in Blige's playful lyrics and dance-ready beats laid down on the track by Dr. Dre. "Come on baby, just, party with me. Let loose and set your body free. Leave your situations at the door. So when you step inside jump on the floor," Blige sings in "Family Affair," according to Genius. Over two decades since its release, "Family Affair" still remains one of the most popular songs to play in the club — and for good reason.
Far away from the club, Blige recently revealed to Elle that she is considering bringing "Family Affair" to the stage at the Super Bowl halftime show. Blige feels like this song might be the perfect pick to perform at the halftime show, given the fact that hip hop is more of a "Family Affair" than other genres of music, in her opinion. "We are the culture; [hip-hop artists] give people a way to speak," Blige told Elle. We give people a way to walk. We give people a way to talk. We give people a way to think. That's what hip-hop and hip-hop soul have done for our culture since [the beginning]."