The Special Meaning Behind Princess Eugenie's Wedding Day Tiara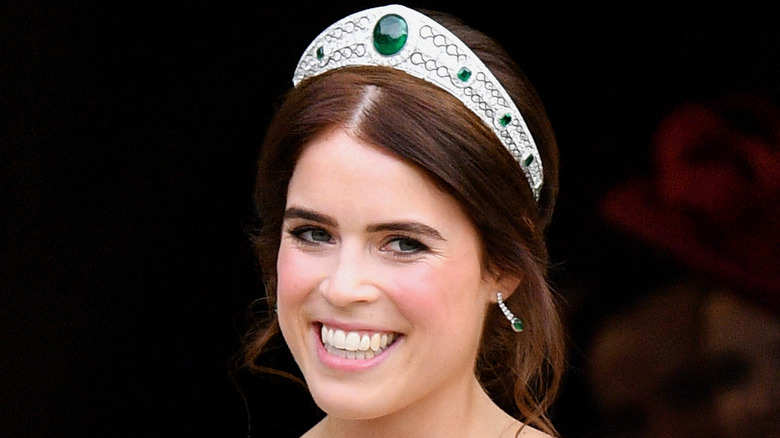 Pool/max Mumby/Getty Images
There are plenty of perks to being a member of the British royal family. From meeting celebrities, to being given homes simply for working for the family, there's a lot to gawk over. The best part of all, though, might be the priceless jewelry they get to wear on special occasions. At the top of that list comes the best, and most expensive, accessories of all — wedding tiaras. While Meghan Markle's and Kate Middleton's accessories were gorgeous on their big days, nothing rivals Princess Eugenie's wedding tiara.
If you thought that Princess Eugenie's wedding tiara just looked great, think again. There's significant meaning that goes into everything a member of the British royal family wears, and that's especially true on their wedding day. Princess Eugenie's wedding tiara was not only one of the most expensive accessories loaned out from the Queen, but it was the only one featuring a pop of color. 
Of course, the price and the look of the tiara are great, but it's really all about the meaning on your wedding day. When you hear the hidden message behind this tiara, you'll know exactly why Prince Eugenie picked it for her big day.
Princess Eugenie's wedding tiara is worth a significant sum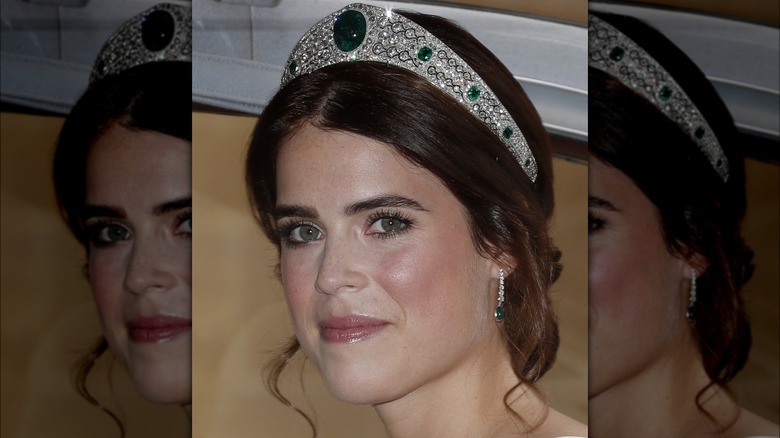 Wpa Pool/Getty Images
Traditional brides wear something old, something new, something borrowed, and something blue on their wedding day. If you're royal, your something borrowed is a tiara from Queen Elizabeth herself that's worth millions of dollars. Casual, we know. Princess Eugenie chose the Greville Emerald Kokoshnik Tiara for her big day. The tiara was absolutely stunning, and featuring delicate rows of diamonds and a big, beautiful emerald at the front, with smaller emeralds dotted throughout. According to Express UK, the emerald is the gemstone of Venus, the Goddess of Love, making it the perfect choice for a blushing bride.
If the meaning isn't enough for you to drool with envy, there's the price of the tiara, too. According to Express, Princess Eugenie's wedding day tiara was valued between $6 to $12 million if the piece were to sell at auction. "This piece is certainly exquisite; the center emerald has a wonderfully vivid color and large size, something which is rare to find these days," gemologist and jewelry expert Deborah Papas told the publication. 
Princess Eugenie is, at the time of publication, the only royal to wear color in her wedding tiara thus far. She earned bonus points from us because the emeralds in her tiara also made her eye color completely pop. This Princess knew what she was doing!
The Greville Emerald Kokoshnik Tiara is larger than other wedding tiaras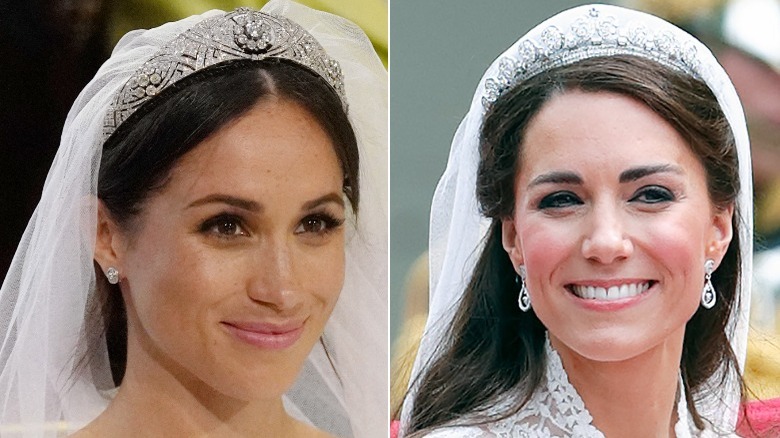 Wpa Pool & Max Mumby/indigo/Getty
If you're wondering how Princess Eugenie's wedding day tiara compares to Meghan Markle's and Kate Middleton's, let's just say that Eugenie's tiara is much larger. While all the women wore absolutely gorgeous tiaras on their wedding day, Princess Eugenie's was not only bigger, but also more expensive than the others. After all, this was Queen Elizabeth's granddaughter we're talking about. Of course hers was going to be a bit more extravagant than the women marrying into the family.
Markle wore the Queen Mary Bandeau Tiara that was actually inspired completely by the brooch that sits in the middle, while Middleton opted for the Cartier Halo Tiara. Both tiaras were less colorful and a bit less expensive than Princess Eugenie's. Markle's tiara was worth a whopping $3.6 million, while Middleton's rings in at a cool $1.7 million. There's even a rumor that Markle was close to choosing the gorgeous emerald tiara that Princess Eugenie wore, but opted for the Bandeau Tiara instead. It looks like these royals have great taste!