Mariska Hargitay Doles Out Details About Her On-Screen Relationship With Christopher Meloni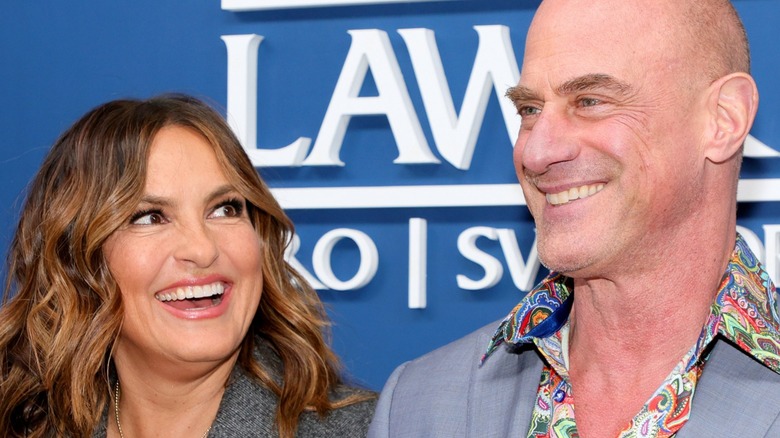 Dia Dipasupil/Getty Images
Mariska Hargitay and Christopher Meloni's iconic portrayal of Captain Olivia Benson and Detective Elliot Stabler shaped a generation of crime drama lovers. The fan-favorite duo's impact on Dick Wolf's "Law & Order: SVU" has been felt worldwide. For years, fans dreamed of a relationship between the two partners, which She Knows attributes to their electric on-screen and off-screen chemistry. 
Christopher Meloni's departure in 2011 put a dent in those dreams, but his much anticipated return to the "Law & Order" family was well received, as per Deadline. TODAY paints their reunion during "Law & Order: SVU" and its spin-off "Law & Order: Organized Crime" as a cultural moment, and we're all in agreement, including Hargitay. Mariska Hargitay told Variety that fans have praised their characters' ability to seemingly have entire conversations through eye contact alone, and admitted how easy it was to pick up where they left off.
Mariska Hargitay thinks Benson has deep feelings for Stabler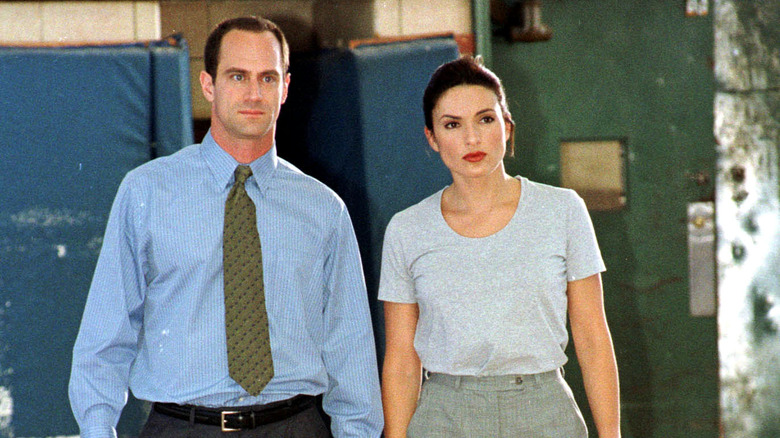 Jason Green/Getty Images
Whether it's platonic or romantic, Benson-Stabler's relationship in the "Law & Order" universe is one for the ages. In a 2022 interview with People, Mariska Hargitay responded to the decade-old "Will-they-won't-they" question. Hargitay acknowledges that the former partners have always had a complicated relationship (which became strained over time after Stabler left), so Benson would have to tread lightly. 
But Hargitay does think they have romantic feelings for each other, even if they're not at that stage yet. "These two people love each other, they have been family to each other but he just lost his wife and no matter how she feels about him, the most important thing for him is to grieve his wife, heal from that," she explained. "And he's in a new job and he's sort of unbalanced ... But what we do know is that Olivia loves him, will always love him, will always be there and they have a bond like no other."
Hargitay also told the outlet that working with Christopher Meloni again felt natural. "There was so much shorthand between us, which all goes back to the trust we have," she explained. "He's always made me feel like I could just jump off the ledge, the cliff, the bridge, and he would catch me, in so many ways, whether it was comedy or acting or friendship."
Christopher Meloni thinks Stabler's feelings for Benson are more complicated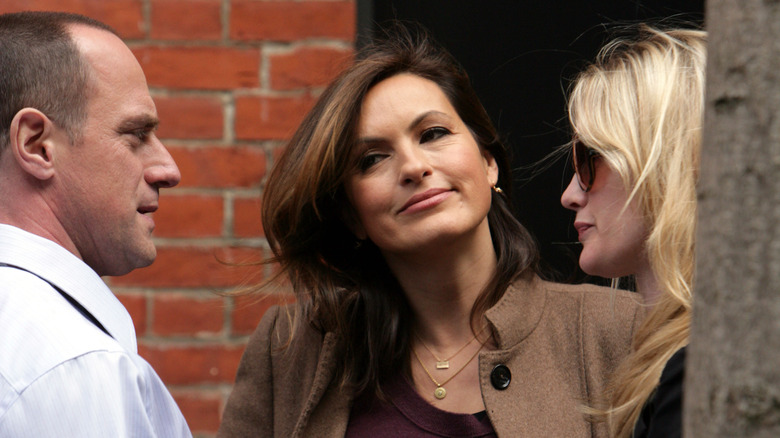 Northfoto/Shutterstock
We know Hargitay's thoughts on the Benson and Stabler relationship. But how does Stabler feel about Benson? In February 2022, Christopher Meloni opened up to TODAY about the dynamics between the two characters. "I think he's in the middle of realizing," he surmised. "Yeah, I think it's more difficult for him. I think he's carrying a lot of — stuff." Stabler's struggle with grief is the basis of his spin-off series "Law & Order: Organized Crime", so it makes sense that he wouldn't be ready to rush into a relationship just yet.
The news outlet brought up the hand holding scene which sent fans spiraling, and asked if it was improvised or scripted. "No that's, you know, that's our thing," Meloni responded. "There's nobody who knows these characters better than she and I. With all due respect to the writers, whatever you see is really she and I figuring it out — figuring out what the exact words are or the exact emotions are."
Fan response to this sweet moment was immediate and filled with lots of exclamation marks on Twitter, reports Outsider. In a tweet, one user couldn't contain their excitement, writing "ELLIOT AND OLIVIA!!! HOLDING!!! HANDS!!!"