Chase Chrisley's Throwback Photo With Sister Savannah Delights Fans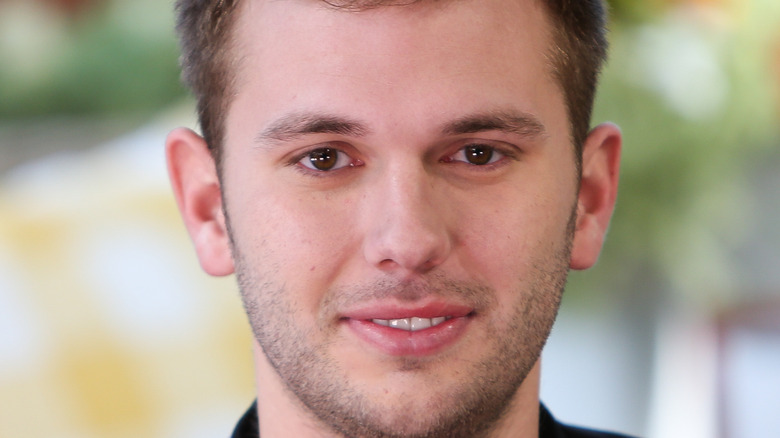 Paul Archuleta/Getty Images
Since the premiere of the reality television show "Chrisley Knows Best" in 2014, siblings Chase and Savannah Chrisley have been putting their lives on display for millions of viewers. Given the intense scrutiny they've experienced from a young age, the pair have formed an even deeper bond as they navigate fame. For the past few years, this bond has landed them their own spinoff called "Growing Up Chrisley." "It's us against the world," Savannah told UPI in 2019. "With the spinoff, I think the network kind of loved the idea of it because we were moving out, trying to navigate through the world, trying to see where we belong, what our place is, and it was an adventure."
This affection for one another is perfectly displayed during an episode of "Chrisley Knows Best," when Savannah reveals to Chase that she's calling off her wedding to Nic Kerdiles before she told her father, Todd Chrisley (via E! News). Savannah also paid tribute to her sweet relationship with her brother when she launched her makeup line, Sassy by Savannah, in July 2021. As Savannah described on the brand's website, the name of her brand is a nod to her brother. "Sassy... lively, bold, and full of spirit. Sassy is a nickname that was given to me by my brother Chase," she explained. "Being only 14 months apart, he could never pronounce Savannah. Therefore, 'Sassy' stuck. And for anyone who knows me, you know that the name could not be more fitting."
Chase posted a photo of him appearing to curl Savannah's hair as toddlers
Over the years, Savannah and Chase Chrisley have both taken to their social media profiles to post throwback photos of their close relationship throughout the years. On Wednesday, Chase took to Instagram to post a photo of himself and his sister as toddlers. In the photo, Chase is holding a curling iron close to his sister's hair, making it appear as though he's actually curling her locks. "The scary part is that the curling iron was plugged in," Chase joked in the post's caption. Naturally, fans loved this. "You should take one now a remake pic," one fan commented. Another said, "So precious! Love y'all."
In previous Instagram posts, Chase has also paid tribute to the siblings' tight bond. In September 2020, Chase posted a series of throwback photos featuring Savannah and himself as toddlers. In one particularly adorable photo, the pair are standing side by side in the mouth of an intimidating-looking plastic shark. 
Savannah has also posted a few throwback photos of the pair on her Instagram page. In one post, Savannah debuted a number of throwbacks taken on her birthday in her earliest years. As you might have guessed, Chase was also by her side. "Birthday throwbacks," she wrote with heart and heart eyes emojis. "UGHHH these pics make me want all the babies," she continued in the August 2021 post, this time with laughing and shrugging emojis.