The Law And Order: SVU Episode You Forgot Starred Miranda Lambert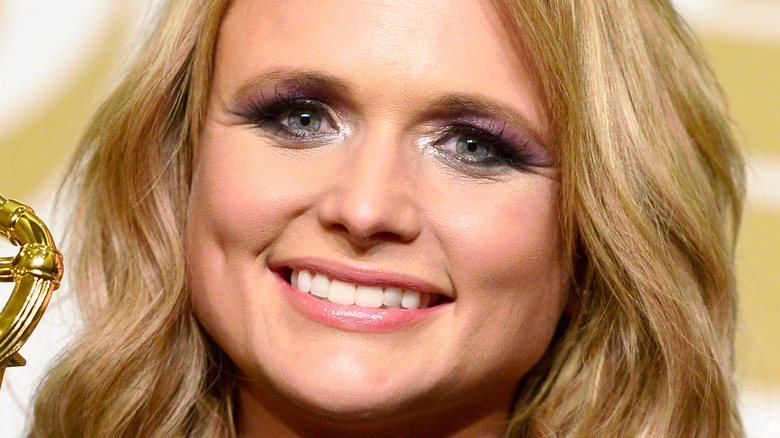 Frazer Harrison/Getty Images
Miranda Lambert is predominantly known as a country music star but, as a 2019 interview with NPR showcased, her aspirations go far beyond being a flash in the pan. In fact, her manager Marion Kraft recalled that Lambert always envisioned a "long-haul" career like the great Dolly Parton. Kraft was told emphatically, "I know as I get older, I will have more things to say, and I want to have the time to do it all," so the manager "knew early on we needed gas for a long journey."
Now that she's enjoyed major success, Lambert is cautious of not being relegated to one position. "Frank Liddell always says that I would find a parking spot in New York City and then move my car," she shared. "Now I know what he's talking about. It's so hard to find your spot, and then you get one and you're like, 'I think I changed my mind.' But I think that's also part of the reinvention of it all. Keep it moving." The key to keeping things interesting was a surprising but not altogether unheard of move into acting.
In case you missed Lambert's guest spot on "Law & Order: SVU," or simply weren't even aware it existed, here's a reminder about just how well she did.
Miranda Lambert was super nervous about her acting debut
Country icon Miranda Lambert featured in a 2012 episode of "Law & Order: SVU" titled "Father's Shadow." In a chat with TV Guide ahead of her appearance, Lambert admitted, "I had to really pull from my gut on this whole role I was playing because I'm a very strong, confident person," while the character, a struggling actor named Lacey Ford, is "more subdued" and "naïve." The singer-songwriter shared, "I really had to really transform my personality which I wasn't sure I could do until I got on the set and sort of just tried to put myself in her shoes."
Lacey falls victim to a dodgy producer, but despite the difficult subject matter, Lambert was glad to play another artist. She explained, "This was really nerve-racking all around, but also exciting because I've never acted before. And then playing an actress trying to get a role, it was like an audition within an audition. It was sort of my audition for myself to see if I could even act at all." Making the situation more intimidating, the Grammy winner told Sounds Like Nashville that "Law & Order: SVU" is her "favorite" show, gushing, "The acting's always great, the writing's always great."
Thankfully, despite her nerves, Lambert totally pulled it off, with Entertainment Weekly praising the first-timer in their episode review for effectively communicating "a convincing air of sodden despair and desperation," which really makes viewers "feel Lacey's addled yearning."